Zoeva Pink Elements Brush Set Review
Hello Everyone,
After ages I will be going review some makeup brushes on the blog. It is really hard to find good quality affordable makeup brushes in India as most of the drugstore brands doesn't deal in brushes and those who do doesn't serve the quality. Only high end brands like MAC is the option or get Sigma, CS and others imported to your place. But today, I have an affordable brush set to share with you from a German Brand "Zoeva", Zoeva Pink Elements Brush Set.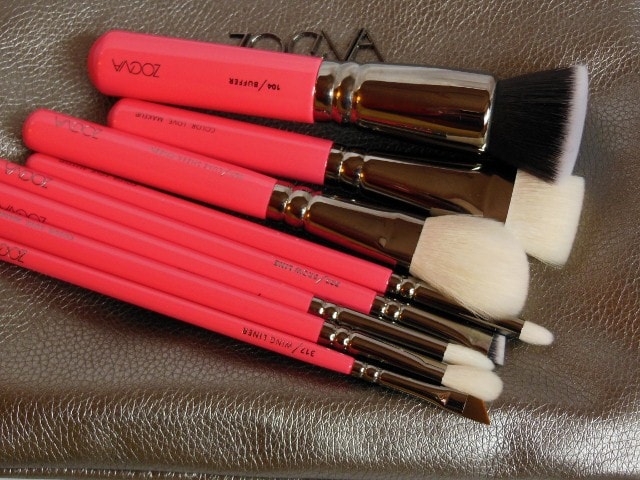 Product Claims:
Emancipate yourself and live your pink addiction. Pink is the color of passion. Gunmetal gray represents strength. Uniting pure feminity and a masculine chic in a new brush design, our Pink Elements brush collection celebrates women who dare to run the world. Be inspired in your daily makeup routine by this elementary contrast to promote self-confidence and love.
8 pink brushes + 1 gunmetal metallic Brush Clutch Large Case Size: 24 x 18 cm
Face: 104 Buffer, 109 Luxe Face Paint, 127 Luxe Sheer Cheek Eyes
227 Luxe Soft Definer, 230 Luxe Pencil, 231 Luxe Petit Crease, 317 Wing Liner, 322 Brow Line
* * synthetic taklon hair
Price:- Rs.5522
Packaging:- Zoeva Pink Elements Brush Set comes in packed in a nice gunmetal gray colored soft leather zipper which makes it easy to travel with brushes. All the brushes are packed separated in thin plastic covers to ensure that they don't get tangles. The larger face brushes have plastic shapers as well to keep the brushes in shape.
My experience with Zoeva Pink Elements Brush Set:-
Zoeva Pink Elements Brush Set is a collection of 8 brushes with 3 Face and 5 eye makeup brushes.
#104 Buffer Brush: It is a flat top duo-fibre brush The bristles are densely packed. It works great a stippling brush to work with liquid or mousse foundation. The bristles are super soft. The brush head is a wee bit smaller than SIGMA F 80 but it deliver almost similar results.
#109 Luxe Face Paint Brush: It is falt faced, wide fluffy face brush with all white bristles. The bristles are loosely packed and it works best as cheek contour blush as it place and blend the product right in the hollow under the cheek bones. Because of its fluffy shape it might not work best for creamy products but goes well with powder contouring products. The bristles are soft but there is slight shedding during application.
#127 Luxe Sheer Cheek Brush: It is angled blush brush with loosely packed bristles. It does a good job at applying color to my cheeks and blending it for a soft diffused look. The bristles are quite thin so it won't pick much product from the pan and works best if you like to wear sheer color on the cheeks. It can also works as a highlighter brush for top of the cheek bones. This is my least favourite brush from the set as it sheds quite a lot and I have to remove the bristles (2-3) every time post blush application.
#322 Brow Line Brush: It is stiff, short head duo colored brow brush. The bristles are extremely short, stiffly fixed to the base and have a small angle which makes it easy to work with brows. I have used it Sleek Makeup Eye Brow kit and it works wonderfully. It is one of my favorite brushes from the set.
#317 Wing liner Brush: It is an angled liner brush with brown colored bristles. It reminds me of SIGMA E 65 Angled Liner brush but has a deeper angle and longer bristles. The bristles are soft and bend easily while applying liner on the lids. The flexibility, thin shape and the deep angles makes it easy to draw wings on eyes!
#231 Luxe Petit Crease Brush: It is tapered pointed tip brush with soft flexible tip, can also be described as longer and slight fluffier version of pencil brush. The bristles are densely packed but soft on skin and works with great precision to place color on the crease area. It can be a great brush to blend out liner for soft smudgy look or even if you planning for a cut crease eye makeup.
#230 Luxe Pencil Brush : It is a pointed tip pencil brush with shorter bristles, quite similar to SIGMA E30 pencil brush/ MAC 219 just a tad softer and flexible. The brush is ideally for blending and placing color on lower lash line. It can't give absolute precision because of the softness but does a good job.
#227 Luxe Soft Definer Brush: It is like a dupe of SIGMA E 25 Blending brush/ MAC 217 . It makes a great crease blending brush to diffuse any color and give a soft transition to the area, though not for precision blending as the bristles are slightly flared comparatively.
This is the first time I am trying my hands on Zoeva brushes and they didn't failed to impress me! They bristles are as soft as my SIGMA brushes and the quality is great considering the prices. Eye Makeup brushes shows no signs of shedding during application or wash. Only the Blush Brush and Face paint brush shed during application
Don't Miss to Checkout:
Pros of Zoeva Pink Elements Brush Set:-
An all pink brush collection *Drool* *Drool*
Fluffy bristles that feels soft on skin
Value for money
Great quality brushes
Washes well and stays in shape
Comes with a Zipper bag
Available in larger brush sets or can be bought individually
Cons of Zoeva Pink Elements Brush Set:-
Shedding in Blush brush and Face Paint brush
Recommendation:- Zoeva Pink Elements Brush Set is an amazing brush set with 8 brushes, a combination of face and eye makeup brushes. It makes a great beginners brush kit with high quality that are extremely soft and doesn't shed much. If you are planning to start with makeup brushes without shelling out a bomb try these Zoeva Brushes. Zoeva has a whole range of Face and eye makeup brushes and you can pick according to your preference. Highly Recommended!
Rating:- 4.5/5
Have you tried Zoeva Pink Elements Brush Set? Which is your favorite budget Makeup brush brand?