Zoeva Luxe Cream Lipstick: Floral Crown 05 Review
Hello Everyone,
If you aren't bored enough of my lipstick reviews, today I have another one for you, A pretty pink lipstick from Zoeva,  Zoeva Luxe Cream Lipstick in Floral Crown 05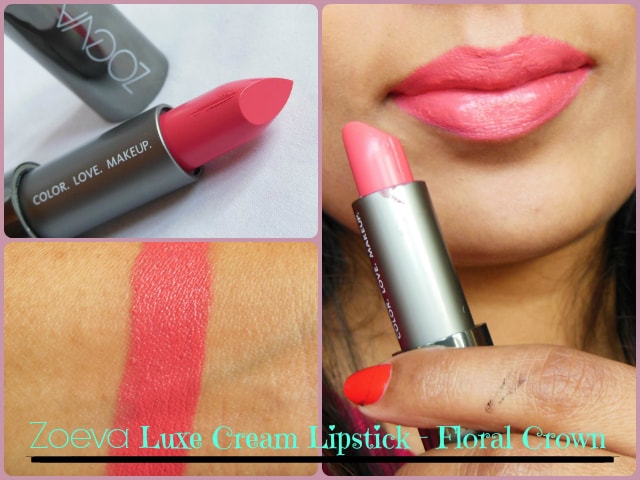 Product Claims:
A long-wearing creamy lipstick, full of luxury and pigmentation that guarantees comfort from the very first application.
Enriched with ivy, mallow and elderflower, this vegan formula provides an instant moisturizing action for your lips. Bring out the woman in you!
Vegan // Paraben-Free // Free of Phthalates // Made in Italy
Instantly nourished lips with an elixir of ivy, mallow and elderflower  Creamy, luminous finish.  Minimalistic packaging design
Price:- Rs.762 for 3.8gms (Buy Here http://www.luxola.com/in/products/zoeva-luxe-cream-lipstick)
Shelf Life:-  36 months from the Mfg date.
Available in 6 Shades:
Floral Crown
Easy Spirit
Cooling Passion
Venus Phase
Faith & Love
Melting Kiss
Packaging:- The lipstick comes in a sturdy gray metallic packaging but the thing that caught my fancy was its magnetic caplock, so when the cap is almost there it shuts automatically which makes it perfect to carry along and no loose cap messes or issues during travel. I kept snapping it testing the lock.. I just enjoyed it! The only issue could be to locate the shade as there is no shade indicator in the outer packaging.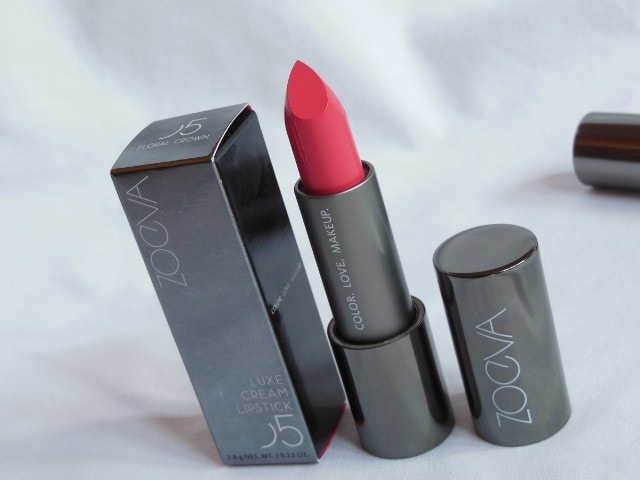 My experience with Zoeva Luxe Cream Floral Crown Lipstick:-
Shade: Floral Crown is a bright pink shade with none of those blue undertones. It is more of a candy neutral pink shade which is not easy to find across brands.
Texture: It has rich creamy texture which works great in application and is comparatively less slippery than Melting Kisses.  I noticed less streaks as it has better consistency than Melting Kisses.
Pigmentation: The lipstick is richly pigmented and goes opaque with just one layer of the product. The formula gets streaky and starts feeling heavy with multiple swipes so best is dab excess on a tissue followed by a light layer to for even coverage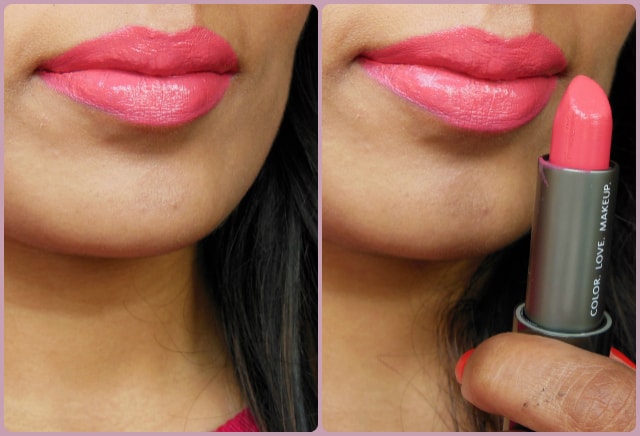 Finish: It has a smooth crème finish with a bit of shine and it does made my lips appear smoother .. 😉 .It light hydrating formula is a bliss for dry lips in winters.
Staying Power: Inspite of its crème formula, it lasted easily for 4-5 hours on me, leaving behind faint pinkish stained lips. It is prone to bleeding and tranfers easily but with blotted application it behaves well.
Pros of Zoeva Luxe Cream Floral Crown Lipstick:-
Buttery smooth texture
Rich pigmentation
Opaque coverage in single swipe
Smooth crème finish
Doesn't feel drying
Solid and luxurious packaging
Contains ivy, mallow and elder flower extract
Doesn't contain Animal derived Ingredients
Free from Parabens and Pthalates
Cons of Zoeva Luxe Cream Melting Floral Crown Lipstick:-
Transfers easily
Feels heavy when layered
Recommendation:- Zoeva Luxe Cream Floral Crown Lipstick is a pretty bright candy pink lipstick in crème finish. The smooth creamy texture glides swiftly across lips, coating them with an opaque pink layer in single swipe. The formula tends to feel heavy with layering so dab with a tissue and apply another layer for a smoother and long lasting finish. Recommended!
Rating:- 4/5
Have you tried Zoeva Luxe Cream Floral Crown Lipstick? Which is your favorite Pink Lipstick?
PS: You can buy this lipstick or any other product from Luxola.com and enjoy 30% by using the code BLX-POOJAIN at checkout on your first order.