Zenith Nutrition Vitamin K2, MK-7 Supplement
The most complicated Vitamin that I remember from our childhood chemistry books is Vitamin K. It's not as simple as the other Vitamins like Vitamin A or Vitamin C which are just single compounds. Vitamin K is actually a group of compounds majorly Vitamin K1 and Vitamin K2. Today, I will share some details about Vitamin K2 and its importance for good health. And we will also see how these Zenith Nutrition Vitamin K2, MK-7 Capsules works in providing it.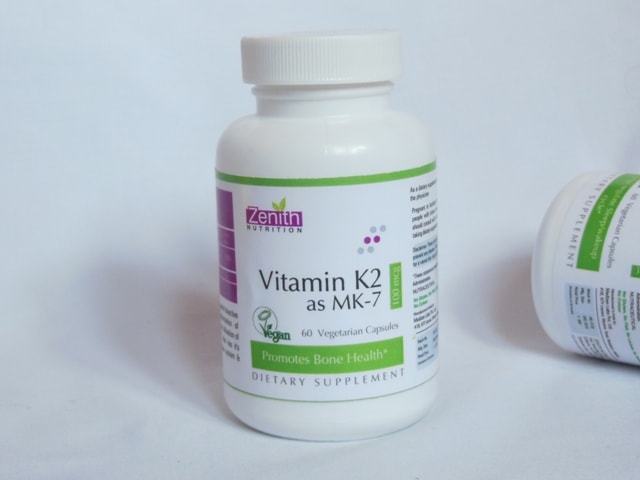 Product Description: Zenith Nutrition Vitamin K2 provides Vitamin K2 in its most biologically active form called Menaquinone-7 (MK-7).
Vitamin K2 plays a critical role in maintaining healthy bone density by facilitating the transport of calcium from the bloodstream into the bone.
Vitamin K2 is also required by calcium-regulating proteins in the arteries.
Matrix Gla-protein (MGP) is a vitamin K-dependent protein, and it must be carboxylated to function properly.
Poor vitamin K status leads to inactive uncarboxylated MGP (ucMGP), which accumulates at sites of arterial calcification. Since MGP is a potent local inhibitor of arterial calcification, MGP is important in relation to the health of the entire cardiovascular system. Without adequate vitamin K, calcium in the blood can bind to the arterial wall resulting in calcification.
As people age, even a subclinical vitamin K deficiency can pose risks to the vascular system. Poor vitamin K status also results in increased circulating levels of undercarboxylated osteocalcin that is shown to be associated with increased bone loss in postmenopausal women.
Other ingredients: Veg capsules & Dicalcium Phosphate
Directions: As a dietary supplement, take 1 capsule daily or as directed by a physician.
Price: Rs.1120 for 60 Capsules
Packaging: Zenith Nutrition Vitamin K2, MK-7 Capsules comes in a white colored plastic bottle with screw lids and is sealed with a silver foil.
My experience with Zenith Nutrition Vitamin K2, MK-7 Supplement Capsules:
Zenith Nutrition Vitamin K2, MK-7 Capsules is available in 100mcg variant.
What is Vitamin K2, MK-7?
Vitamin K2 is an important fat-soluble vitamin
It plays critical roles in protecting heart and brain, and building strong bones.
Vitamin K2 helps in transferring calcium to bones from blood.
It helps on removing calcium from areas such as in arteries and soft tissues where it shouldn't be deposited.
It also plays an important role in cancer protection
Vitamin K2 can be broken into two additional categories MK-4 and Mk-7.
MK-4 (menaquinone-4) – It a short-chain form of vitamin K2 found in butter, egg yolks, and animal-based foods. But Mk-4 supplements are actually synthetic as it is not derived from natural food products.
MK-7 (menaquinone-7) – It is longer-chain forms found in fermented foods. This is the one you should take in supplements. The MK-7 supplement offers a number of health advantages.
What are the benefits of Vitamin K2?
Promotes Bone Health
Promotes Arterial Health
Prevents calcification in the blood
Why Vitamin K2 is Important?
Vitamin K2 plays an important role in our bone health so it's essential to take adequate amount of Vitamin K2 to avoid any health issues. Just consuming calcium is not enough to maintain a good bone density. As it has to be get absorbed by bones which are function of Vitamin K2. So, if you are taking Calcium Supplements also consider taking Vitamin K2 for healthy bones.
There's no way to test for vitamin K2 deficiency but if you are facing any of these health conditions you might be having Vitamin K2 deficiency like osteoporosis, any heart disease, diabetes. So, if you have someone in your family facing any of the health issues do checkout Zenith Nutrition Vitamin K2, MK-7 100mcg Supplement Capsules
Change your diet and lifestyle to include more healthy food to get sufficient nutrients for good health or start with these essential supplements to provide the required amount of nutrients to the body. I never knew Vitamin K2 is so essential. As I am in 30's now I will be starting with my calcium + Vitamin K2 supplement to avoid any Bone density issues.
Disclaimer: These products are not intented to diagnose, treat, cure  or prevent any disease. Always consult with your professional healthcare provider before changing any medication. Pregnant or lactating women shouldn't take it
Don't Miss to Checkout:
Have you tried Zenith Nutrition Vitamin K2, MK-7 Supplement Capsules? Do you take any supplements?
PS: Product sent by brand for consideration for honest and unbiased opinion