Zenith Nutrition Glutathione Supplement Capsules
It's all about"AntiOxidants"these days be it skincare or health industry. Anti-oxidants are the best thing to have as it neutralizes the damaging the free radicals and hence detoxifies body and boosts immunity. Antioxidants repair damage caused by stress, pollution, infection, poor diet, aging, injury and more. And its only because of "Anti-oxidants" that everyone around is going crazy over Green teas. But there is this new supplement on the block "Glutathione", which is claimed to be a good antioxidant . So, let's see how these Zenith Nutrition Glutathion 250mg Supplement Capsules perform.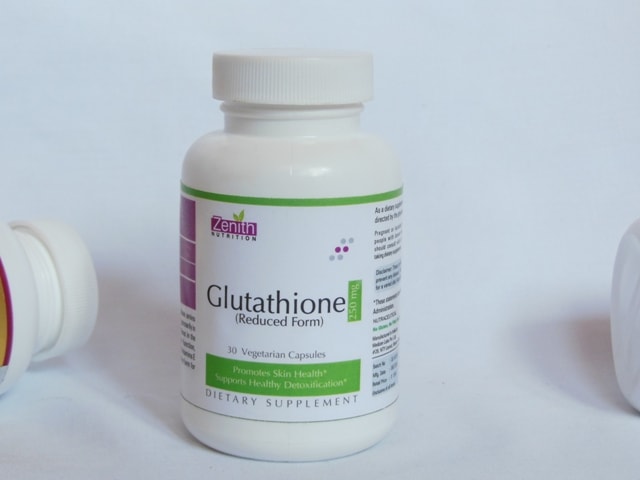 Product Description: Zenith Nutrition Glutathione 250mg
What is Glutathione?
Glutathione is a small peptide molecule composed of three amino acids: cysteine, glutamic acid, and glycine. It is produced primarily in the liver and is involved in many critical biological functions in the body including metabolism of toxins, immune system function, protection against oxidative cell damage, and recycling of vitamins E and C. This product has Glutathione in its reduced, active form for optimal bioavailability.
Reduced Active Form
GMP Quality Assured
Intracellular Antioxidant
Gluten Free
Dietary Supplement
Suitable for Vegetarians/Vegans
Supports Antioxidant Function
Supports Healthy Detoxification
Supports Skin Health
Directions: As a dietary supplement, take 1 capsule daily or as directed by a physician.
Price: Rs.1250 for 30 Capsules
Packaging: Zenith Nutrition Magnesium Glutathione Capsules comes in a white colored plastic bottle with screw lids and is sealed with a silver foil.
My experience with Zenith Nutrition Glutathione Supplement Capsules:
Zenith Nutrition Glutathione Capsules is available in 2 variants 250mg and 500mg. I got this 250mg variant to start with.
What is Glutathione?
Glutathione is a small protein composed of three amino acids – cysteine, glutamic acid, and glycine. It is produced by the body and is found in every cell.  The Glutathione is made primarily in the liver but is also found in fruits, vegetables and some meats. It is the most important antioxidant for the body as it's within every cell.
What are the Health Benefits of Glutathione?
Glutathione reduces the effects of Chemotherapy treatments for cancer. It also reduces high cholesterol levels, diabetes, heart diseases and prevents aging.
Glutathione , the essential antioxidant is involved in many important processes like DNA synthesis, immunity, sperm formation, and more.
When glutathione levels are good, on the higher side it symbolizes good health and longer life. But if the levels are low then there are chances of cancer, heart diseases and many more. Glutathione production slows down with age so it's essential to maintain a healthy diet with lots of fruits and vegetables especially rich in Vitamins B6 and C, riboflavin, and protein.
Some rich dietary sources of glutathione are Asparagus, avocado, and walnuts.
Overall Glutathione Supplement helps in improving the overall heath and detoxifies body!
I like these capsules are Vegetarian and are free from Sugar, Lactose, Flavour, Salt, Gluten, Color, Fish and other preservatives so they are safe for someone who is prone to allergies as well.
Disclaimer: These products are not intented to diagnose, treat, cure  or prevent any disease. Always consult with your professional healthcare provider before changing any medication. Pregnant or lactating women shouldn't take it
Don't Miss to Checkout:
Have you tried Zenith Nutrition Glutathione Capsules? Do you take any supplements?
PS: Product sent by brand for consideration for honest and unbiased opinion