Zenith Nutrition AcaiFab Supplement
Berries are perfect for winters.. I am talking about the rich dark purple lips :)!! Other than sporting those dark vampy winter lip look, I also love to gorge on some juicy berries in the season. The best thing about berries is that they not look pretty but are also good for skin as they are rich in anti-oxidants. Now, its best to consume the fresh fruit but it can be difficult to find berries around. So, why not try these Zenith Nutrition AcaiFab 250mg Capsules which is a convenient way of obtaining the benefits of acai berry without actually consuming the fruit.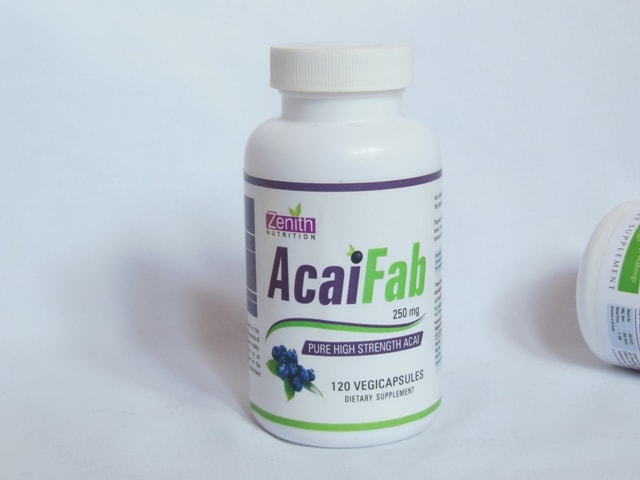 Product Description:
What are acai berries?
Acai (pronounced ah-sigh-ee) berries, found in the Brazilian rain forest, havebeen used for thousands of years to promote overall health, energy and vitality. They're abundant in compounds known as anthocyanins, natural pigments responsible for the berry's deep purple coloring and antioxidant properties.
Phytochemical and nutrient component analysishave demonstrated acai berries have a low-sugar content and contain lipids,with unsaturated fatty acids (oleic and linoleic acids), phytosterols(ß-sitosterol) and dietary fiber.
How do acai berries support health?
Consumption of acai juice or pulp by healthy human volunteers has been shown to cause a significant increase in plasma antioxidant activity.
Scientific evidence has shown that acai extract possessed noticeable activity against superoxide, and highest activity of any food reported to date against the peroxyl radical, when measured by the oxygen radical absorbance capacity assay (ORACFL).
Zenith Nutrition's AcaiFab
Provides with a minimum of 10% phenolic acid (from 5:1 extract), per two-capsule serving.
Convenient way to obtain the benefits of acai berry without having to consume large amounts of the fruit.
Exceptional quality at an extraordinary value.
About Zenith Nutrition :
All products manufactured at state of art GMP facility.  All products are tested for heavy metals,microbiology and contaminants which may be present.
Directions: As a dietary supplement, take 1 capsule daily or as directed by a physician.
Price: Rs.1120 for 120 Capsules
Packaging: Zenith Nutrition Magnesium Citrate Capsules comes in a white colored plastic bottle with screw lids and is sealed with a silver foil.
My experience with Zenith Nutrition AcaiFab Supplement Capsules:
Zenith Nutrition AcaiFab supplement Capsules comes in 2 variants 250mg and 500mg. I got this 250mg variant to start with.
Acai (pronounced ah-sigh-ee) Berry is an exotic fruit which is rich in vital antioxidants and it also contains protein, unsaturated fatty acids, fiber and nutrients such as calcium, iron and thiamin.
Acai Berry is a Bluish-purple berry, almost like grapes. Berries usually slow down the aging process by reducing the cell damage from free radicals. But this Acai berry is special as it helps with weight loss too.
What are the benefits of acai berry?
Acai Berry is a wonder fruit and is termed as one of the healthiest food on the planet. It has more antioxidant content than any other berry like cranberry, raspberry, blackberry, strawberry, or even blueberry. It is a superfood for age-defying beauty.
Also,consuming Acai Berry or its supplements on a regular basis works on decreasing the appetites. That means, it will help to shed pounds without feeling hungry. Reasearchers have found out that Acai Berry improves metabolism which means burning more calories in the same amount of time. A fast metabolism is a key to slimmer body.
Acai Berry Supplement is considered to be a very safe supplement as it is a 100% fruit extract, hence completely natural. I have been consuming it for past few weeks and I can say that I have seen an improvement in skin's texture but still cant comment on it weight loss benefits. If you want to go for weightloss only, go for Garcinia Supplement capsules as they work better than these!
But, overall Acai berry Supplement helps in improving heath and also detoxifies the body!.
Disclaimer: These products are not intented to diagnose, treat, cure  or prevent any disease. Always consult with your professional healthcare provider before changing any medication. Pregnant or lactating women shouldn't take it
Don't Miss to Checkout:
Have you tried Zenith Nutrition Magnesium Citrate Capsules? Do you take any supplements?
PS: Product sent by brand for consideration for honest and unbiased opinion