Yes to Gorgoeus Hair: Hello Hair Hydrating Mask Island Escape Edition
Hello Dolls,
I love to oil my hair and nothing ever came close to make me skip oiling because that is the most natural way to pamper my hair and keep them nourished. And then I came across this mask and I totally forgot about oiling.. ( not actually though). Lets see what new and different in this Hello Hair Hydrating Mask Island Escape Edition .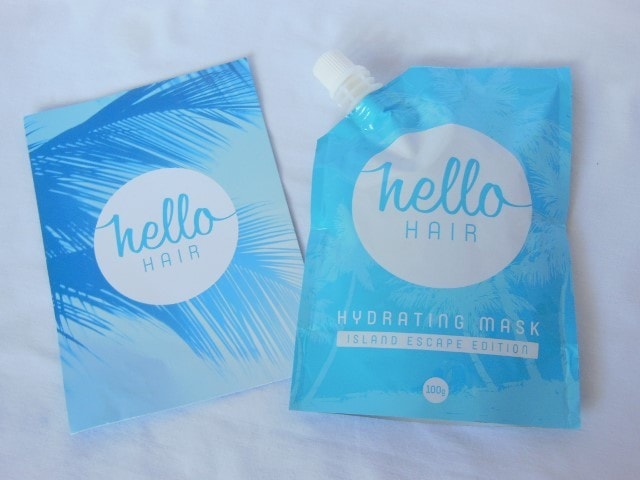 Product Claims: Hello Hair Hydrating Mask is packed full of 100% natural ingredients. Our very special Island Escape Edition is also enhanced with natural botanicals for a fragrance that will transport you to a tropical paradise.
So say goodbye to the crazy chemical compounds that exist in commercial hair care product, and say hello to hair that is healthier, naturally!
We've made this edition NUT FREE so our friends with nut allergies no longer have to miss out on hydrating their locks.
We've used all-natural botanical extracts of lime, grapefruit, vanilla and coconut to fragrance this Limited Edition product.
Ingredients:- Coconut oil, Almond Oil, Argan Oil, Olive Oil, Olive Leaf Extract, Castor Oil.
Introducing Pomegranate Seed Oil, a super serum that revitalises and strengthens hair to make it stronger, more lustrous and healthier. Pomegranate Seed Oil is known to also increase blood circulation to the scalp, and strengthen the blood vessels, to promote healthy growth. It's an essential is battling flaky and itchy scalp, and naturally combating hair fall, dullness, dryness and thinning of the hair.
Grapeseed Oil is a light and non-greasy ingredient that penetrates the scalp to provide great moisturising benefits. It spreads effortlessly over the full length of each hair strand and cuticle to seal the moisture and protect it from any damaging environmental and styling elements
Coconut Oil helps recover damaged hair; adding luster, shine and softness to dry and stressed out hair. By preventing hair breakage and split ends, you'll be helping your hair to grow and grow and grow! Hello Hair uses 100% virgin organic Coconut oil.
Argan Oil hydrates hair, making it great for controlling manes that are unruly and damaged. It is also packed with Vitamin E and natural anti-oxidants which are real hair pleasers.
Olive Oil loves to smooth split ends, reduce static, control dandruff and smooth the hair cuticle; making it a welcome ingredient to improve the overall health of your hair and scalp. 
Olive Leaf Extract is anti-viral, anti-fungal and anti-bacterial by nature. The olive leaf extract in Hello Hair is extremely rich in protein, vitamins, and minerals; so it repairs, strengthens, hydrates and protects your hair. 
Castor Oil is a great source of omega-9 fatty acids, which benefit the roots and scalp by preventing drying of the hair. Hair growth is the obvious result of hydrating your hair with ingredients like Castor Oil. 
Please note that we do not recommend using our original Hello Hair Hydrating Mask if you have a nut or tree nut allergy as it contains Sweet Almond oil. The Island Escape Edition is free of nut products, providing you can tolerate coconut (a seed, not a traditional nut).
Price: $18 for 100ml
Packaging: Hello Hair Hydrating Mask comes in blue colored plastic packaging with a little spout on the top to dispense the product which is quite different from the traditional mask packaging's. Though it looks a little messy but I didn't face any issues using this pouch packaging for application or even travelling along.
My experience with Hello Hair Hydrating Mask Island Escape Edition:
Hello Hair Hydrating Mask is not a creamy mask as you might have assumed but rather it is an oil.. yes it is an Oil Mask.. or simply a mix of all the different types of natural oils that are good for hair.
It is advised to use it at least for 30 min to let the ingredients do their magic but I like to use it as regular oil and leave it overnight for maximum benefit. It is a Coconut Oil based mask and has a strong coconut fragrance which smells really awesome. The oil/mask doesn't feel sticky or heavy as the base is coconut oil only but it does have the regular oily feeling because after all its an Oil only.
I love that this Mask has oodles of amazing oils that will nourish and repair my hair with all the natural goodness and absolutely no chemicals.
Results: I use it as regular oil only so I just apply it liberally all over my scalp and let it stay overnight before washing off with a normal shampoo. I cant say that it miraculously improved my hair texture and health but I do feel that my hair look lot shinier and also I do see slight improvement in my scalp's health like reduced itching and dandruff. I have heard that we do face a severe hair fall post-delivery but thanks to my hair care regime I just have to deal with moderate hair fall.
This pack lasted me 2 months which is a fairly good amount of time and looking at all the exotic oil in the ingredients list I feel it is worth the price tag
Recommendation: Hello Hair Hydrating Mask is an exotic mix of natural oils with coconut oil as a base. It is actually an oil and not a creamy mask so it can be applied just like a regular oil and left on hair as long as you desire. I am in love with its rich coconut fragrance. This chemical free Hair Oil aka Mask nourish hair from deep within and also works on improving hair health. I haven't used it with Steam or a hot towel but I am sure it will improve on the results if used. It is slightly expensive for oil but for rich ingredients list it does justice to its price tag. If given a chance I would love to pick this up again.Recommended!

FYI: Hello Hair is an Australian brand but they do ship worldwide with no shipping charges!
Rating: 4.5/5
Have you tried Hello Hair Hydrating Mask? Would you like to replace your current hair oil with this Hair Mask?
 PS: Product sent by Brand for Consideration