Yay or Nay: The Body Shop Sastuma Body Sorbet
When I first saw these body sorbets I was confused as what is the actual purpose of the product. Is it a body wash, body lotion or something else but what ever it is.. it is so damn tempting!! The body Shop launched many flavors of these yummylicious Body sorbets few months back. I was debating to grab these when this The Body Shop Sastuma Body Sorbet landed in my hands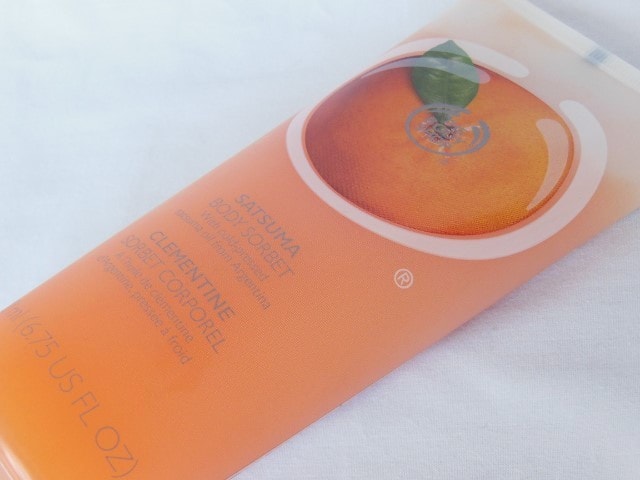 Direction for Use:- Glide onto skin and enjoy the frosted moisture sensation all over your body.  Insider's tip: Put your Body Sorbet in the fridge for an even more refreshing moisture sensation.
Price:- Rs.795 for 200ml
Shelf Life:- 30 months from the Mfg date.
My experience with The Body Shop Sastuma Body Sorbet:-
The Body Shop Body Sorbet comes in a frosty translucent chubby tube type packaging. It has a mousse gel like texture something similar to a fruit puree when freezed for a few minutes, I hope you getting it because it's really difficult for me describe it, I haven't used or felt anything similar in the past.
The best part of this Body Sorbet is its fragrance, it has a fresh juicy tart scent like ripen Oranges.. even better than that… It smell oh so yummyyyy, I wantto taste it so bad!!
I can smell the fragrance even before I open it up. It doesn't smell artificial or utterly sweet which I highly dislike but it does fade away within an hour of application which make me go for another layer to smell it again 😉
Don't Miss to Checkout:
Coming to the application, the sorbet goes like a gel when spread and takes it own sweet time to get absorbed but once it starts seeping into the skin it gives a mild cooling sensation. It disappears completely into the skin leaving behind just the delicious scent and nicely hydrated skin.
For an even better experience, keep it in fridge for some time before application.
Recommendation: The Body Shop Sastuma Body Sorbet is an heavenly smelling body moisturizer with super light texture. The delicious fruity scent will make you go weak on the knees and you have to resist yourself form tasting it! I just wish the fragrance has lasted a wee bit longer on me. It gives mild hydration and doesn't feel sticky or heavy which makes it perfect for summers. The Body Shop Sastuma Body Sorbet is definitely not a must have product but if you love fruity scents and looking for a yummilicious body lotion, give this a shot and you wont be disappointed. It is also available in 4 more delicious scents – Grapefruit, Mango, Moringa, and Strawberry. So, go grab the ones that tempt you the most.

A big Yayyyy from me.. 😀
Rating:- 4/5
Have you tried The Body Shop Sastuma Body Sorbet? Do you like the concept of Body Sorbets?
PS: Product shared by brand as a gift