Worst of 2013: Makeup Products
Sometimes even your favorite brands fails to deliver the right quality and you left gasping for more. This time 3 of my favorite brands disappointed me with their products including INGLOT, Maybelline and Lotus Herbals.
I love INGLOT eye shadows but few of the shades were just not good enough and needs an upgrade in their formula. One of the most raved about mascara from L'Oreal "L'oreal Paris Volume Million Lashes" failed to impress me too. Let's take a look at products that didn't performed up to the mark.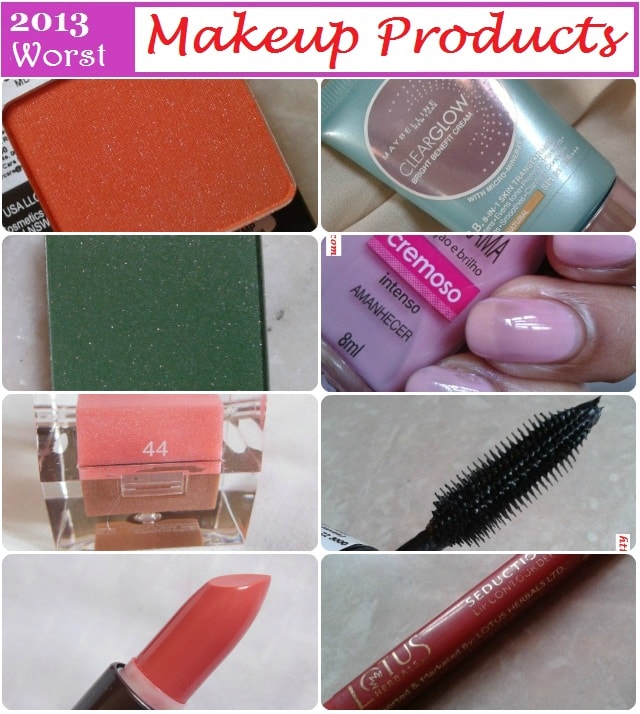 INGLOT Eye Shadow AMC 51 – Hard texture which is difficult to apply
INGLOT Eye Shadow AMC 57 : Stains my lids, creases quickly and stains my lids
INGLOT Lip Duo Lip Gloss- Vanilla : Sticky texture and no color pay off
Covergirl Lip Perfection Lipstick Heavenly – Grainy texture gives a freckled finish
Maybelline BB Cream – Heavy texture, takes time to blend and gives a white cast
Maybelline Colorama Artistica Nail Paint – Amanhecer: Doesn't show any color eve after 4-5 coats.
L'oreal Paris Volume Million Lashes Mascara Extra–Black: Clumps easily leaving me with spider lashes.
Lotus Herbals Seduction Lip Contour Definer-Coral Pink : Cheap Packaging and blotchy application
What were your Worst Makeup purchases of 2013? Which Makeup Brand you loved/hated the most?