Worst of 2013: Bath and Body / Skin Care / Lip Balms
I experimented a lot in this area so as to find out my HG Skin Care products but which searching for the same it was inevitable to step onto some bummers that actually did nothing for my skin rather stung, irritated, made it prone to acnes. Delivered nothing regarding what they claim rather left my skin all dull , dry or greasy.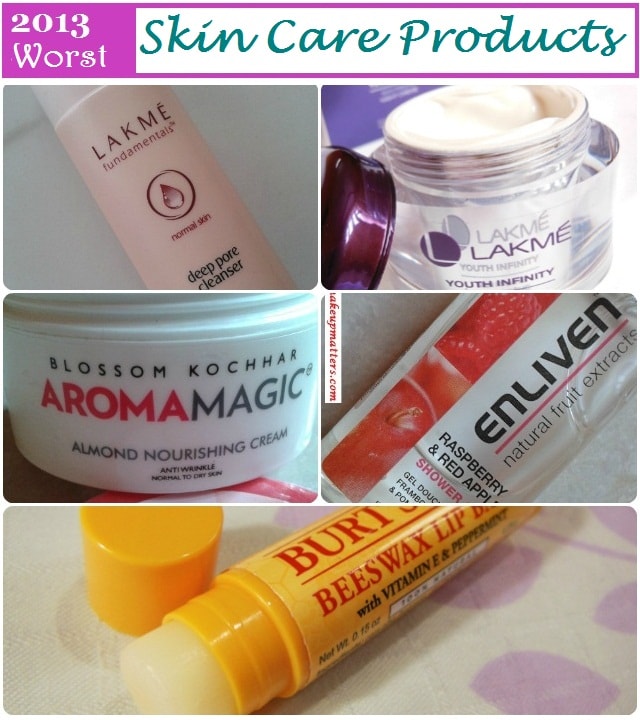 I don't think they are going to suit to any one of you. So products that you must avoid purchasing according to me are:
Lakme Deep pore Cleanser: It stings my eyes like hell and also tends to break me out.
Lakme Youth Infinity Skin Firming Night Cream:-Takes lott of time to get absorbed and did absolutely nothing for my skin.
Enliven Fruit Natural Extracts Shower Gel – Raspberry & Red Apple –Doesn't lather at all. Terrible as a body wash.
Blossom Kocchar Aroma Magic Almond Nourishing Cream – too Greasy and also has strong bitter almond fragrance .. ewww!!
Burt's Bees Lip Balm – Beeswax: Has hard texture and I need to rub it really hard across lips also gives the unwanted Tingling sensation.
What were your Worst Bath and Body / Skin Care / Lip Balms products of 2013? Which Skincare Brand you loved/hated the most?