Winter Perfect Glossy Lips with INGLOT Slim Gel Lipstick #59
Hello Dolls,
I haven't posted reviews in a while so let's start the review series with a gorgeous winter formula and lip color from INGLOT, the INGLOT Slim Gel Lipstick #59. I had this lipstick for more than a year now but didn't got around to use it much but as winters has kicked in and the #59 shade is a great winter shade, I am going to pull it more often. Lets see why or not I loved this lipstick, INGLOT Slim Gel Lipstick #59.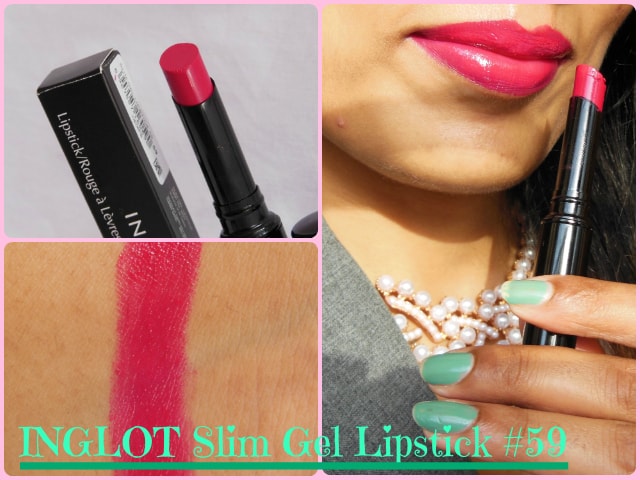 Product Claims: Slim Gel Lipstick gives a lighter and hydrating coverage. Paraben Free formula. Not tested on animals.
Ingredients: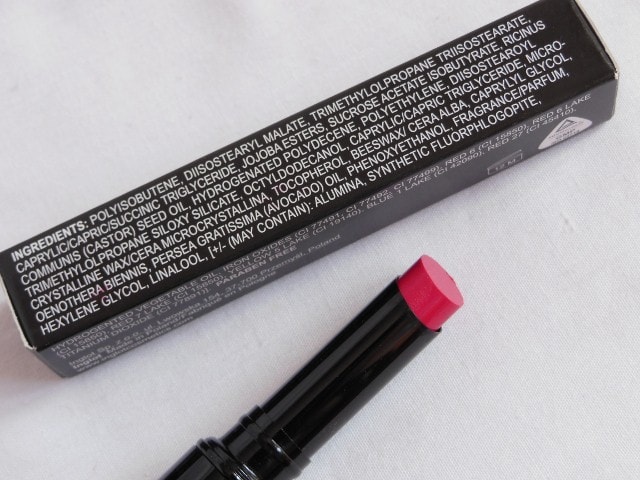 Price: Rs.850 for 1.8gms
Shelf Life: 3 years from the Mfg date.
Packaging: INGLOT Slim Gel Lipstick as the name suggests comes in a sleek, long glossy black tube type packaging which is encased in a black card box carrying all the details.
My experience with INGLOT Slim Gel Lipstick #59:
Shade: #59 is a deep raspberry pink shade with purple undertones. It is sort of Chameleon shade which bright during day but turns to a more vampy berry shade in the dark. It looks like any other fuchsia pink in the tube but on lips it looks very unique and I don't think I have something similar in my collection. The shade however is great for warm Indian skin tones and if you are looking for something in between purple and pink this will be a good one.
Texture/Formula: The lipstick has a buttery smooth texture which literally melts on lips when swiped. The bullet is so soft that it broke when I was swiping it gently on my arms which disappointed me slightly, so beware to use them cautiously during hotter months. The formula is highly moisturizing and this makes it great for dry lips as it doesn't flake or accentuate lip lines.
Pigmentation: Owing to the balmy texture it is not super pigmented but has a buildable formula. It goes quite sheer in a single swipe but builds up to an intense berry pink with multiple swipes, though there is still some translucency to it.
Staying Power: As expected it doesn't last more than 4 hours on me and is highly transferable.. you can see pink stain on everything that comes close to your lips but as the formula leaves a pink stain on lips so you don't need to worry about the lips oing nude completely. Also, the color may bleed so its recommended to use a lip liner underneath.
Recommendation: INGLOT Slim Gel Lipstick #59 is a gorgeous berry pink shade with glossy finish and nourishing formula making it perfect to counter dry lip issues in winters. The super buttery texture glides like dream on lips giving them a fuller/plump look. The formula however is prone to melting so you have to store it in fridge during summers. It has buildable color payoff so you can wear it as a sheer glossy Fuchsia stain for a subtle color or go for a dark berry pink lip by swiping it 2-3 times. The low staying power is countered by the dark stain it leaves on lips. Overall, a great formula for dry lips if you love lustrous lips but you gotta pay for it because it definitely pricey for a drugstore brand. Recommended!
Rating: 4/5
Have you tried INGLOT Slim Gel Lipstick #59? Do you prefer Glossy lipsticks over Matte finish Lipsticks?