Win Korean Sheet Masks From Skin18.com! – 3 Winners
Good Morning Fellas.. 🙂
I have been obsessing over the Korean Mask Sheets I recently got from Skin18.com. They are one of the best thing ever I did for my skin. I have reviewed and shared my experience with Korean Masksheets from Skin18 few days back. Also, I have been snapping live my experience with masksheets on Snapchat, so follow me there if you already didn't.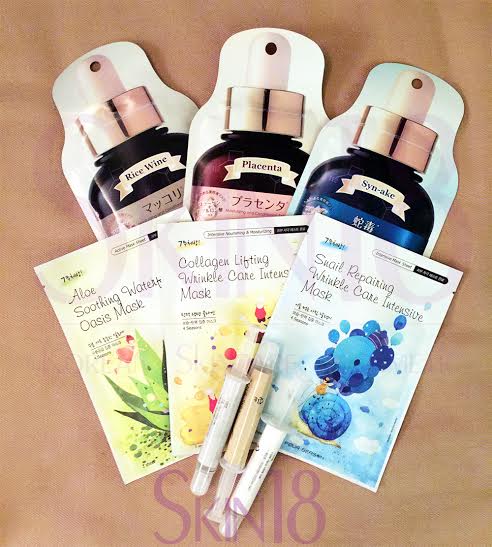 As many of you wanted to try these mask sheets, I managed to do this a little bit for you. I, in collaboration with Skin18.com will be giving away THREE hampers to the gorgeous ladies out there which will include 6 Sheet Masks and 3 Ben & Sara Syringe Samples. 😀
Rules for participation:
The contest runs for 10 days and we have 3 winners
Each Winner will receive 9 products – 6 Sheet Masks and 3 Syringe Samples
Contest starts today and ends on 20th September.
Open Internationally!! 😀
Winners will receive hamper shown above from Skin18.com.
Mandatory Entries:
Like BeautyandMakeupMatters and Skin18Com on facebook
Follow me @Poonam_BMM and Skin18com on twitter
Follow me  @Poonam_BMM and @Skin18com on Instagram
Share, Retweet and Repost using #PoonamBMMxSkin18 hashtag and tagging 3 of your friends for extra entries.(Optional)

Participate & win this amazing Korean Skincare hamper by @Poonam_BMM @Skin18com #PoonamBMMxSkin18 http://wp.me/p4sZLE-4Q8
****Maximum 5 entries per person!!********
Leave a comment below with the following details:
Name-
Contact Email-
Facebook Name/ Twitter Handle/Instagram Handle-
Fb/Twitter/Instagram share links-
There are more awesome giveaways coming up on the blog this month, so don't forget to Subscribe to my blog and stay updated!
PS:Thanks to Skin18.com for sponsoring this giveaway!
!!! Good luck Girlzz!!!:)