Why White: Maybellline White Super Fresh Compact
Hello Dolls,
I just shared what I love and hate about the new Maybelline Candy Wow Lip balms and today I have another new lauch from Maybelline which is a compact, Maybellline White Super Fresh Compact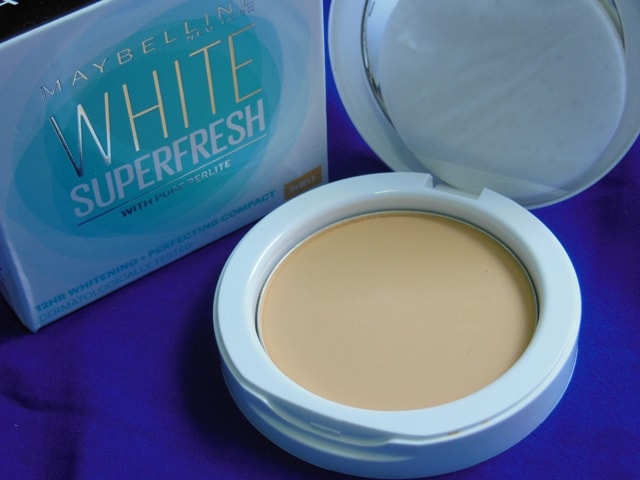 Product Claims: Maybelline New York introduces it's all new perfecting compact powder, White Super Fresh that comes in three shades, Pearl, Shell and Coral. The new perlite formula absorbs oil and sweat and gives you a fresh look all through the day. Now bid goodbye to touch-ups and stay fresh and fair upto 12hours.
Price: Rs.150 for 8gms
Available in 3 Shades:
Pearl – Light
Shell – Medium
Coral – Dark
Packaging: Maybellline White Super Fresh Compact comes in a beautiful glossy white round compact packaging which has a mirror inside and a plain white puff. The puff though doesn't look that good but I usually prefer to use a brush to apply powders so will keep it just for emergencies. The compact is house in a white cardboard box with all the product details.
My Experience with Maybellline White Super Fresh Compact:
Maybellline White Super Fresh Compact is smooth to touch but I don't find it as smooth and soft as L'Oreal Mat Magique Pressed Powder. The formula feels just a tad bit hard so it takes a little more time and effort to blend in into the skin.
I like to use L'Oreal Mat Magique as a setting powder to set my foundation but the Maybellline White Super Fresh Compact won't serve this purpose so well and works better when used on its own directly on face or over a Sunscreen/BB Cream.
Shade: I got this Maybellline White Super Fresh Compact in Shell which is a medium shade with warm yellow undertones which will work for most of the Medium-fair Indian skintones (around NC 40).
Formula: It looks a bit powdery on application and also catches up on dry patches if used directly without moisturizer underneath, though the powderiness goes away with a mist or a finishing spray. Also, I feel it will be a much better pick for Oily/combination skin in summers as it contains Sebum controlling ingredients which will help in looking bright and fresh for long.
Coverage: As expected, coverage is quite sheer and even after layering it it gives a light veil to the skin. It definitely brightens up my complexion but Whitening.. well no!! And I don't want to look like a white Ghost either 😛
Longevity: Maybellline White Super Fresh Compact claims to last for 12hrs which is a far cry because it fades in less than 4 hours. I haven't come across a powder even from luxury brands last that longer and this affordable beauty at just Rs. 150 claims to do so..and it fails!!
Recommendation: Maybellline White Super Fresh Compact has a decent formula which will work nicely for oily/combination skin in summers. I won't particularly recommend it for dry skin as it accentuates dry patches and look powdery. It does brighten up the complexion and gives a fresh matte look to the skin but it doesn't last for 12 hours as claimed and needs a touch up after every 3-4 hour. Overall, it is a nice budget compact especially for college girls who don't have the budget to spend much on makeup.
Rating: 3/5
Have you tried Maybellline White Super Fresh Compact? Which is your favorite Budget Compact?
PS: Products sent by brand for consideration