What's in My FAB Bag – February 2015
Hello Everyone,
Today I will be reviewing my first beauty box bag, it's the February FAB bag and yes it's Valentine special. 😉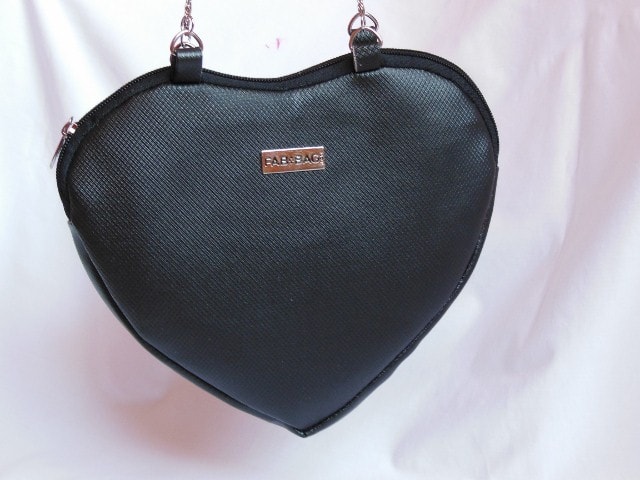 The contents come enclosed in a pretty heart shaped pouch. I would have loved it in a pretty Pink or Red as Black is not usually the best way to express love 😉
Here are the goodies I received in my FAB bag: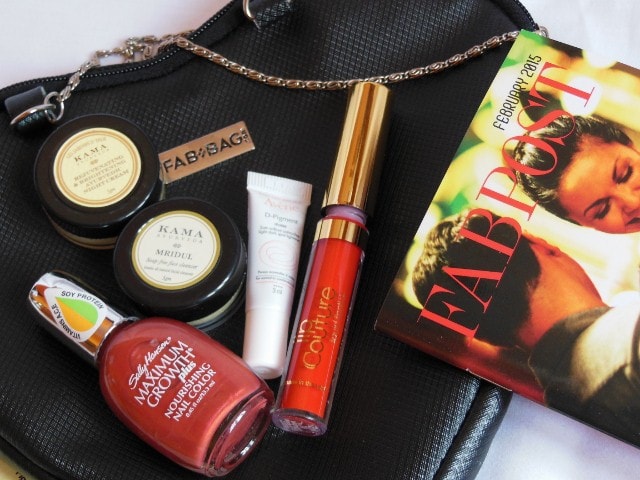 Kama Mridul Soap-free Cleanser and Kama Rejuvenating and Brightening Night Cream: I haven t tried Kama products as of now so was happy to get some sample sized in the bag  These travel sized jars are great if you are travelling and want to carry good skin care with you . I will start using them soon and will share the first impression of the products as with the quantity I will be able to do a full review.
Avene Eau Thermale D-Pigment Cream: Avene Eau Thermale D-Pigment Cream is another lovely product in skincare. The tube is really tiny but it is for problematic skin with pigmentation issues but I am happy that it has an easy to use and hygienic packaging.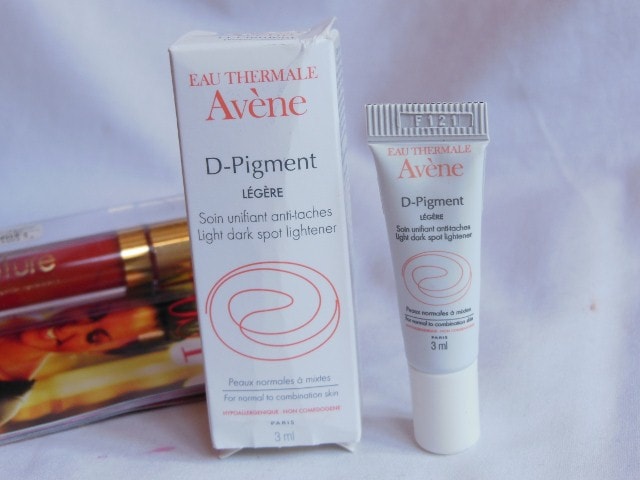 LA Lip Couture Liquid Lipstick – Till Midnight: This is my favorite product from the bag and its full sized! I have tried only one liquid lipstick till date and absolutely loved the feel on lips and this another gorgeous Red! I can very well see myself wearing this on an upcoming wedding for which I was already planning to do bright Red lips only. The formula is ahhaamzingg.. , it sets to a super matte finish, which is kiss proof (valentine special 😉 ) , smudge proof and god damn pigmented!! One swipe is all I need to cover my lips. I have been stalking these on instagram and was wondering if they will be good but now I know! Well, you got to take care of lips with such liquid matte lipsticks as they can be super drying so better prep your lips in advance or layer on top of a balm to make them happy.
Sally Hansen Maximum Growth Nail Paint – Practical Plum: I have used Sally Hansen Nail paints and absolutely loved the formula and they are still in my favorites list. The ones I have tried were from Hard As Nails range but this belongs Maximum Growth Plus. I got in the shade warm plum shade with pink tones in shimmery satiny finish.
And lastly love themed Fab Post .. for Valentine Day ideas and makeup ;)!! <3 *Bells Rings"* * violin playing in Background*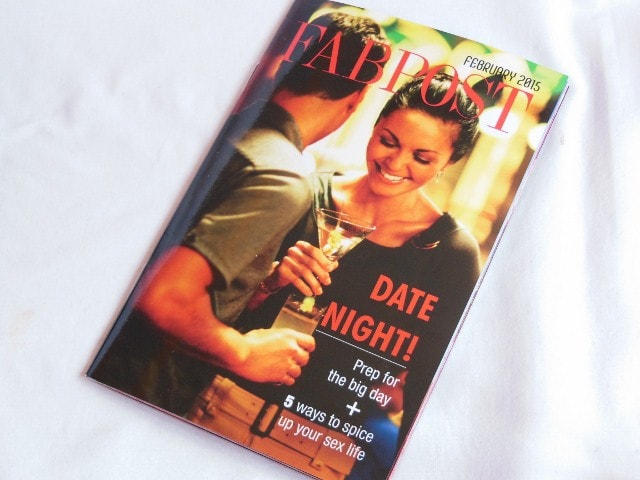 Overall, I am quite happy with my first stint with FAB bag and loved the inclusions in this month's bag ! <3 I am sure you enjoy it for Valentine's 😀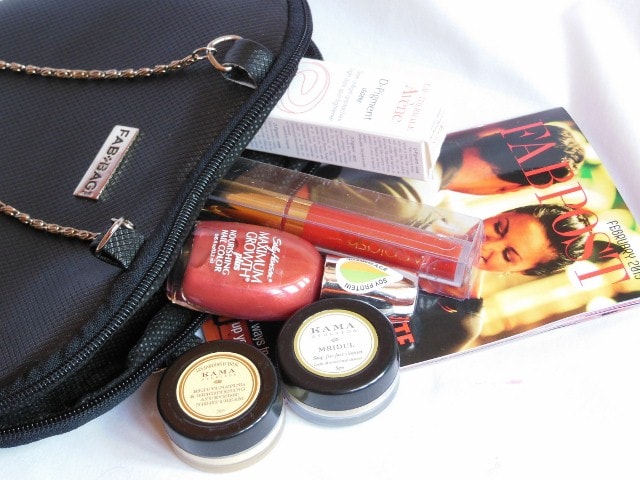 Have you tried FAB Bag? Do you like the idea of Beauty Bags/Beauty Boxes?
PS: Bag sent by brand for consideration