What Am I Wearing Today: Warm Copper Smokey Eyes
Hello Dolls,
A lot of you have been requesting to do a wearable party makeup look, so I ditched all those extensive creative and Bold ones and came up with this bright, beautiful yet wearable copper smokey eye look.
It is such a pretty bright warm orangey copper look that it will look beautiful on everyone. I did more of a winged look in the outer corners but you can also do more of a rounded look as you desire.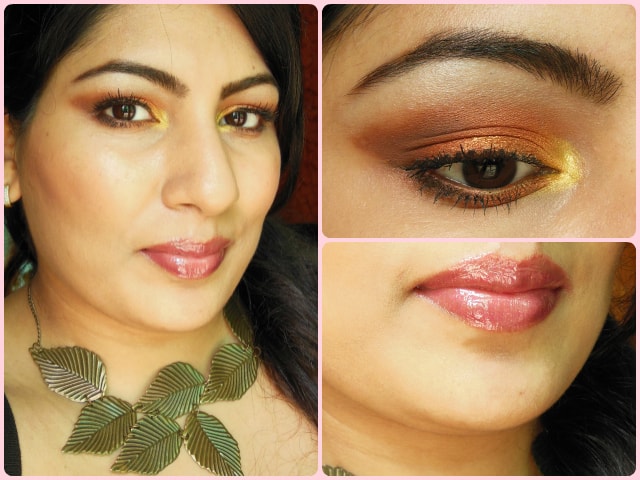 I used 2 .. actually 4 of my favorite eye shadows from Makeup Geek. As you already know I own a bunch of Makeup Geek Eye Shadows but out of all those these 4 are my most loved ones and they are Flame Thrower (Foiled), Lemon Drop, Frappe and Cocoa Bear.
I love how Flame Thrower – Orangey Copper shade comes up on lids and seriously it is one of the most beautiful shade. I have ever had on my lids. Frappe made blending super easy and gave seamless finish while I added depth with Cocoa Bear on the Outer-V. For inner corner, you can again go for a beige golden highlighter but this metallic yellow, Lemon Drop rocked the look for me and loved it even more when I blended it lightly with Orange on lids.
As I did so much of blending in the crease and outer corner, I skipped the liner altogether… which could be a bonus for all those struggling beauties out there!
We all have our preferences and comfort zones when it comes to lip color, hence I am showing 2 of the options here to choose from. One is a bright berry pink glossy lip look while other is more of a muted nude-pink look. Personally, I loved the nude one more 😀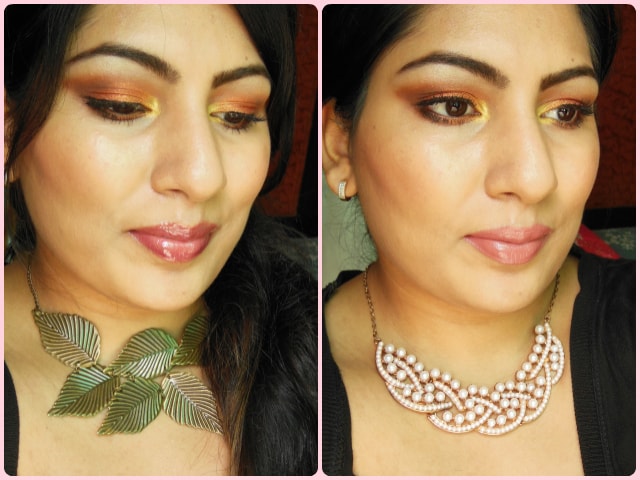 For cheeks again it is my staple Maybelline Creamy Cinnamon blush with Mac Face and Body Foundation as my base to give me that beautiful glowy skin finish.
Hope you enjoyed this look!!
Share your thoughts and feedback in comments below
Loads of love.. :-* :-*
PS: If you get inspired and recreate the look, don't forget to share it. Tag me on instagram, facebook, twitter (@Poonam_BMM). I would love to see it on your eyes.