What Am I Wearing Today: Swirly Winged Liner
Hello Dolls,
I have an unusual winged eye liner look to share with you today. Usually we try to make our wing as straight as possible with the sharpest point.. so sharp that it can cut anything into slices but today we are going to swirl it around and have the best of our time.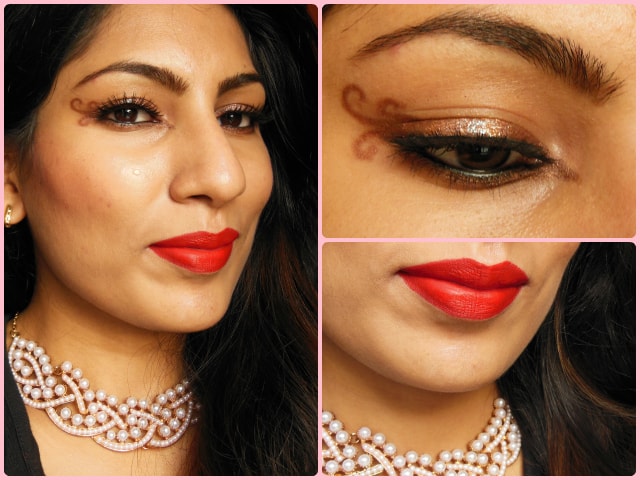 I chose brown eye liner for this because I feel the mistakes are less obvious with this and looks pretty but you can pick any color you like i.e  Black, Blue,Green and so. I started with a metallic brown liner, Bourjois Metallic Eye Liner Brun Inoxydable but that's doesn't seemed enough and looked pretty light so I packed some of the loose copper-brown pigment, MAC Copper Pigment and then layered it up with a reflecting shimmery pigment, MAC Teal Reflects Pigment for that super stunning shimmery effect. And with all this it was a must to get as dramatic as I can so I popped in some false Eye Lashes and Boomm…!!
I paired this swirly winged eye liner look with my all time favorite Red Lip stick, Stila Liquid Lipstick Beso which I feel is the best choice because its matte finish kinda balance out the shimmery eyes.I don't think I did anything else because I got myself pretty much covered there but I need a glowing skin so I used MAC Face and Body Foundation and layered it heavily with MAC Strobe Cream on the high points of my face.
This is probably one of my favorite looks till date.. not super bold but still so awesome! 😀
Hope you enjoyed this look!!
Share your thoughts and feedback in comments below
Loads of love.. :-* :-*
PS: If you get inspired and recreate the look, don't forget to share it. Tag me on instagram, facebook, twitter (@Poonam_BMM). I would love to see it on your eyes.