What Am I Wearing Today: Soft Brown and Shimmery Pink Eyes
Hello Dolls,
Today I am sharing another shimmery eye makeup look using Pink glitters from MAC only on the lower lash line. As you can see, I started with neutral brown eyes but then the glitter bug bit me and I popped in this bright pink shimmers, MAC Reflect Pink pigment on the lower lash line. I know the application should have been better as that thick winged liner is doing nothing for the look but to makeup for the loss and add some crispiness to the look, I added some stones on the inner eye corner and below the winged liner. I also added some false lashes to make the look even more dramatic.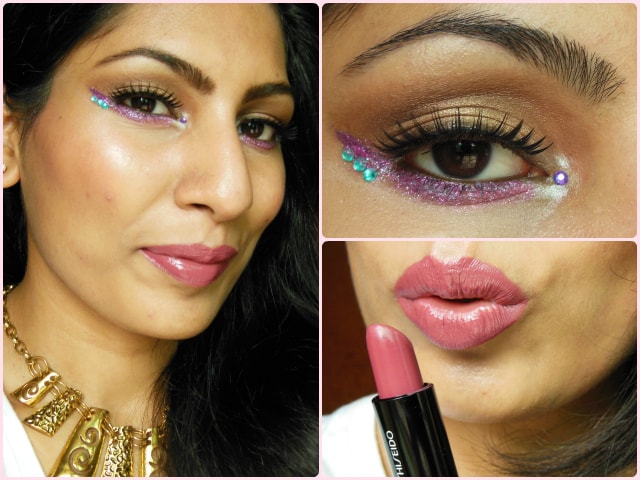 I have actually not been planning to go all over with the shimmers and was just trying to add a little on the lower lash line but then the things went out of control and this happened.
For the face, I used a warm peachy plum blush just to add a flush of color to cheeks and it is the INGLOT AMC Liquid Face Blush #81 and lots of highlighter with MAC Strobe Cream. On lips, I swiped a nice medium plum lipstick, Shiseido Perfect Rouge Lipstick Fantasia RS745. I am not a fan of such dusty rose shades but that is the lipstick I was planning to wear that day so..
Hope you enjoyed this look!!
Share your thoughts and feedback in comments below
Loads of love.. :-* :-*
PS: If you get inspired and recreate the look, don't forget to share it. Tag me on instagram, facebook, twitter (@Poonam_BMM). I would love to see it on your eyes.