What Am I Wearing Today – Red Lips
I know its Summers and high time for peachy nudes/pink lip colors but Red Lips never goes out of fashion :P. 'I did a very natural looking bronzed eyes and added the color RED on my lips to draw all the attention to my face. You can easily pair the look with  nude lips for an easy, go-to look but if you want to take the center stage say yes to RED and add that extra glamor to your face with pretty Red Pout.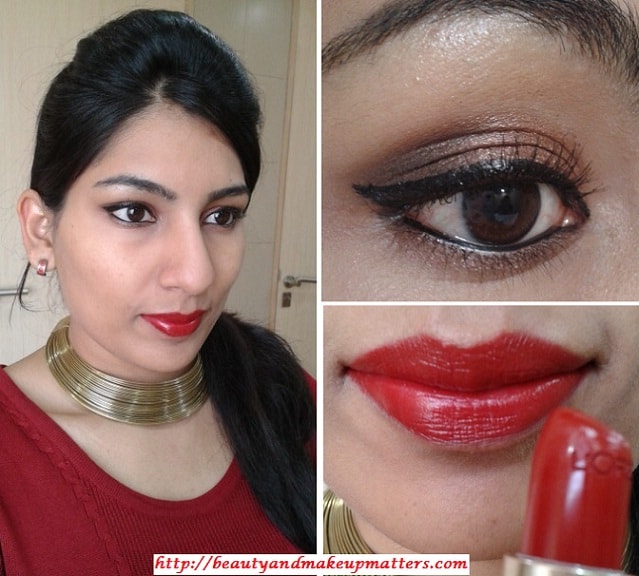 I used  L'Oreal Color Riche Red Rhapsody Lipstick. On eyes I used one of my Favorite INGLOT Eye Shadow INGLOT Freedom System Eye Shadow #421 Pearl (Review coming up) and smudged a bit of Kohl on outer corners.
This is the kind of look that is easy to do and can made suitable for day time by just switching the lip color with a brownish nude or a wearable pink, if you are not comfortable wearing reds. For evening, add little more drama to the lashes with a pair of false lashes and coats of mascara. Keep cheeks soft and neutral with a peachy pink blush and a bit of highlighter for glowing cheeks
Don't Miss to Checkout:
Hope you like the look 🙂 
Do you prefer Red lips or Nude lips? How would you pair red lips with a soft brown eyes or crisp blacck eye liner?