What Am I Wearing Today: Pop Of Green Look
Hello Dolls,
I have been sharing quite a lot of edgy and bold make looks for past many days, so lets calm it down for a now and try something more sudued and wearable this time. Don't get me wrong when I say "subdued" because if you know me.. I am not complete without color be it a hint of it.. and here is my version of Pop Of Green Makeup look.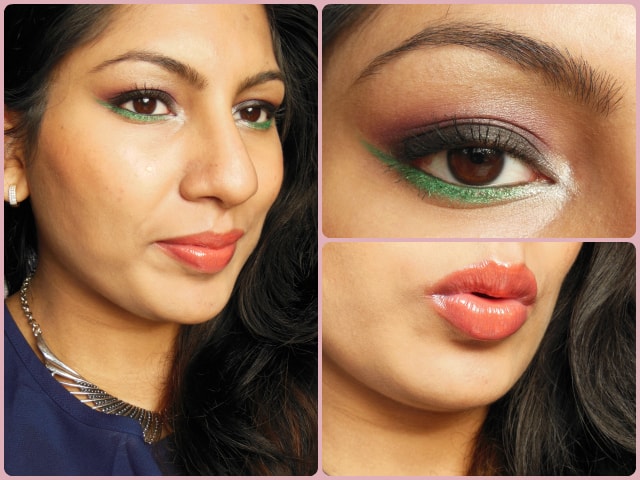 I started with a black base on lids and to tone it down I used a pinkish berry shade to blend out the edges, not only it softened the look but added a hint of color too and saved me from getting that typical Black smokey eye look. Then, added a bright champagne shade in the inner corners to brighten up the eyes. I gave eye liner a miss because I wanted to keep it simple yet classy.
You can very well stop here and settle for a subtle brownish lower lash liner work but if you want to add a pop of color, use any of the bright eye shadow or eye liner on lower lash line. I used a Green liner here, the Sephora Jumbo Eye Shadow Crayon Green. I just wish I hadn't extended it to a wing.. because I have a feeling that it would have looked way better that way.
I used Sleek Rio Rio Eye Shadow palette on eyes and the sheer orange gloss is from Colorbar, the Colorbar Sheer Glass Lip Gloss. On cheeks, I guess it is my ultimate favorite Maybelline Cheeky Glow in Creamy cinnamon only.
Hope you enjoyed this look!!
Share your thoughts and feedback in comments below
Loads of love.. :-* :-*
PS: If you get inspired and recreate the look, don't forget to share it. Tag me on instagram, facebook, twitter (@Poonam_BMM). I would love to see it on your eyes.