What Am I Wearing Today: Pixiwoos Inspired Graphic Eyes
Hello Dolls,
Let's move out of our comfort zone, using just the neutral/ brown shadows or a simple black liner. How about taking the eye liner application to a different level ..!!
One thing that I have learnt after indulging into makeup is "There are no rules to makeup.. so don't limit your creativity".. It is basically like you are creating a piece of art everytime with face as your canvas. Sounds a little preachy?? .. hehhe!! I don't want to sound like a Beauty Guru but just wanna convey that you can do whatever you like on your face.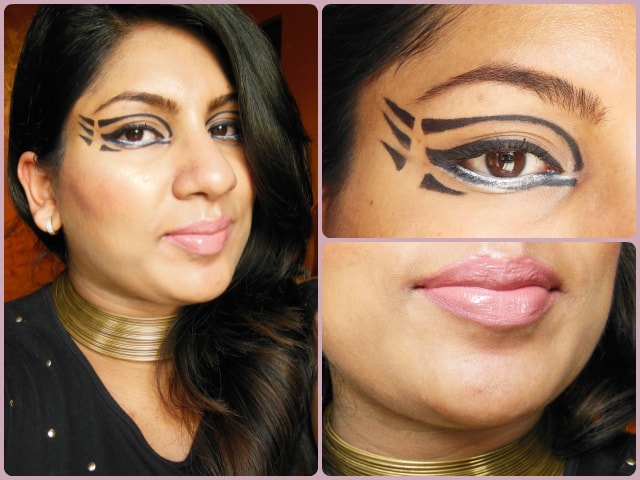 "Pixiwoo Sisters", creator of Real Techniques Brushes as you must already be aware are one of the top beauty Gurus in the world and I was watching their video on a lazy afternoon. The tutorial hit me hard and I have to kick myself up and give that a shot.
It is this Val Garland Inspired Graphic eyes that Samantha Chapman re-created and I was awestruck… she nailed it! She created it with such an ease but as usual I have a little hard time replicating it especially the lower lash line details but still I tried my best to do it.
This is how it ruined out on me. I know I could have been bit more precise and a cleaner application of white liner would have made a huge difference but I was in a rush to finish up .. So please bear with me!
I paired this bold graphic eyes with a nudish pink lip color which I created with a Catrice lip liner topped with a shimmery pink Revlon Color burst Lip gloss Pink Ice. For Cheeks, it again my favorite Maybelline Cheeky Glow Creamy Cinnamon and a lots of highlight on cheek bones!
I won't mind walking out with this super cool eye makeup and grab everyone's attention… I am weird that ways 😛
Hope you enjoyed this Look!!
Share your thoughts and feedback in comments below
Loads of love.. :-* :-*
PS: If you get inspired and recreate the look, don't forget to share it. Tag me on instagram, facebook, twitter (@Poonam_BMM). I would love to see it on your eyes.