What Am I Wearing Today: Metallic Copper Fall Makeup Look
Hello Gorgeous,
"Jingle Bells" have started ringing in my ears as Christmas is just few days away. Though, it might not be a that big celebration here in India but my craze for this festive/party season is the same as for Diwali….I just need a reason to deck up and Makeup 😀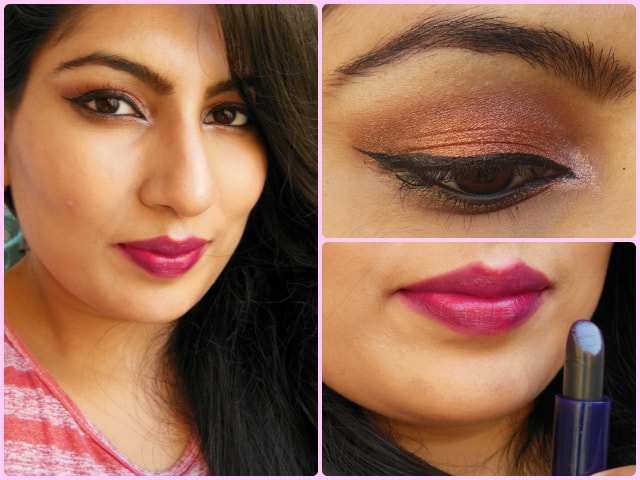 I have a very wearable warm copper eye makeup look to share with you today and there are three lip options to choose from. I should have included a nude as well but when it's about celebrations I stick to bright shades only!
I used my Sedona Lace The Babe Collection Eye Shadow palette in 04 on the eyes and it just blew me away.. the pictures aren't even 50% as good as it looked in person. There is such a beautiful metallic shine in shades ( which I guess is the reason that they didn't turn out as good) with a buttery smooth and super pigmented formula… they are a joy to work with. I used the Medium Copper Gold in the middle, dark bronzy brown in outer corners and peachy champagne in the inner corners.
For lips I have 1..2…3 options to choose from. I personally loved the rich burgundy matte lip look using Sugar Matte as Hell Lip Crayon in Poison Ivy but if you don't want to venture in such a vampy zone you can try the Berry red lip look with Fran Wilson Mood Matcher lipstick in Black or ditch the red altogether and go a bright fuchsia purple lip look with L'oreal Color Rich Moist matte Glamor Fuschia.
I packed on Revlon Shimmer Brick in Peach Glow for that beautiful glow but wont recommend it as it look quite powdery in person.
So, this is my version of Wearable Fall Makeup Look.. Metallic copper eyes and dark lips! 😀
I didn't shoot an eye makeup tutorial for this look so if you would like to know how I achieved this look.. let me know in comments and I will do one for you!
Hope you enjoyed this look!!
Share your thoughts and feedback in comments below
Loads of love.. :-* :-*
PS: If you get inspired and recreate the look, don't forget to share it. Tag me on instagram, facebook, twitter (@Poonam_BMM). I would love to see it on your eyes.