What Am I Wearing Today: Heart On My Eyes
Hello Dolls,
I have done this eye makeup look years back on Valentines day and was super excited for it because I used shimmers/glitters on eyes for the first time and fell in love with it.. <3
But using them was such a pain especially when I had no glue or adhesive to make them stick to my lids that I ended up doing just the single eye iisshh..!!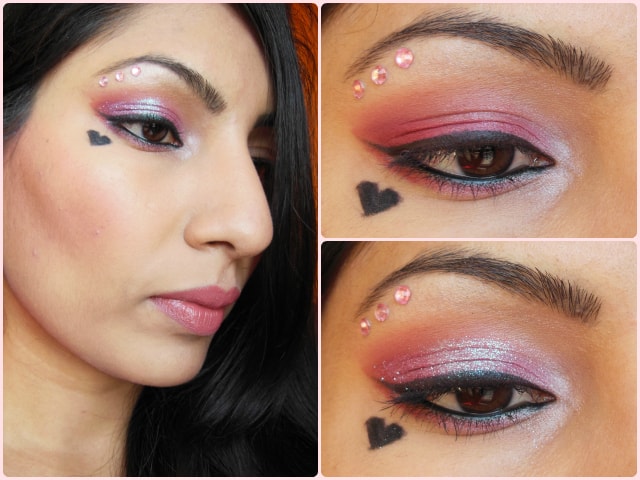 Considering my makeup skills at that time I am still pretty impressed with my work and love this look even today. More so because I did pink eyes which I feel is the most difficult color to pull off as you can easily end up looking all bruised on the eyes.
Let's see how I achieved this Heart On My Eyes Valentine Day Inspired Makeup Look. You can also check the Step by Step Tutorial on this Valentine Day Inspired Eye Makeup
I used INGLOT Eye Shadow #382 as a base color which is pretty much a matte eye shadow and used NYX Milk Bean Jumbo Pencil as a base to make the color pop. For that shimmery effect I popped in MAC Reflect Teal Pigment in the centre of lid which is by far my favorite Pigment/Glitter. I should have gone for false eye lashes for the amazing effect but back then I wasn't into false eye lashes so just a bit of Maybelline Colossal Masara Here.
For a more glamorous touch to the look.. because its all about love <3 I added a little heart just under my eyes and 3 pink stones under my brow bone for that sassy effect
For the face, I used a warm peachy pink blush just to add a flush of color to cheeks which I guess is the Colorbar Peachy Rose for sure. On lips I just swiped a warm peachy pink lipstick from  Maybelline, Maybelline Color Sensational Moisture Extreme Buff which was my favorite everyday shade then.
Hope you enjoyed this look!!
Share your thoughts and feedback in comments below
Loads of love.. :-* :-*
PS: If you get inspired and recreate the look, don't forget to share it. Tag me on instagram, facebook, twitter (@Poonam_BMM). I would love to see it on your eyes.