What Am I Wearing Today: Gothic Black Lips
Though it's a bit late to share the look that I did last Friday, my "Black Friday Inspired look" which I didn't got a chance to upload that day but I really want to show you girls how I celebrated the day while the rest of the world shopped. 😛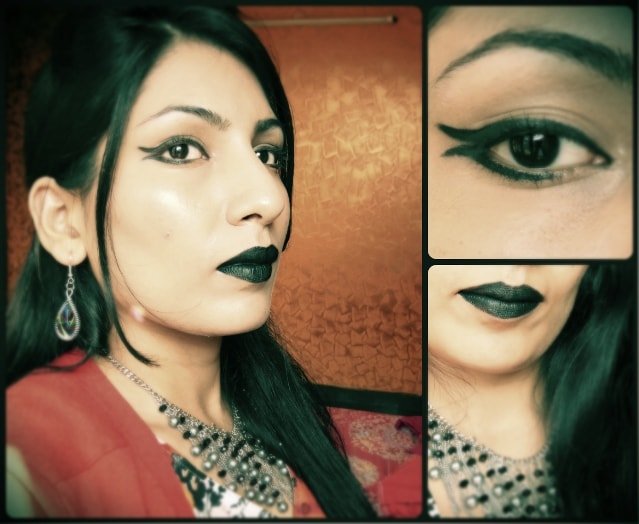 First of all, I would like to apologize to all of you for suddenly taking a break from blogging. It was just an instant plan to visit my mum's place for a week, and there isn't any Internet connection at her place but now I am back with "Mixed feelings" !! 😀 😛
It's good to be back to blogging (missed you guys so much :-* ) but it was like being back to my bachelorhood days "No String Attached", didn't wanted the week to end.. ;).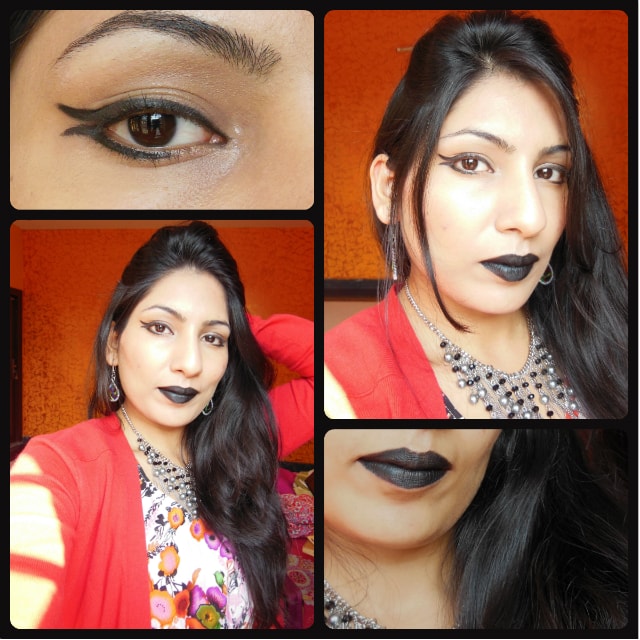 Anyways, let's get back to today's look, my first ever Vampy, Gothic Black Lip Look. It's while compiling the "Black Lipsticks for Black Friday" post that the idea donning a black lip look stuck in my mind.
I was excited to do a black lip look but then the question arised with what as I didn't own a single black lipstick.
**Think Think Think.** patting finger on forehead and thinking… 😛
Planned to use black eye shadow on a layer of 2-3 dark lipstick and something like that but that sounded so demanding and cumbersome. Naahh!! Wanted some thing simple…Really Simple and suddenly while looking for options in my makeup bag, I saw the Kohl eye pencil and I knew this is gonna be my lipstick for today. **Bulb Glows** (Idea!!!)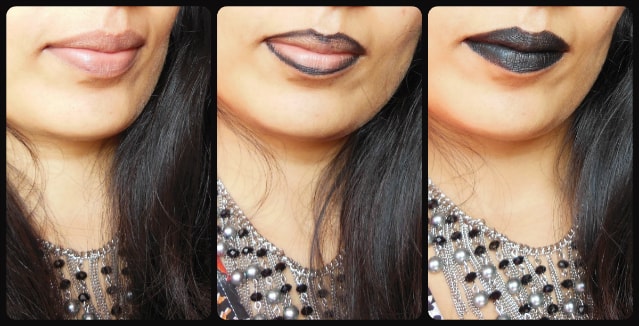 I achieve these creamy Black Lips in two easy Steps with this Kohl:
Line Lips with the Pencil
Fill it in!
Yes that's it (Evil Grin.. 😀 :D) black lips couldn't have easier without a Black lipstick.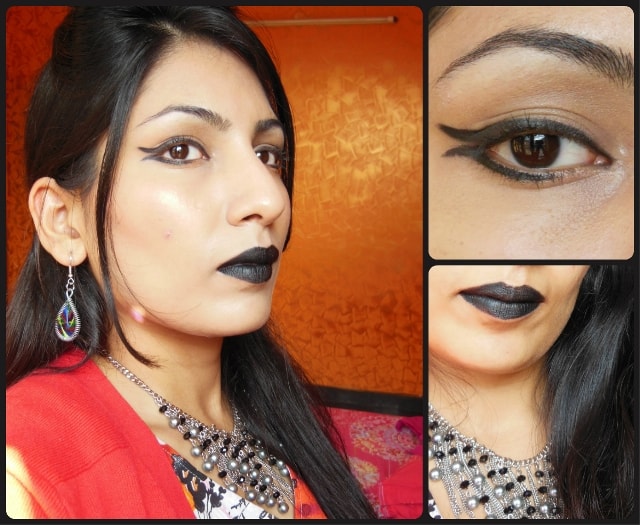 First, I thought of going for dramatic eyes, really vamp types but then plan changed.. why don't make this look wearable which you can plan to do wear while hitting the store for Black Friday Shopping and distract others with your lips.. 😉
Don't Miss to Checkout:
Products Used:
Hope you guys would enjoyed horrified by the look! Do share your thoughts (positive or negative) Can I request a bit of kindness 😛 !
Do you find this look wearable? Will you step out of the house with these vampy black lips?