What Am I Wearing Today – Glitter Gold and Greens
Hello Everyone,
I went crazy and bought a ton of Eye Shadow Pigments but the hang got over soon as they were lying in the stash untouched for months. Then one fine day I planned to put those glistening beauties on my eyes and I was taken away. I absolutely loved how crazy and amazingly pretty they looked on eyes but it is hell of a task to get the application right and then clean up all the fallout and the mess they create on under eye area.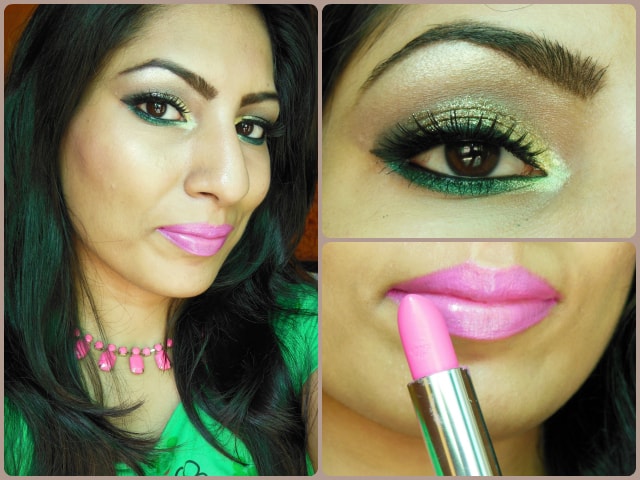 I tried patting some loose powder and applying a thick layer of concealer to catch the fallout, though these did help and caught most of the color but I was still left with a lot to clean and then cover up. I would highly recommend using a Scotch tape under the eyes to avoid any glittery fallout. Also if you are planning to use loose eye shadows make sure to not to do your face makeup before eyes. First do your eyes, clean the mess and then go with your concealer and foundation routine. This will avoid any cakiness due to multiple layers of product and a cleaner makeup look.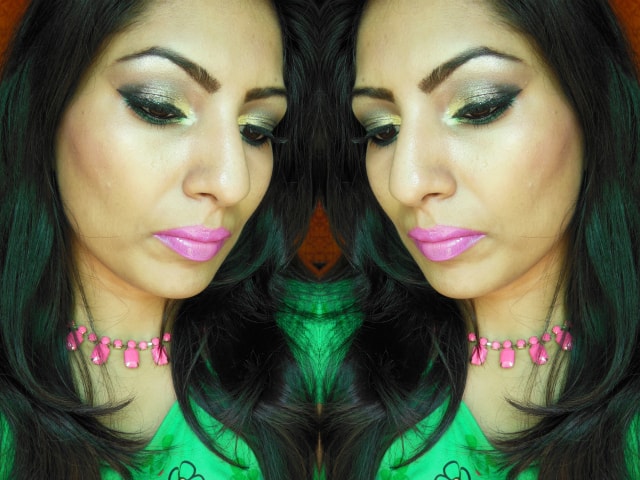 Coming back to the look, as you can my blush isn't right and I will blame the Sleek Lace blush palette for it I tried using the middle shade from the pan for some subtle pinkish glowing cheeks but the color refuses to blend :(.
Also, I didn't liked lip color here, Maybelline Colorsensational Pow1 which is a bright neon pink.. I should have picked a fuchsia or soft pink to go with this look.
Products Used: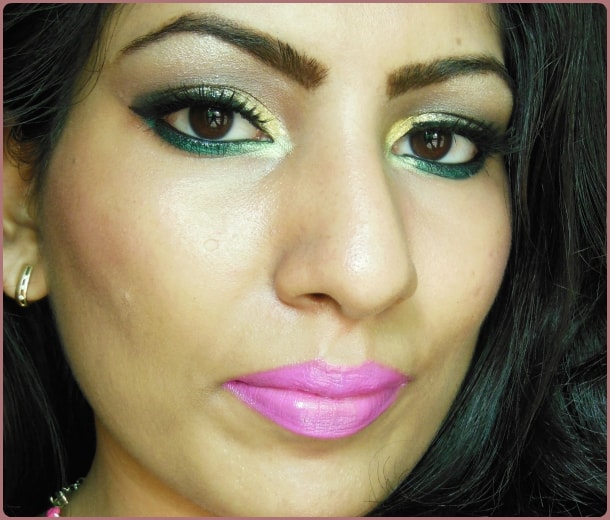 Don't Miss to Checkout:
If you are wondering on how to achieve these shimmery green eyes than here is the Tutorial for Glittery Green Eye Makeup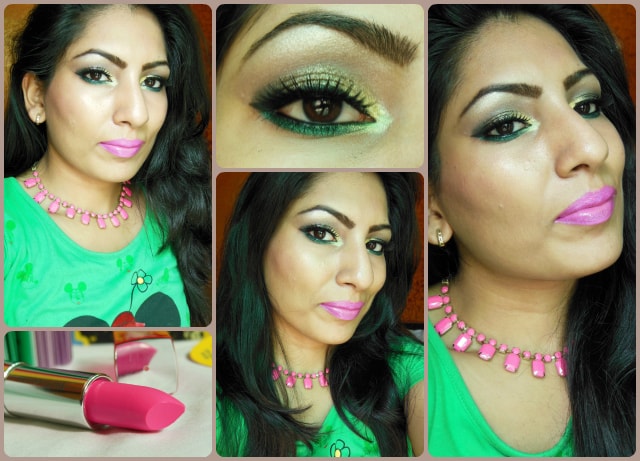 Let me know how would like to pair this Eye Makeup look. Share your thoughts and feedback in comments below
Loads of love.. :-* :-*
PS: If you get inspired and recreate the look, don't forget to share it. Tag me on instagram, facebook, twitter (@Poonam_BMM). I would love to see it on your eyes.