What Am I Wearing Today: Glam Holiday Makeup – Pink Cut Crease Eyes
Hello Dolls,
If there is one shade that I am scared of using on my eyelids it has to be pink. I have tried using it in many ways but never ever it looked quite as good as it does here. I feel this is a perfect Glam Holiday Makeup look that you can easily wear around this time of the year.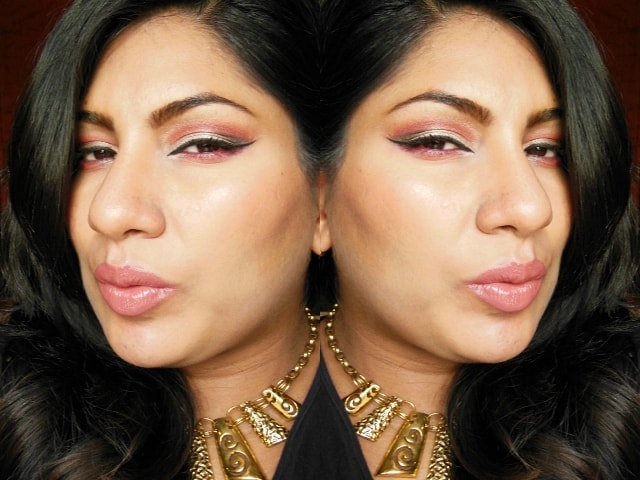 I saw something similar on @maya_mia on her instagram page and absolutely loved but I wasn't sure if I will be able to create it. I then started looking for the eye shadows that will go with the look and bingo.. the SIGMA Eye Shadow in Fawn made it for me, perfect shade to be used all over lids. I used my pinks from INGLOT Freedom System Eye Shadow Refills and Sleek Rio Rio Eye Shadow palette.
I finished the look with a very thin winged liner so that my eye look defined but still the eyeliner doesn't take over the whole eye makeup. I applied the same pink to the lower lash line as well and skipped kohl all together but if you have a nude/beige liner feel free to line your waterline as it will open the eyes a bit more.
I did this look while I was 8 months pregnant and my face looked super heavy especially my nose, so I am not posting any of the face pictures here because they don't look that good.. but I am itching to recreate this look and show you guys how amazing this makeup look is.
I am not sure which blue I used here but on lips its definitely my all time favorite lipstick from L'Oreal, L'Oreal Color Riche Tender Pink
I didn't shoot an eye makeup tutorial for this look so if you would like to know how I achieved this look.. let me know in comments and I will do one for you!
Hope you enjoyed this look!!
Share your thoughts and feedback in comments below
Loads of love.. :-* :-*
PS: If you get inspired and recreate the look, don't forget to share it. Tag me on instagram, facebook, twitter (@Poonam_BMM). I would love to see it on your eyes.