What Am I Wearing Today: Engagement Makeup Look
Hello Dolls,
I named this Engagement Makeup look but this is actually my typical Indian Festive Makeup for any of the functions or wedding where I have to get dressed in a saree. I don't know why but I am always full of ideas on the color combinations that I want to do next on my lids but the moment I have to get dressed and rush out .. my mind goes Blank.. and I am like.. What should I do now? 😛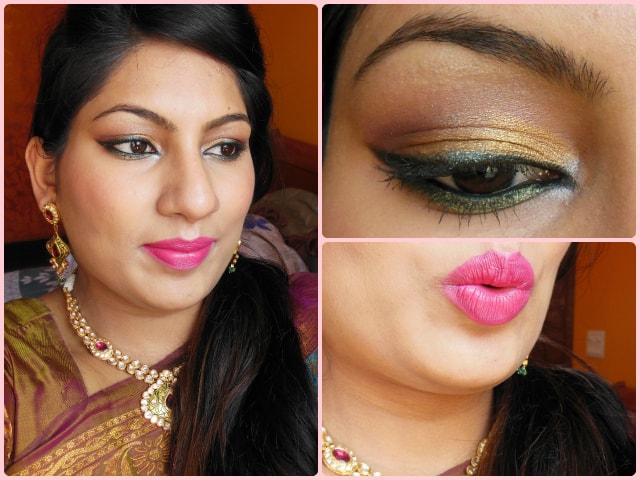 So, I have kept this look for those moments (which is pretty much every time)  and I love how it turns out every single time. Trust me, I have paired this eye makeup look with so many of my sarees and somehow it matches perfectly.
It's pretty much a metallic yellow gold on lids and a plummy brown in the crease, I just change the color of eye liner on liner lash line from blue to Green to brown depending basically on my mood :P.
I always end up pairing it up a bright Fuchsia Pink in semi-matte finish, INGLOT Lipstick Refill #53 or Givenchy Irresistible Fuchsia Lipstick patted with a tissue but if you are a neutral girl pair it with a soft nudish brown and it will still look gorgeous. For cheeks, its just a peachy blush and  I switch between Maybelline Creamy Cinnamon and INGLOT powder Blush #27.
Hope you enjoyed this look!!
Share your thoughts and feedback in comments below
Loads of love.. :-* :-*
PS: If you get inspired and recreate the look, don't forget to share it. Tag me on instagram, facebook, twitter (@Poonam_BMM). I would love to see it on your eyes.