What Am I Wearing Today: Easy Golden Smokey Eye Makeup
Hello Gorgeous,
I feel I haven't done enough of wearable makeup looks here on the blog so today in my effort to make-up for that have another easy to do makeup look with golden tones on the eyes and soft pink lips.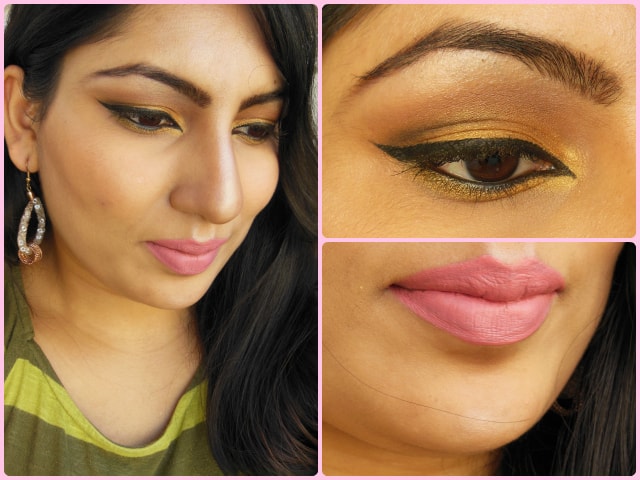 I used the Luxie Beauty Powder Eye Shadows in Gold shades to achieve the look. I patted some warm metallic gold eye shadow in the centre, Luxie Eye Shadow #239 and a medium yellow on the inner corners, Luxie Eye shadow #82. For the crease, I started with a bronzy gold, Luxie Eye Shadow #257 but it didn't turn out that pigmented so use a black eye shadow on a pencil brush to intensify the crease. For blending I used Luxie Eye Shadows in warm neutral shades to achieve that soft transition and highlight the brow bone as well.
For lips you can also go for any of the nude brown lipstick or even bold reds and pink as you like but I picked this soft Matte pink, NYX Liquid Suede Cream Lipstick in Teas and Cookies.
Lightly dusted a soft peachy blush, Givenchy Prisme Euphoric Orange on cheeks and again packed on Revlon Shimmer Brick in Peach Glow for that beautiful glow.
I didn't shoot an eye makeup tutorial for this look so if you would like to know how I achieved this look.. let me know in comments and I will do one for you!
Hope you enjoyed this look!!
Share your thoughts and feedback in comments below
Loads of love.. :-* :-*
PS: If you get inspired and recreate the look, don't forget to share it. Tag me on instagram, facebook, twitter (@Poonam_BMM). I would love to see it on your eyes.