What Am I Wearing Today: Easy Gold Eyes and Pink Lips 
Hello Dolls,
Today I am sharing a simple party makeup look using just a single gold eye shadow. You don't need to be a pro to do this look so you can forget everything that sounds complicated and try this easiest golden eye makeup look.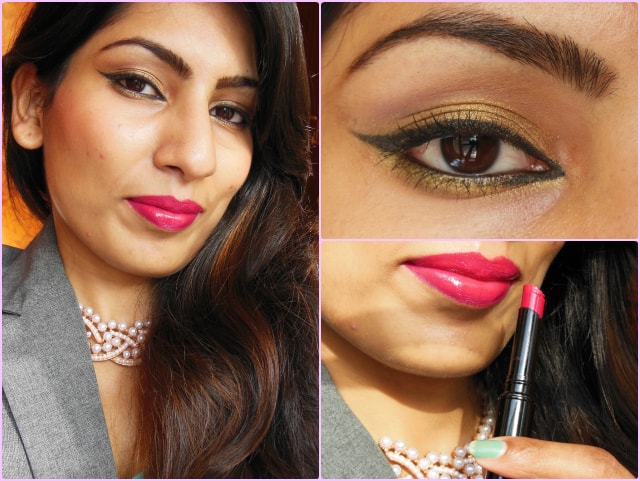 I did a sharp winged liner for the look but if you don't really want to go that dramatic with the liner you can just smudge the liner close to lash line making it even more wearable and understated. Anything will go beautifully with this look so you glam up or pay down with the look as you prefer
For face, I used a warm peachy blush just to add a flush of color to cheeks and it is the Maybelline Creamy Cinnamon over a thin layer of MAC Face and Body as my foundation. For that gorgeous glowing skin, I added MAC Strobe Cream on high pints of my face. On lips, I used a bright Fuschia pink lipstick from INGLOT gel crème lipstick range, INGLOT Slim Gel #59 Lipstick. I really liked how glossy and crème this lipstick looks and feels on lips but the texture is extremely soft and the bullet broke during application which is quite disheartening.
Hope you enjoyed this look!!
Share your thoughts and feedback in comments below
Loads of love.. :-* :-*
PS: If you get inspired and recreate the look, don't forget to share it. Tag me on instagram, facebook, twitter (@Poonam_BMM). I would love to see it on your eyes.