What Am I Wearing Today – Easy Diwali Makeup
Hello Everyone,
Wishing you a bright, happy and Safe Diwali.. truly this is the best time of the year because it feels like there is happiness in the air as everyone around is ready to celebrate this festival of lights with their family and loved ones.
Also, the other thing that I love about Diwali are " Diwali Parties" .. even if we are busy whole year to spare some time for friends and relatives, this time around we make sure to visit them and possible get a get-together arranged so that we can have a good time while sharing light moments over sweets and snacks.
Among all these activities like decorating home, preparing sweets, attending guests I am sure like me you will have little or no time left to do a full face makeup especially if it involved eye shadows because it takes hell lot of time pick and blend the shit to perfection!!
Though you still want to look perfect and party ready, well.. here is a little liner trick that I do and it always works to my advantage and I receive compliments every time.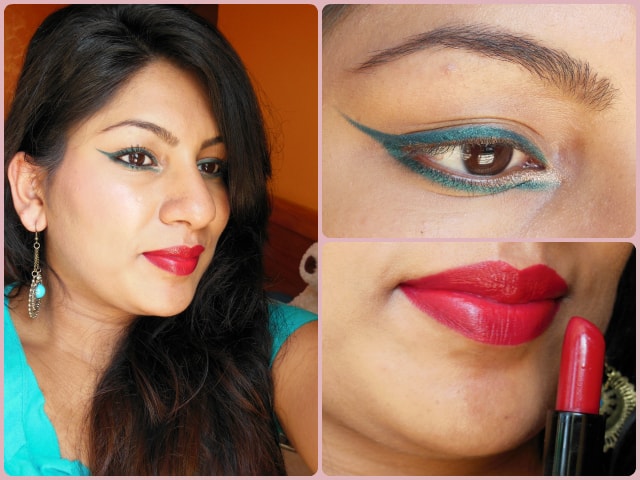 Its time to Up your Makeup Game this Diwali with minimum time and effort using any of your favorite liner and a bright gold or peachy shimmery eye shadow.
Eyes:
Define your eyes the way you do normally with the liner like line your upper lashline, create a wing if you like and
Bring the liner down to the lower lash line but
Curve it slightly downward when you reach the inner corners
Pack your shimmery gold/peachy eye shadow on the space created between inner corners and liner
Tight-line your eye with the blackest black Kohl
Coats of mascara for fuller lashes and open up the eyes a little bit..
That's it .. You are done.. It wont take you more than 2 minutes to do this look which is exactly what we want when we have no time in hand to apply makeup.
You can pair it up with any bright lipstick, I chose Red but you can go for Pinks, orange .. whatever you feel like! For cheeks go for a natural peachy blush to balance out the look, like Maybelline Cheeky Glow Creamy Cinnamon.
So that my version of Easy Diwali Makeup.. 🙂
Hope you liked the look!!
Share your thoughts and feedback in comments below
Loads of love.. :-* :-*
PS: If you get inspired and recreate the look, don't forget to share it. Tag me on instagram, facebook, twitter (@Poonam_BMM). I would love to see it on your eyes.