What Am I Wearing Today – Dual Colored Liner Look
Hello Dolls,
Today I have another eye liner look to share with you but again with a slight twist because you know the regular liner could be a little boring and eye shadows could be so much of a task… so lets get started!!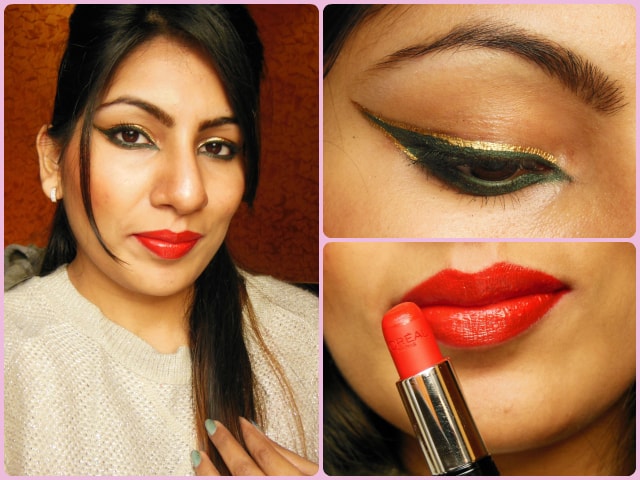 I created the regular winged liner and the brought it down to the lower lash line and lining it to create dramatic eye look. I like extended winged liners because it makes my eyes look bigger and a bit lifted too. Here, I extended the liner at the inner corners too, to enhance the look and making my eyes look even bigger, so that I can fake having those big beautiful eyes.
This is pretty much that we can wear on a daily basis with a little bit of variation but lets add on some glam to it by adding a metallic golden liner on top and creating that dual colored liner look.
I used the Maybelline HyperGlossy Electrics Eyeliner in Gold-lation and as you can see it added so much Oomph to the look.. I loved it and it is such easy way to flaunt beautiful eye makeup without messing up with eye shadows. Just 2 contrasting shades of liner and you are done!
I have also done a similar look using a yellow eye shadow, check my Vintage Liner look.
Tip: Use two different finishes of liner as it will add more glam to the look, like here I used a matte and a metallic one.
Hope you enjoyed this look!!
Share your thoughts and feedback in comments below
Loads of love.. :-* :-*
PS: If you get inspired and recreate the look, don't forget to share it. Tag me on instagram, facebook, twitter (@Poonam_BMM). I would love to see it on your eyes.