What Am I Wearing Today: Double winged Eye Liner
Hello Everyone,
Today I tried this double-winged eye liner style with a gradient of brown on eyes and yellow to add brightness to the eyes. I saw this look somewhere on facebook and immediately decided to give it a try. Though it isn't anywhere close to the original look but i find it much more wearable and easy to pull off. I will be giving it a shot again and if I get any success, will be showing you the original as well as my creation. 🙂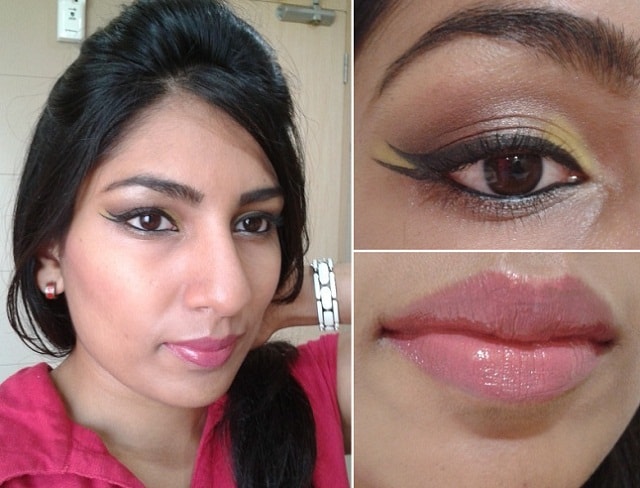 I have trying and testing many new entries in my makeup bag nowadays, some came up with extra ordinary results while some completely failed on my expectations. One of them is a sheer buttery coral colored lipstick from L'Oreal Caresse collection , which looks amazing in the tube but damn my indian skin tone and pigmented lips, such colors would never come up as expected (Reviewing super soon). But that it isn't the end of the story. I so wanted to love the shade that I started experimenting and here are the results.
I used it as a top coat over bright bold lipsticks like Maybelline Berry Brilliant and was ecstatic to see the results. It turned the fuchsia pink to a soft lovely rosy pink lip color with a beautiful glossy sheen.
Products Used-
On Lips it is a custom Lip color with
Hope you like this Look 🙂 🙂
Let me know your thoughts on this look..!!