What Am I Wearing Today: Dark Green Smokey Eye Makeup
Hello Gorgeous,
I love smokey eyes to the moon and back but mastering black smokey eyes could be a task and if I plan to do some colorful smokey eye it gets even more dangerous but wait I can safely do a dark smokey eye look and incorporate some color too with the help of a super intense Forest Green shade which make the look quite easy to do and wearable as well.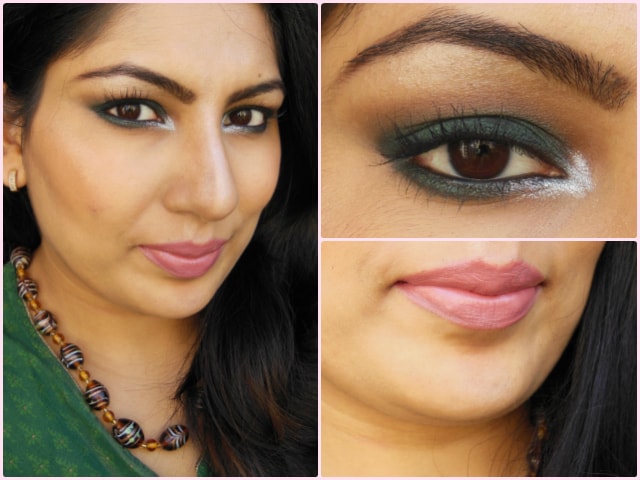 And that's what exactly I have done for today's Makeup Edition, a wearable dark green smokey eye makeup look with 2 lip color options. I used the duper dark green eye shadow, Makeup Geek Envy to achieve this look. The eye shadow on its own does look as intense so I used a black base underneath and it worked like magic. I skipped on making it more dramatic and didn't put anything else in the outer-V or crease area. But blending is a must for rocking a smokey eye so I used my all time favorite Makeup Geek Frappe and Cocoa Bear for the same and highlighted my brow bone using Makeup Geek Icy Queen. The dark smokey eye look made my eyes look even smalled and hooded so I added a beige/silver shimmery highlight on the inner corner to open up my eyes a little bit from Sedona Lace The Babe Collection Eye Shadow Palette
For lips, I went for nudish mauvy pink lips initially with Maybelline Color Sensational Warm Me Up Lipstick but later on I changed it to a medium brown matte finish, NYX Seude Cream Lipstick Sandstorm. I still don't think these are the best color for this type of makeup look as a peachy brown would have been perfect but I am not carrying those shades along.. so have to manage with these only.
Also, don't miss to drench your face in highlight by packing it well on high points of face so as to coverup the darkness in the eyes and beaming light off the face, flaunting a beautiful glowing skin.
Hope you enjoyed this look!!
Share your thoughts and feedback in comments below
Loads of love.. :-* :-*
PS: If you get inspired and recreate the look, don't forget to share it. Tag me on instagram, facebook, twitter (@Poonam_BMM). I would love to see it on your eyes.