What Am I Wearing Today: Curved Cat Liner
Hello Dolls,
Fed up of practicing that perfect winged eye liner look.. because that tip just bends at the weirdest angle or gets thick at the tip.. phewww!!  That's the story of my life too 😛
Lets twist that liner a little bit like it has been doing to us for our whole life.. time to take the revenge from Winged Eye liner in a curvy way 😉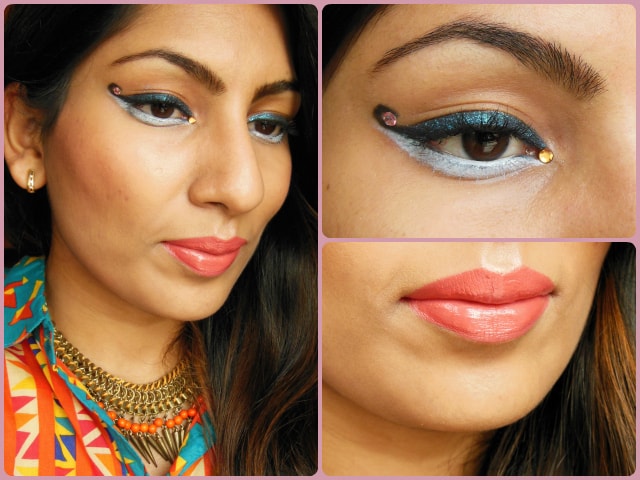 This curved Cat eye liner look is inspired from a pretty Instagram artist @StylebyCat, she created winged eye liner designs like no one else. I am not showing you people the side by side pictures of inspiration and my creation because they are poles apart and mine stands no where near it.. but I am working on improving my skills.. You heard me!!
You can use stones smaller than these to make this look more wearable but I didn't had anything like that so have to work with these.
Also, a nudish liner instead of white will turn this look instantly to a more wearable party look.. so you can choose between this bold and the modified wearable version.
Rest of the face was kept pretty understated and neutral because eye were doing the talking. For lips, I chose an Orangey Coral lipstick from MAC, MAC Cremesheen Crosswires and paired it with a peachy-orange blush from INGLOT. My looks doesn't feel complete with a hint of glow on cheeks and this MAC Strobe cream works best for me!
Products Used:
MAC Blue Brown Pigment
MAC Reflect Teal Pigment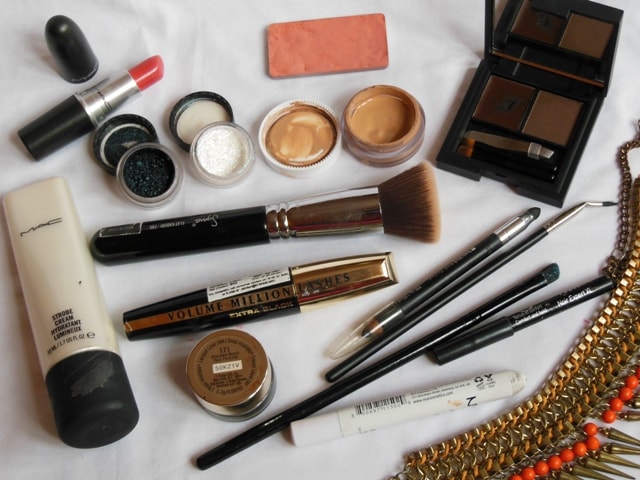 Hope you enjoyed this look!!
Share your thoughts and feedback in comments below
Loads of love.. :-* :-*
PS: If you get inspired and recreate the look, don't forget to share it. Tag me on instagram, facebook, twitter (@Poonam_BMM). I would love to see it on your eyes.