What Am I Wearing Today- Colors Crush
I know again a full on colorful Eye makeup but in such an awesome weather how cud I not wear that brightness and beauty on my eyes. ;). This turned out to be the brightest eye makeup I have ever done.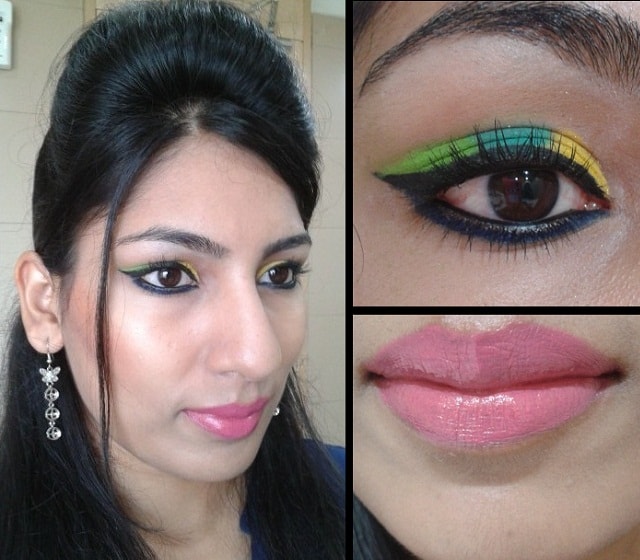 I intended to use the colors in the shape of a liner so as to achieve a mutli-colored liner look but while stacking /patting the color  didnt realized that I have increased it to almost the crease area :(, so added my black eye liner with slight wing and a dark Navy blue on waterline to absorb some of the brilliance of this EOTD. The eyes makeup in its raw form.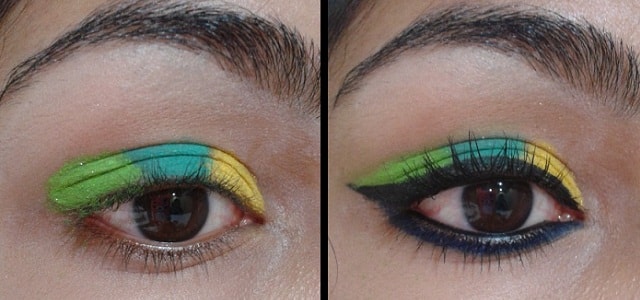 I have evaded the blending an all as I wanted to retain its brightness and didnt want to loose intensity of any of  the shades.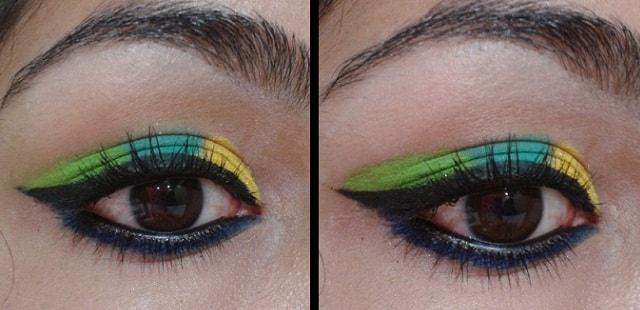 Here is the full version with the lipstick and the blush included. The colors and the eyes looked even more  pretty with closed eyes with all the colors stcked across. I kept fluttering my eyes whole day and let everybody notice 😉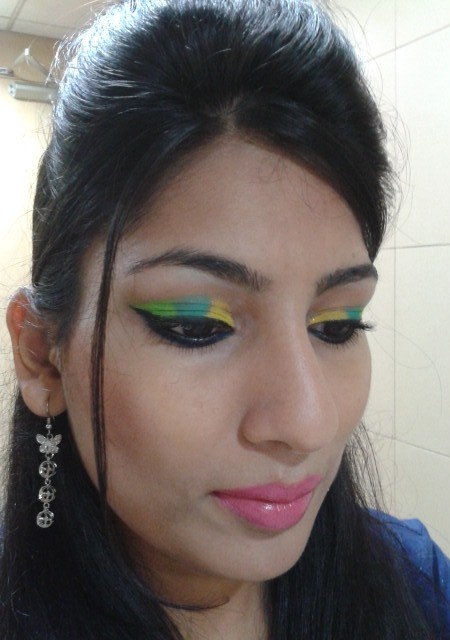 Products Used-
On Lips its Diana Of London Lip liner in Rose Blush topped with a thin layer of NYX Xtreme Lip Cream in Pinky Nude and Colorbar Just Earth Powder Blush (Review comingg upp) on cheeks :).
Don't Miss to Checkout:
I think INGLOT colorful eye shadows have become inseparable part when it comes to eye makeup. I still have so many look going through my and include those beautiful colors. I would like to thank Cynthia from *IndianVanityCase* for holding that blog sale which was the reason to add this colorful palette in my makeup box. Also, I would like to congratulate her on winning the "Best Beauty Blogger Award" in Cosmopolitan.
How do you like this look? Do share your thoughts through comments!
PS- I have sent this look of mine to the eye makeup contest held by Samyukta on her blog "ISimplyLoveMakeup". You can check out my entry here http://www.isimplylovemakeup.com/2013/08/entry-3-for-bring-out-your-inner-diva.html
Do you think it is good enough or shall I send some other look. Please suggest !!