What Am I Wearing Today: Champagne Cut Crease Eye Look
Hello Dolls,
I have tried cut crease eye makeup so many times before but never ever I get it right or anywhere close where it should look like a cut crease but I didn't stop trying. I have watched many tutorials on how to do cut crease eye makeup to learn the things that I didn't knew about this type of eye makeup and that did helped a lot in achieving today's look.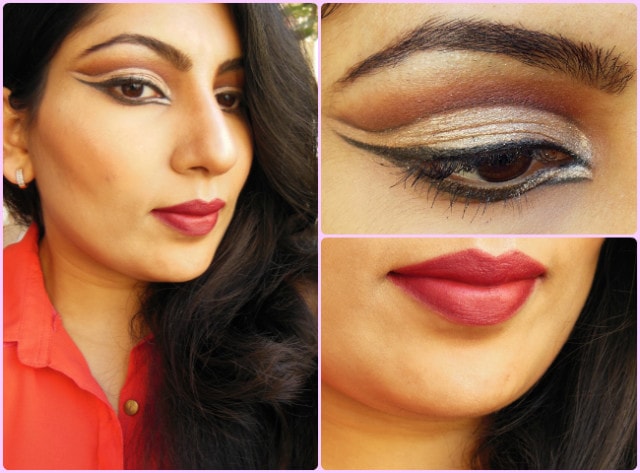 I know I am still not perfect and need to practice a lot more but still I wanna share whatever I did today, an Intense Champagne Cut Crease Eye Look
I used a mix of Makeup Geek Eye shadows ( Frappe and Cocoa Bear) and Luxie Beauty Eye Shadows here and for brushes its Sigma Beauty Makeup Brushes and Sedona Lace Professional Brush Set. I finished the look with a thick extended winged liner so that my eye look defined but there was a shimmery fallout from the eye shadow so it does look a little out of place in pictures. I have a detailed eye makeup tutorial coming up on this look so stay tuned for that.
I paired this intense eye makeup with a dark berry red shade which is none other than the Sugar Cosmetics matte as Hell Lip Crayon in Poison Ivy. This lip color made the look perfect for holidays with glam eyes and vampy lips. Though, you can switch the lip color to a neutral peachy pink for a more wearable and easy to pull off look.
I can't go without highlighting so packed on some Revlon Highlighter in Peach Glow on high points of my face for that glowy look and Givenchy Euphoric orange Blush for a wash of color on cheeks
Hope you enjoyed this look!!
Share your thoughts and feedback in comments below
Loads of love.. :-* :-*
PS: If you get inspired and recreate the look, don't forget to share it. Tag me on instagram, facebook, twitter (@Poonam_BMM). I would love to see it on your eyes.