What Am I Wearing Today – Bronze Yellow Eyes
Hello Dolls,
I have a werabale yet colorful look to share with you.. You can call it as "Yellow Yellow dirty fellow ;)" because the pop of color is undoubtedly Yellow here.
Out of all the colors, somehow I feel yellow is one of the most versatile one and can take any look to a different level with a dash of it. I have tried yellow in inner corners and it worked like magic! In today's look I used it in the centre of the lids and you can already the difference it made to my regular sort if a natural bronzy smokey eyes.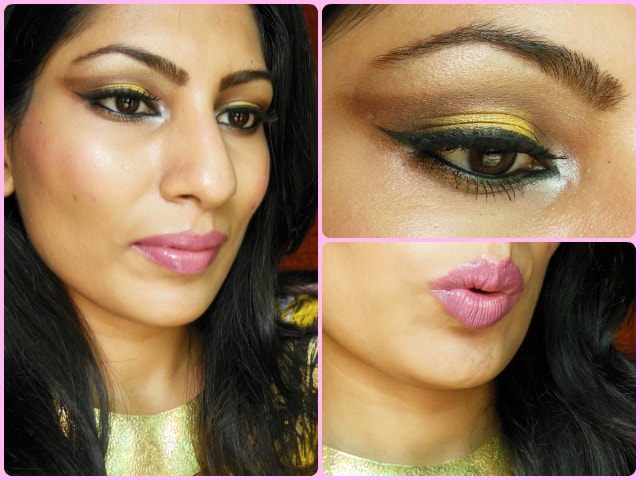 I have recently discovered this trick of adding some popping shade or shimmers on the centre of the lids which transforms the look altogether. If you don't want go for bright yellow pick any warm bronze shimmers to amp up the look or just leave as is for a soft bronzey smokey eye effect.
I used MAC PatentPolish in Kittenish, which is a pretty mauvey pink. I liked the color but didn't enjoy the formula much because it was a little tacky on lips. On Cheeks, I dabbed a lot of dusty rose blush, the L'Oreal Lucent Magique Blush in Blushing Kiss and highlighted cheek bones with MAC strobe cream.
I mixed and matched quite a lot of eye shadows here including L'Oreal Infallible and INGLOT Freedom System ones but that yellow belongs to the Sleek Rio Rio Eye Shadow Palette.
Isshh,, my Eye lashes are lifted from the inner corners but it was going to be dusk soon, so I had to ruch through taking the pictures before my only light source goes off..please bear with me 🙂
Hope you enjoyed this look!!
Share your thoughts and feedback in comments below
Loads of love.. :-* :-*
PS: If you get inspired and recreate the look, don't forget to share it. Tag me on instagram, facebook, twitter (@Poonam_BMM). I would love to see it on your eyes.