What Am I Wearing Today!!!
My love for the color Orange is in its full Bloom, and I am ready to paint the world ORANGE :P. I liked pinks, reds, purples like everybody else but Orange held a special place at my heart..(LEO's are bron to love Orange ..isnt it.. !!!)
After digging myriad hues of Orange like Bright Orange (INGLOT #19), Soft Orange (Maybelline Bronze Orange), Coral  Orange(Revlon Colorburst papaya) and Pinky-orange(Inglot #73) in lip colors its time to translate the color to eyes.  I used my latest addition to Orange Eye Shadow , INGLOT Freedom System Eye Shadow #51 with Maybelline Color Tattoo Eye Shadow – Fierce & Tangy.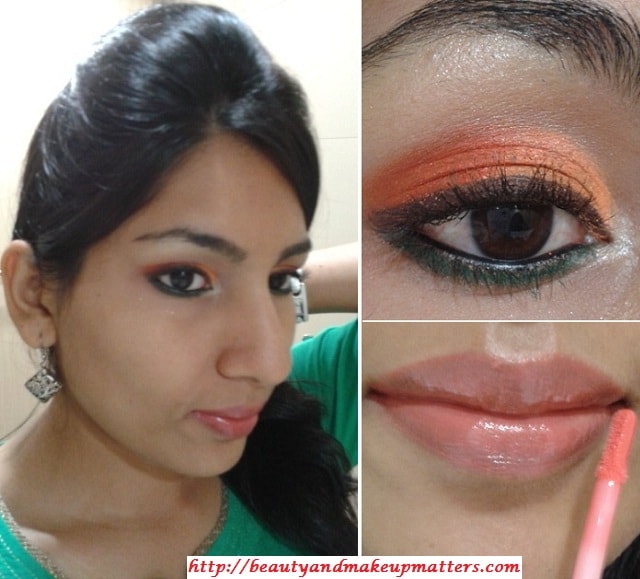 I am not using any eye primer here and the application of the Maybelline Fierce and tangy didn't came out smooth, so added a bright orange shimmery eye shadow on the outer V corners of eyes. I used L'Oreal brown Gel liner to line my upper lashline and a dark Green liner on lower one. Orange and green looks like a perfect combo!
A little peachy brightener on inner eye corners and 2 coats of mascara to finish off the eyes.
With such bright eye look I wanted to do soft lips, a peachy brown would have been best but I instead went for a orangey coral and mixed my favourite combination. So, on lips it's again Maybelline Moisture Extreme Bronze Orange Lipstick topped with Revlon Colorburst Papaya Lipgloss.
Don't  Miss to Checkout: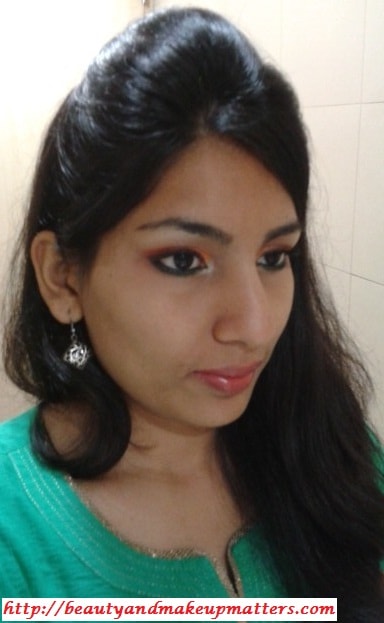 Hope you like the look  🙂 … Share your thoughts through comments!