What Am I Wearing Today: Blue Glittery Glam Makeup Look
Hello Gorgeous,
I have a fun Glittery Glam Eye Makeup Look to share with you guys today. I love glitters especially for the holiday/festive season as it makes me feel happy and joyful. If you are not a glitter person you can very well skip doing this look but if you are like me and love to dress up and throw some glitters in your face.. join me in here.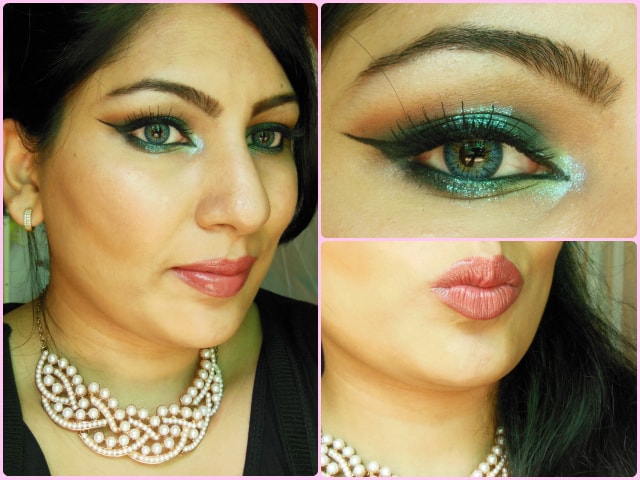 Actually I started with a green eye makeup but it didn't turn out as good a I expected it to be so I added some MAC Pigments in the centre of my lids and inner corners and Boomm.. it couldn't have been better. I used MAC Reflects Teal Pigment here and I swear it is my favorite pigment out of all. It looks white in the jar but when lights hit it, it shows it's true teal color and adds such a gorgeous shimmery effect to the eyes.. I love it <3
I finished the look with a crisp winged liner and some false lashes. The eyes were looking okk until I popped I my favorite colored lenses, O-Lens Jenith Lenses in Blue and I could feel my eyes singing to me.. "Blueee… Blueeee"
For lips I did a glossy red lip but it didn't look that good and was taking the attention away from eyes so I replaced the look with my all time favorite L'Oreal Color Riche Tender Pink Lipstick which is a gorgeous nude and yesss.. this was the perfect match 🙂
Sorry, I don't remember what I actually put on my cheeks but I am guessingits Maybelline Creamy Cinnamon and MAC Strobe Cream for the beautiful glow.
I didn't shoot an eye makeup tutorial for this look so if you would like to know how I achieved this look.. let me know in comments and I will do one for you!
Hope you enjoyed this look!!
Share your thoughts and feedback in comments below
Loads of love.. :-* :-*
PS: If you get inspired and recreate the look, don't forget to share it. Tag me on instagram, facebook, twitter (@Poonam_BMM). I would love to see it on your eyes.