Wella Oil Reflections Review, Swatch
Hello Everyone,
I am not into hair serums and rarely use them but lately there have been quite a lot of Hair Oils launched by brands like Dove, L'Oreal claiming to provide natural nourishment but minus the stickiness of natural oils, something similar to serum but better than that. So, Today I am going to review an oil cum Serum from Wella,  Wella Oil Reflections Smoothening Treatment which is newly launched in India.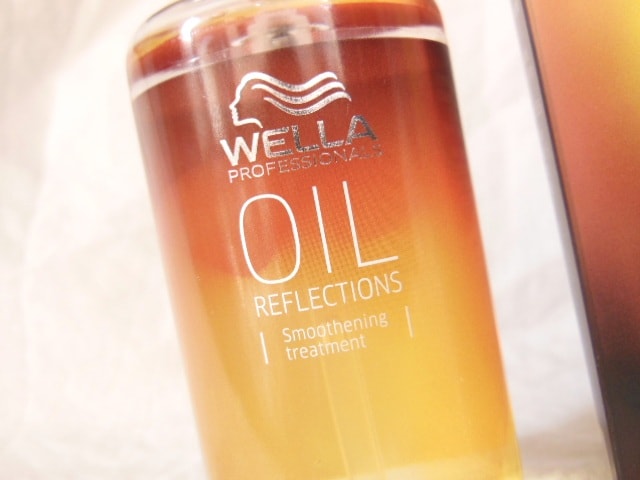 Product Claims: This multi-sensorial oil, with macadamia seed oil, avocado oil and vitamin E, known as a natural anti-oxidant, instantly reveals the beautiful, natural reflections of hair color with a very lightweight technology that makes hair feel incredibly light and supple. High, glossy reflections: specifically designed to enhance the shine of Wella Professionals Colour, making it up to 86% more reflective. Wella Professionals Oil Reflections can be used in a number of different ways:
Conditioning — apply a few drops of oil onto damp hair for an instant, lightweight smoothening effect.
Styling — apply a few drops of oil to wet hair before you dry* for additional protection.
Finishing — apply after styling to give hair extra shine, and to intensify colour reflection can be used with blow-dry for silky, smooth and gorgeous hair. It is good for colored hai
Direction for Use:-Apply 1-2 pumps to the palms of the hands , distribute evenly throughout the mid-length and ends. Multi-use: Apply on damp hair for smoothening and suppleness or on dry hair for beautiful shine reflection. Do not rinse out
Price:- Rs.850 for 100ml
Shelf Life:-  3 years from the Mfg date.
Packaging:- The oil comes packaged in a round shaped transparent glass bottle (so yes handle with care) with a pump dispensing mechanism and a tiny nozzle to control the amount of the serum/oil. Also it is secured with a plastic cap which shuts tightly and keep the opening safe and leak free.
My experience with Wella Oil Reflections:-
Wella Oil Reflections is a clear liquid with slight oily consistency that spreads nicely between palms just like any regular but doesn't leave any greasiness or oiliness. It feels silky smooth to touch because of Silicone content in it but I liked the fact that along with that it contains blend natural oils like Coconut, Macadamia and Avocado.
I have tried L'oreal Serum in past but hated its Chemical scent and end up not using it at all but here is the Bonus with Wella, the oil is infused with a warn cocoa-vanila scent (perfect for upcoming winters ) and soothes my senses.
I need 2 pumps to tame my dry-unruly hair strands and it makes them smoother without making them look greasy. I have applied it quite a few times on damp hair when I miss on conditioner and follow with this Oil towards the length of hair and it did a fabulous job in keeping my colored hair ends tangle free and kept flyways under control
Pros of Wella Oil Reflections:-
Non-greasy texture
Spreads easily
Doesn't feel sticky or heavy
Beautiful warm fragrance
Control Frizz and flyways
Hair feels smoother
Contains Macademia oil, avocado oil and Coconut Oil
Cons of Wella Oil Reflections:-
Contains Lots of Silicones
Slightly Expensive
Doesn't add much shine to hair
Availability can be an issue
Recommendation:- Wella Oil Reflections has a lot of positives compared to serums and oil available in other brands as it has natural oils along with the chemicals that are almost invevitable. It has such a soothing fragrance that you can fell for it instantly. I wont tell you to replace your regular oils with this but once in a while when you are on a run and need to wash hair, this can rescue your dry ends and make them look as smooth and soft. If you are sucker for hair Serums and looking forward fro Kerastase( which is way expensive) I would suggest to give it a shot, It is worth investing.
Rating:- 4/5
Have you tried Wella Oil Reflections? Which is your favorite Serum or Oil?