Votre Under Eye Cream Intense Care Review
After finishing up my favorite Forest essential under eye cream, I was inclined to repurchase it but then the blogger inside me raised her head and I decided to experiment with other eye creams available out there. So, today I am reviewing Votre Under Eye Cream Intense Care.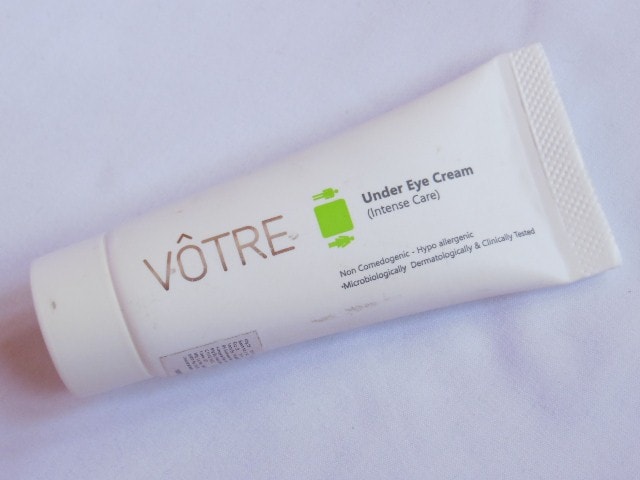 Product Claims: Do your eyes reveal the disturbed state of your mind – those sleepless nights or hectic lifestyle? Well, stop punishing your beautiful delicate eyes from now on. Give them the care they deserve!! A pleasant refreshing under eye cream from Votre with triple action eye contour care that increases collagen synthesis and fights against dark circles, puffiness and wrinkles.
Ingredients:-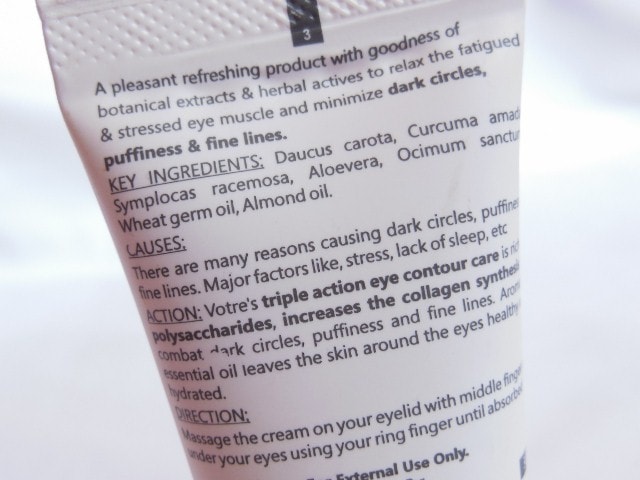 Price:- Rs.347 for 30 gms
Shelf Life:-  1 year from the Mfg date.
Packaging:- The cream comes in a small but chubby opaque white colored plastic tube and a screw cap. The tiny hole on the top squeezes out just the required amount.  The packaging is hygienic and convenient to use with all the necessary details including ingredients , price, usage and claims on the tube.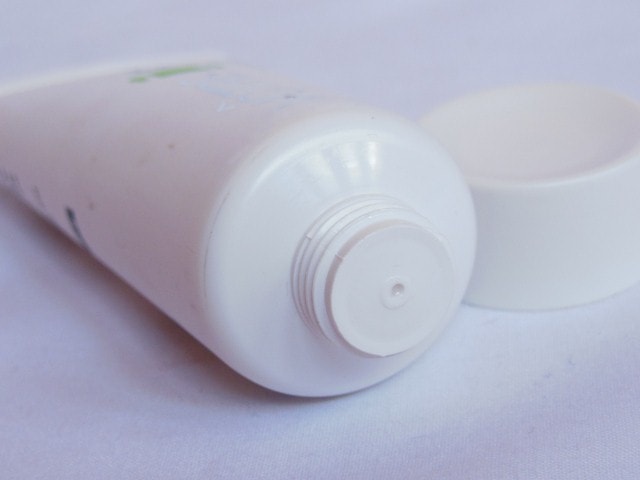 My Experience with Votre Under Eye Cream Intense Care:-
Votre Eye Cream is a white colored cream with thick creamy texture. Going by the texture it appeared to be extremely moisturizing but on the contrary it turned out lighter on the moisturzation front. The cream doesn't get absorbed quickly and needs to be massaged in with gentle finger strokes.
The formula is cream based but was happy that in spite of its thicker texture it doesn't feel heavy or greasy on eyes. It makes the under eye area soft and smooth. It has a subtle sweet fragrance which isn't bothersome at all.
Coming to its results on under eye area:
Th cream was decently moisturizing to my under eye area and didn't caused me any irritation or clogged pores.
I have been using it for more than a month but I didn't see much of a difference in my dark circles. Though, it did a good job in maintaining the area in it's present condition but there was barely any improvement in the dark circles.
On fine lines, I could see a little bit of reduction but for any substantial difference I might need few more months!
Pros of Votre Under Eye Cream Intense Care :-
Thick creamy texture
Non-greasy formula
Mild fragrance
Absorbs with a little massage
Lightly moisturizing
Doesn't leave any oily residue behind
Diminishes fine lines and wrinkles with regular use
Hypo allergic, Dermatologically tested
Travel friendly and hygienic packaging
Cons of Votre Under Eye Cream Intense Care:-
Only Key Ingredients are mentioned on the pack
Not easily available
Recommendation:- Votre Under Eye Cream Intense Care will be a good pick if you are looking for something for fine lines under the eyes in affordable category. The texture ison the thicker side but still it is not heavily moisturizing and doesn't feel greasy on application too. It firms up the under eye skin and reduces fine lines but not magically. It is safe for sensitive skin as it claimed to be hypoallergic and dermatolocically tested. It did a decent job as an under eye cream but still it is not something that I will re purchase.
Rating:- 3.5/5
Have you tried Votre Under Eye Cream Intense Care? Which is your favorite Under Eye Cream for daytime?