Votre Pore Shrink Toner Review
Hello Everyone, Today I am going to review a toner from a lesser known brand "VOTRE". I was specifically looking for an alcohol free toner when I stumbled on this Votre Pore Shrink Toner .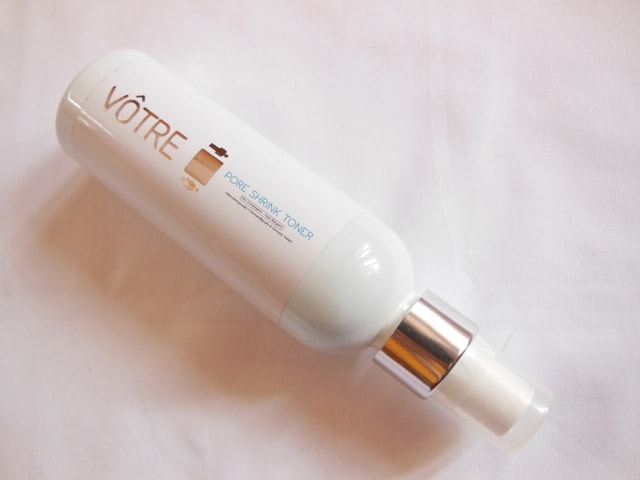 Product Claims:
Votre Pore Shrink Toner ( Hydra Mist ) is one toner that de-stresses the body and boosts the health of your skin
Enriched with botanical extracts along with bio-flavonoids, this one is truly worth its value! Make your skin flawless and healthy
It is suitable for all skin type
Ingredients:-Malaleuca altrnifolia, Allation vitis, Venifera AloeBarbedensis
Price:- Rs.360 for 100ml
Shelf Life:-  30 months from the Mfg date.
Also Available in – Votre Refining Toner
Packaging:- The Toner comes in a pump dispenser sturdy plastic packaging. The opaque white colored bottles looks really elegant and no wastage compared to open mouthed toner bottles. Pump works great at dispensing just the right amount each time which also make the toner convenient to use and travel-friendly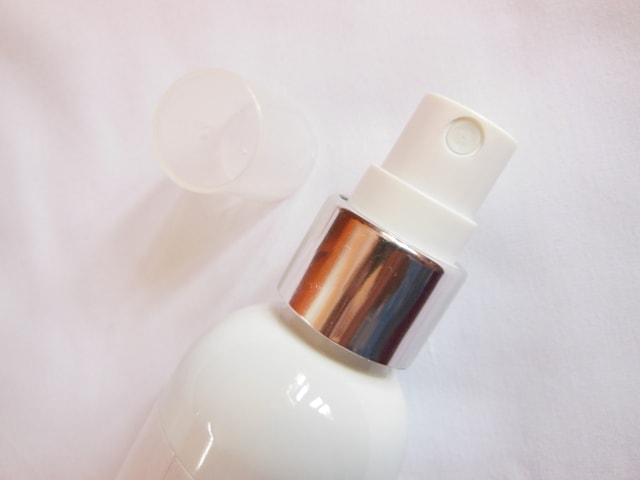 My experience with Votre Pore Shrink Toner:-
The pore shrinking term made me "curious" and I was excited to give it a shot. Votre Pore Shrink toner is a light blue color liquid with a sweet cosmetic fragrance which initially reminds me of the Revlon Touch & Glow Compact and then changes to a pungent alcoholic one, similar to Ayur Astringent which I had used during initial days, when I couldn't make out what exactly an Astringent or Toner is for.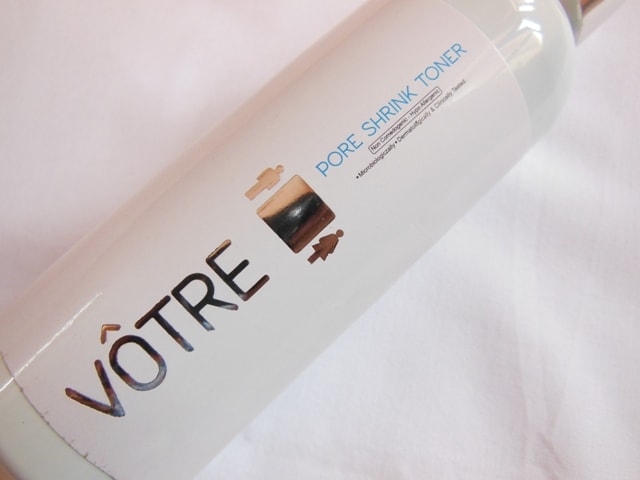 I have a dry skin so I am always on the lookout for toners that moisturize or at the least hydrate my skin without making it feel sticky and yes needless to say provide a smooth firm feel. I spray it over my face and let it dry for few minutes untouched and skin starts glowing without any oily or sticky feel. It has a mild formula which doesn't sting but feels soothing against my skin. It forms a protective layer over skin which also helps in keeping pimples at bay. I find it more hydrating or can I say moisturizing than FabIndia Rose Toner. I don't have major Open pores problem but yes what ever pores I have they look small with time ( or may be its just what I feel ..) because I noticed less number of blackheads on my nose by the end of the week. I use it twice daily and my skin appears smoother, firmer and stay hydrated all day long.
Swatch–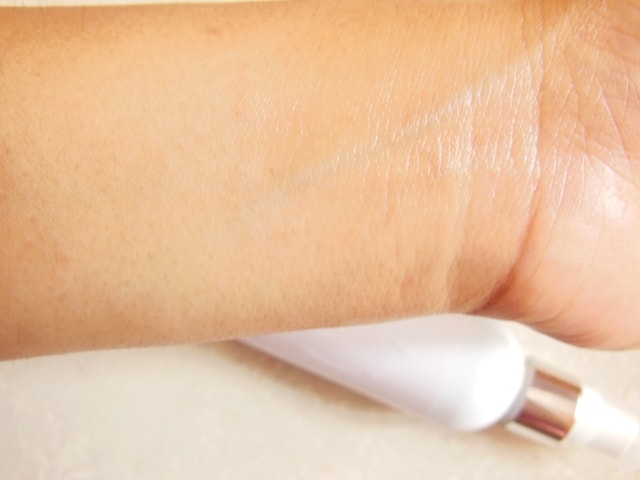 Toners are staple in my skin care as they protect and tighten up the skin pores, giving a firm look to the skin (or at least I believe they do), especially in summers when I anything creamy just makes feel like "Sweating ahead", so instead of going for any Day Cream or Moisturizer I do away with a few sprays of toner liquid all over my face.
Don't Miss to Checkout:
Pros of Votre Pore Shrink Toner:-
Mild Formula
Give Clean and fresh feel to the skin
Imparts a healthy glow to the skin
Doesn't feel sticky or makes skin greasy
Lightly moisturizing
Works wonderfully for my dry skin
Doesn't sting/irritate my skin, no breakouts
Does a good job at reducing pore size
Travel friendly packaging
Convenient to use
Non-Comedogenic, Hypoallergic and Dematologists Tested
Cons of Votre Pore Shrink Toner:-
Price is on the higher side
Limited availability, I have seen this online only
Recommendation:- Votre Pore Shrink Toner is an Alcohol-free which makes my skin look refreshingly fresh and brighter instantly. It nourishes my skin without causing any burning sensation. It takes few seconds to absorb completely but it never feels sticky or leave any oily residue behind. I was using Neutrogena Fine Fairness toner before it which worked well in winters but I find it bit heavy for summers/monsoons. Votre one replaced it well, just few frizzes of this toner, layered with a sunscreen and I am sorted for the day

With regular use, it improves skin health which appears smoother, softer, brighter and fimer. For oily/combi skin it may still feel a bit heavy for its moisturizing formula but my dry skin feels wonderful with this toner. I would love to recommend it to dry skinned beauties for a sweat-free glowing skin in summers.

Comparison with other Toners –It is less sticky/oily than Lotus Rose Toner/Neutrogena Fine Fairness but a bit more moisturizing than FabIndia Rose Toner, Aroma Magic Aromatic Toner.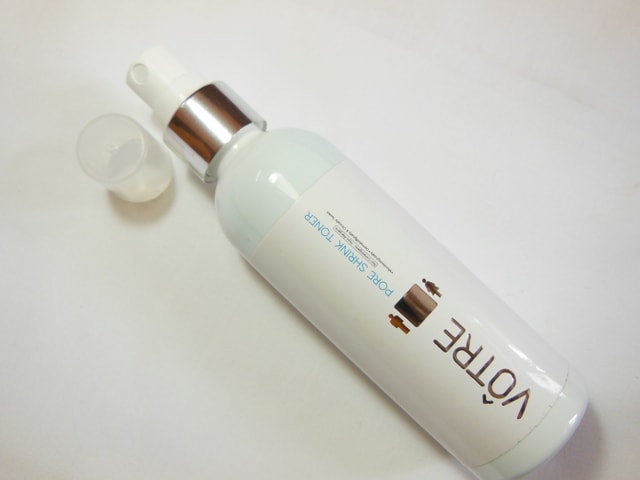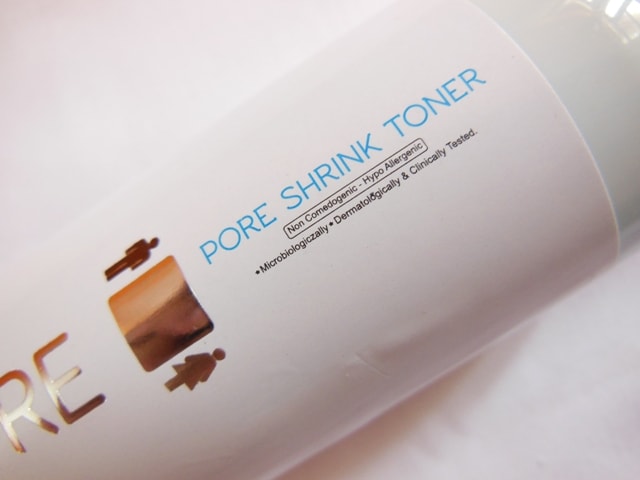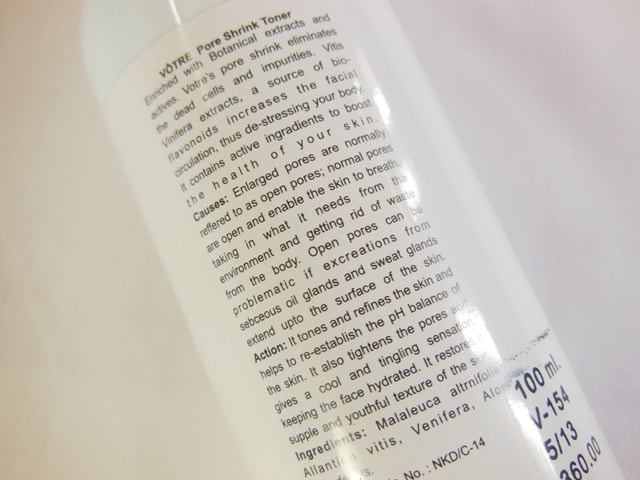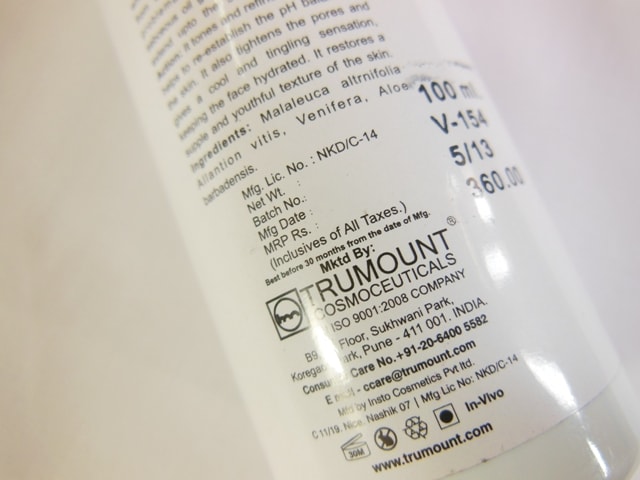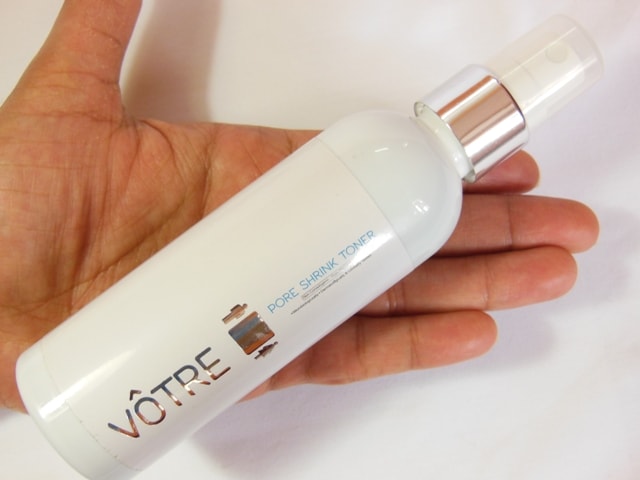 Rating:- 4.5/5
Have you tried Votre Pore Shrink Toner?