Votre Multi-Vitamin & Rejuvenating Skin Care Range Review
Hello Everyone,
Today I will be reviewing skin care products from the Multi-Vitamin range of "Votre" brand. I have tried a few products from the brand in the past and was happy with the results (though not blown over). So, when I got these products I didn't had any high expectations but lets see if they did impress me.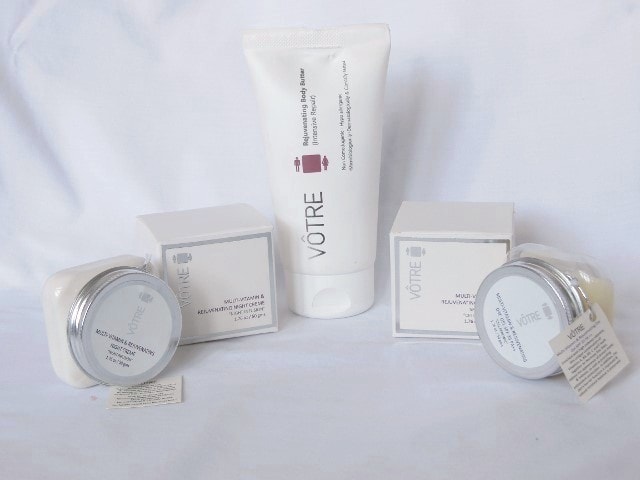 Price: Rs.1450 for 50gms – Both Night and Day cream,
Rs 450 for 150 ml – Body Butter ( Available on Flipkart, Jabong, Purplle, Nykaa)
Shelf Life: 30 months from the Mfg date.
Packaging:- Votre Multi-Vitamin & Rejuvenating Day Gel and Night cream comes in same packaging. The product is housed in a square shaped clear plastic jar with a silver metallic screw lid and comes sealed with a foil. The packaging is quite different from the regular cream jars but it does have hygiene issues like all others
My experience with Votre Multi-Vitamin & Rejuvenating Skin Care Range:-
Votre Multi-Vitamin & Rejuvenating Day Gel SPF 35 PA+++: I have tried a few of the day creams in the past but none of them worked for me as most of them were too sticky to be applied during day and rest weren't moisturizing enough to cater my dry skin problems, so I was skeptical to put this on my face but this one amazed me with its performance. Votre Multi-Vitamin & Rejuvenating Day Gel has a light gel like texture which applies easily and with few finger strokes it gets absorbed completely into the skin. Trust me, it doesn't leave even the tiniest bit of residue or oil behind. It gives an almost matte finish to my skin but it is indeed quite hydrating to my dry skin and hence feels comfortable. I can apply a large amount of the Day Gel without worrying about greasy or heaviness because it feels so so light on skin that I almost forget that I had this on.
It also has SPF 35 protection which makes it even more amazing. It is a perfect day cream for sweaty summers where my dry skin needs hydration but can't bear the heaviness or stickiness that comes with day creams and sunscreens. I am sure it will excellently for oily skin as well because it gives a matte finish and doesn't felt like you have applied anything on your face.
Don't Miss to Checkout:
The only thing that I disliked about the cream is its price. It is quite heavily priced which might not fit everybody's pocket. Also, for the price paid I don't see any dramatic improvement in my skin condition.
Rating: 4.5/5
Votre Multi-Vitamin & Rejuvenating Night Cream: After being bowled over by the Day Gel I had high expectations from this Night cream but it didn't fare that well on me. It is white colored cream with a medium thick texture like most of the night creams. It blends really well and gets absorbed quickly into the skin. It feels quite moisturizing but it does leave a little bit of residue that gives a slippery feel to the skin like we do with most of the heavily nourishing night creams. This heaviness doesn't make it suitable for summers and I feel sweaty few minutes post application, even after using the tiniest amount of it.
Don't Miss to Checkout:
I might give it another shot in winter and I am sure I will like it better than because my dry skin need that sort of moisturization in drier months but it is a definite no for summers.
Rating: 3/5
Votre Rejuvenating Body Butter: Along with face cream I also received this tube of body Butter from the brand. At first I got a little surprised to see Body Butter in a tube because after The Body Shop and Bath and Body Works, I can only imagine body butter in tubs but I liked the convenient and hygienic packaging of the body Butter.
Don't Miss to Checkout:
The Body butter has a runny texture but it emulsifies on application and feels like a gel-crème before it completely disappears into the skin. It takes a few finger strokes to seep into the skin but it doesn't leave behind any residue rather beautifully nourished skin. I feel it is a little heavy for summers because it's body butter with intensely moisturizing formula but I loved the fact it isn't heavy and doesn't feel greasy on application. Also, it is infused with Aloe Vera, Almond oil, Olive Oil with SPF protection and cell regeneration formula to keep skin smooth and plump. It has a slight fragrance more on the citrus side, like some sour fruit.. ummm delicious!
I will give it a chance in winters to see it will work on super-duper dry skin.
Rating:- 3.5/5
Recommendation: I absolutely loved the Votre Multi-Vitamin & Rejuvenating Day Gel SPF 35 PA+++, it has nice hydrating formula with SPF and a comfortable matte finish. Also, the ingredient list is full of various types of Vitamins to rejuvenate skin. It is my favorite day cream for summers.

Votre Multi-Vitamin & Rejuvenating Night Cream though was slightly disappointing as it has rich nourishing formula which works best in winters but feels heavy in summers. It is difficult to find a light weight but moisturizing night cream for summers.

Votre products are composed of natural ingredients, are hypoallergic and dermatologically tested. Only disappointing factor is that only Key Ingredients are mentioned on the products and the products are slightly pricier than the average skin care products.
Have you tried Votre Multi Vitamin & Rejuvenating Skin care products? Which is your favorite brand for skincare?
PS: Product sent by brand for consideration