VLCC Gold Facial Kit : Review and How to use it
The two most favorite things of girls if combined together will be Gold+Facial. Because we Indian girls love our GOLD for numerous reasons and facial rejuvenate the skin making it look bright and radiant which obviously we can't say no to. However, not every one of us can spare time visit parlor to get that ultra glamorous glow. But with the mini home facial Kit, one can reap the benefits of facial at the comfort of home. Trust me when I say this, I have been married for 6 years now and the last time I had my facial was during my pre-bridal sessions. So, this mini VLCC gold facial Kit was a treat for my skin after long. Let's see what all it contains, how to use it and what I feel about this VLCC Gold Facial Kit.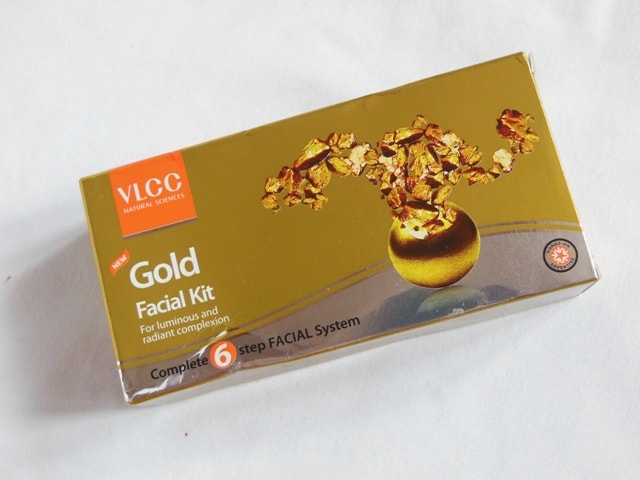 Product Description: VLCC Gold Facial Kit contains gold scrub, gold peel-off mask, gold gel and gold cream. The VLCC Gold Facial with 24 karats pure gold, gives a natural luster and youthful radiance to the skin. It retains skin's moisture and increases skin flexibility and smoothness.
Product Features: Contains six master sachets, each of which contains a scrub, gel, peel-off mask, and cream. Turmeric, sandalwood, lemon peel, vitamin E, and wheat germ are some of the ingredients used.
Suitable for women.
Also, consists of 24-carat pure gold extracts.
Six sachets last for a total 6 facials.
Price: Rs 250 for 60 gms ( Buy here)
My Experience with VLCC Gold Facial Kit:
VLCC Gold Facial Kit is a complete set of facial with gold scrub, gold gel, gold cream and gold peel-off mask. It also comes with a facial cleanser and post-facial cream.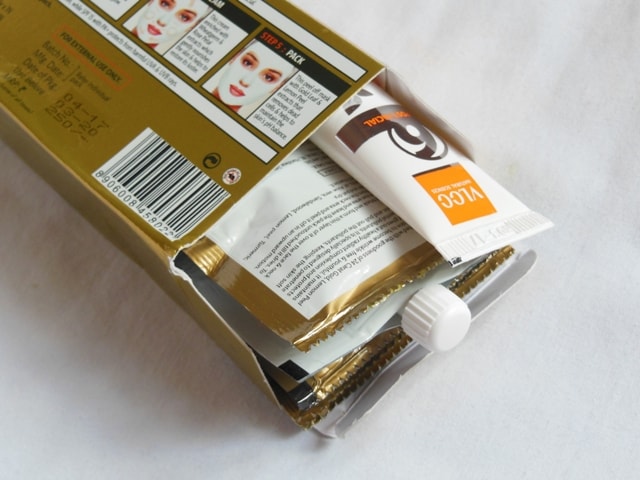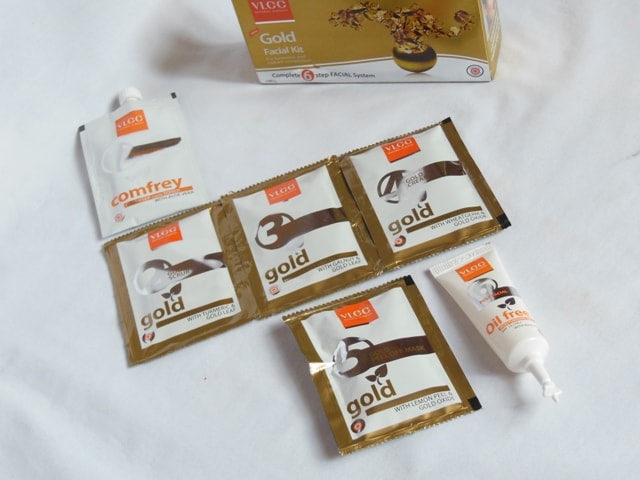 How to Use VLCC Gold Facial Kit:
Step by step Facial at Home:
To start with the facial, first cleanse your hands thoroughly because you don't want any of those germs to get into your face and cause breakouts. Also, pull back all of your hair into a bun or pony so they stay away from your face while you are working on your skin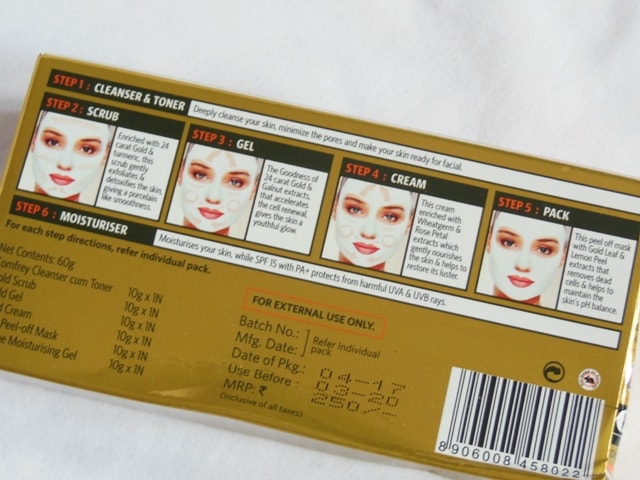 Cleanser cum Toner: A pre-facial step to cleanse and tone your skin and make it ready for facial. The cleanser is creamy white in color and is enriched with Conroy extracts and Aloe Vera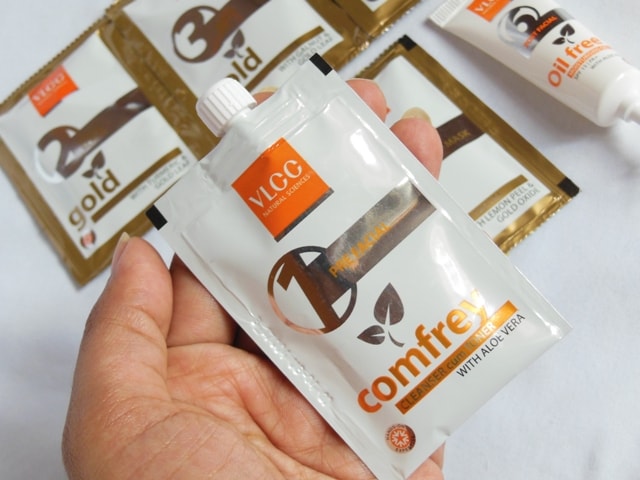 Gold Scrub: The First and basic step for radiant skin, scrubbing. The gold facial scrub is enriched with 24 karats pure gold and turmeric which exfoliates skin and removes black/ whiteheads. Massage it in a circular motion with mild pressure for 5 minutes to unclog pores and give a deep cleansing to the skin. The scrub has a gel like texture and is actually very very mild. I couldn't feel ant gritty particles for the scrubbing action but small gel like balls which bursts on rubbing.
Gold Gel: It is a moisturizing gel with 24 karat gold and Galnut extracts. It rejuvenates skin and helps fight premature aging. It adds a natural radiance to the skin and nourishes skin without feeling heavy at all. I absolutely loved massaging it on my skin. It has shiny gold flecks which give it a luxurious look.
Gold Cream: It is a slightly thicker cream with a moisturizing formula. It is enriched with Vitamin C and vitamin E which illuminates the complexion by polishing the skin and reducing the skin pigmentation. It deeply nourishes skin but doesn't make skin oily and leaves no residue behind. It contains the goodness of Sandalwood, wheat germ, and gold which makes skin smoother and improves skin's elasticity while imparting a youthful glow. Massage it slightly wet hands for smooth strokes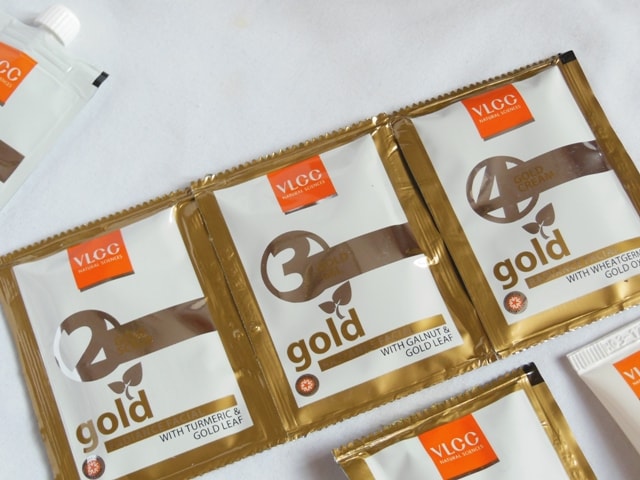 Gold Peel-off Mask: I love peel off masks and was excited to find one in this mini facial kit. The Gold peel off masks is enriched with 24 Carat Gold, Lemon Peel and Vitamin E which maintains skin's pH balance and makes it wrinkle free. It penetrates deep into the skin and sucks all the impurities keeping it soft and supple.
Post facial Moisturizing Gel: Last and final step of this facial routine, a moisturizing gel to protect and nourish the skin. It contains Aloe Vera, Watermelon, and cucumber extracts along with SPF 15 to protect the skin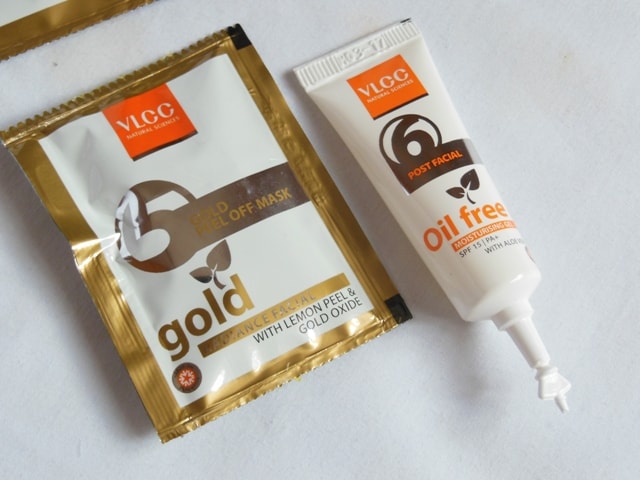 Recommendation: VLCC Gold Facial Kit contains everything you need for a radiant glowy skin. It is enriched with natural ingredients along with 24 karat gold extracts to a natural luster to the skin. All the instructions are printed on the products which help users to use them correctly. The small satchels make it easier to use and travel with but it is difficult to store for future use. So, use it with your friend or Mom for a nice pampering session and finish off in a single use.  It is suitable for all skin types. I am loving the glow of my skin and how silky smooth it feels. An affordable way of enjoying radiant skin at home.
Have you tried VLCC Gold Facial Kit? Would you like to give it a try?