Vivel Cell Renew Fortify and Repair Body Lotion Review
Hello beauties.. The winters are packing up fast and its time to say good bye to Body Butters till next winters but my dry skin needs still asks for heavy nourishment to stay calm and flake free.So today, I am going to review Vivel Cell Renew Fortify & Repair Body Lotion which claims revive and renew skin nourishment.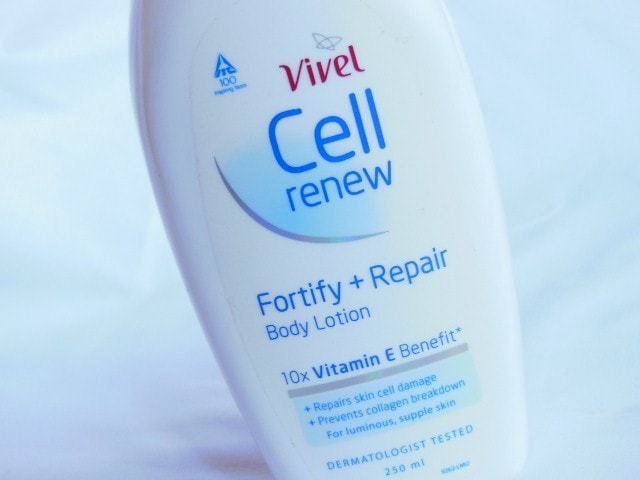 Price: Rs. 225 for 250ml
Packaging: The lotion comes in a plain white colored bottle with a pump dispenser. The bottle is translucent and I can see the amount left in it by holding it against light. It comes with plastic neck that can placed around the pump to make the bottle  travel-safe and prevent any accidental leakage. The packaging is also hygienic and easy to use.
My Experience with Vivel Cell Renew Fortify & Repair Body Lotion:
Vivel  Body Lotion is white colored thick creamy lotion with smooth buttery texture that reminds me of rich milk cream. The lotion gets applied nicely, spreads with ease and gets absorbed within few strokes. The formula penetrates deep into the skin and moisturizes without leaving any oily residue in spite of its heavier texture. I cant really comment on its skin repairing claims but skin feels smooth and plump immediate after application.  My dry skin stays soft, smooth & healthy and doesn't ask for more moisture till next shower.
The lotion has slightly strong fragrance that might be a little overwhelming for some but it fades off quickly, so doesn't bother me much. The Lotion claims to have the Vitamin E formulation to fortify skin cells but was disappointed to detect the presence of mineral oil in the top of ingredients list and the vitamin E near the traces.
It makes a great lotion for dry skin, though a little heavy for oily skin and definitely not for summers.
Don't Miss to Checkout:
Pros of Vivel Cell Renew Fortify & Repair Body Lotion:
Thick creamy texture
Easy to apply
Absorbs Quickly
Extremely Moisturizing
Doesn't leave any residue behind
Makes skin soft and smooth
Great for Dry skin
Hygienic packaging
Decently priced
Cons of Vivel Cell Renew Fortify & Repair Body Lotion:
Heavy for summers and oily skin
Strong Fragrance
Contains Mineral Oil as main ingredient
Recommendation: Vivel Cell Renew Fortify & Repair Body Lotion is a rich creamy lotion which  provides sufficient moisturization to my dry skin. It melts quickly into the skin and effectively provides a long lasting nourishment without making my skin greasy but is best used in drier months. It makes tall claims of rejuvenating and repairing skin texture with its Vitamin E enriched formula but I feel the presence of active ingredients is quite low for any substantial improvement, though it makes skin soft and plump immediate post application.  Currently, my skin is loving this body lotion and I might end up finishing this bottle even before the summer starts. Recommended!
PS: Apologies for these blue blue pics.. actually i clicked them early in the morning as the camera was asked by someone and wasn't with me during the day. I was still sleepy may be.. and my camera too..!! Couldn't handle the early morning hang… 😛
Rating: 3.75/5
Have you tried this Vivel Cell Renew range? Which is your favorite Body Lotion this month?