For Strong Bones: Vista Nutrition Super Calcium Capsules
Hello Everyone,
The only thing that I have first made it to my mind regarding health was Calcium. Ever since I know I have been advised( sometimes forced ) by Mom to drink milk at least twice a day as it provides required calcium to the body. Also, it will help me maintain better bone health in older age. So you know even if I don't like to look old still my bones will get old and starts eroding if I don't take proper diet, especially calcium. Let's see how these Vista Nutrition Super Calcium Capsules will help.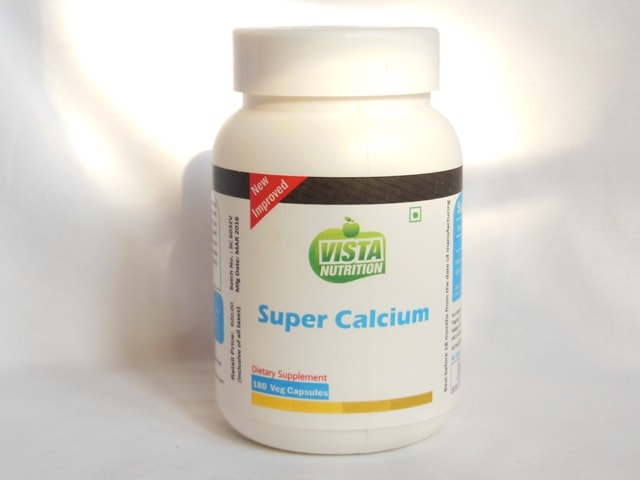 Price: Rs 574 for 180 capsules (Buy Here)
Product Description: Supports Healthy Bones and Teeth.Calcium is an essential mineral in the maintenance of strong bones and teeth.
Regular exercise and healthy diet with enough calcium helps teen and young adult women, who are at risk of osteoporosis later in life, maintain good bone health and may reduce their risk of osteoporosis ( Asian women are particularly at risk for osteoporosis).
Adequate Calcium intake is important, but daily intakes above 2,000 mg are not likely to provide any additional benefits
Packaging: Vista Nutrition Super Calcium Capsules comes in a white colored plastic bottle carrying all the details. It has screw lid and are sealed with a silver foil.
My Experience with Vista Nutrition Super Calcium Capsules:
Vista Nutrition Super Calcium Capsules are bright white colored capsules and are infused with Calcium and Vitamin D.
Calcium and Vitamin D goes hand in hand as Vitamin D increases the absorption of calcium. Calcium is the most abundant mineral in bone, necessary for its structure, strength and ability to maintain healthy bone mass. In addition to being stored in teeth and bones, calcium is stored in the nerves, muscles and tissues. Because it is used in almost every function, the body needs calcium more than almost any other mineral.
We get majority of calcium from Milk, yogurt and other dairy products. Some vegetables like broccoli also have calcium.
But what if you are vegan or may be intolerant to milk (lactose intolerant) or on a self imposed diet.. now you cant have milk or other dairy products so you are missing on all the calcium from them which is the major source of the mineral. You need a good dietary supplement to meet the daily required Calcium needs.
But you must know that excess of everything is bad and overdose of Calcium can also result in Kidney stones and other issues.. so it's best to consult a doc before starting with supplements.
These Vista Nutrition Super Calcium Capsules will help you achieve good Calcium levels and maintain healthy bones. I like that these capsules are Vegetarian and have No Sugar, No Lactose, No Flavour, No Salt, No Gluten, No Color, No Fish and no other preservatives so they are safe for someone who is prone to allergies as well.
Disclaimer: These products are not intented to diagnose, treat, cure  or prevent any disease. Always consult with your professional healthcare provider before changing any medication. Pregnant or lactating women shouldn't take it
Have you tried Vista Nutrition Super Calcium Capsules? DO you take any supplements?
PS: Product sent by brand for consideration but Honest review as always!