Vida Glow Beauty Blend: For Gorgeous Skin
Hey Gorgeous,
We all love having beautiful hair and skin but getting the same isn't as simple as sounds. I can apply anything recommended to me to transform my skin into a glowing beauty, I am that obsessed! But nowadays I don't have time to invest in such home remedies so the easiest solution is to get the readymade stuff. However, the efficacy reduces as the readymade products usually contain preservatives but I have an all natural option for you from Vida Glow, Vida Glow Beauty Blend. Let's see what it is actually and if it does what it claims.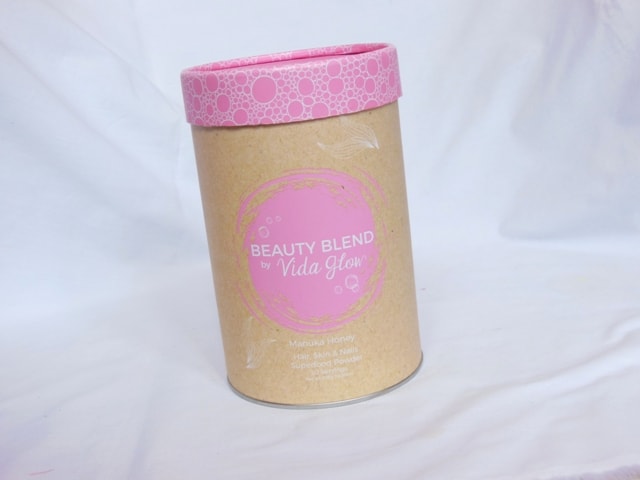 Product Description: Vida Glow Beauty Blend is a nutritious and holistic addition to our marine collagen range, promoting healthy hair, skin and nails as well a healthy body. This blend uses all natural ingredients and is vegetarian friendly.
The Beauty Blend has been designed alongside Vida Glow's nutritionist to nourish hair, skin and nails from within. The synergy of the super foods and probiotics work to enhance inner and outer glow, providing energy as well as a boost in vital nutrients to optimise wellbeing.
Our Beauty Blend is rich in vitamins, minerals, antioxidants, fatty acids, proteins and probiotics, working together to strengthen the immune system and give you a glowing complexion.
Recommended Use:
Our Beauty Blend is rich in vitamins, minerals, antioxidants, fatty acids, proteins and probiotics working together to strengthen your immune system, and give you a glowing complexion as well as a whole body healthy radiance.
The Beauty Blend comes in loose powder form and is so easy to include into your daily diet.
Simply stir two teaspoons into your water, juice, shake or smoothie.
Sprinkle over cereals, porridge or yoghurt
How to Serve: Mix two teaspoons into your water, juice or smoothie. Once a day. 30 x 10g servings.
Ingredients: Raw Cacao Powder, Blueberry Powder, Chia Seed Powder, Pumpkin Seed Powder, Flaxseed Powder, Probiotics lactobacillus acidophilus & bifidocacterium lactis, Manuka Honey Powder.
Price: $49.95 (Buy from Vida Glow)
My Experience with Vida Glow Beauty Blend:
Vida Glow Beauty Blend is a nutritious blend of all natural products that will provide necessary nutrition to the body to maintain a healthy and beautiful skin. The beauty blends comes in a lovely cardboard box packaging with pink details which looks pretty but the Beauty blend itself  doesn't look tempting at all.
It is a dark brown colored coarse powder and looks a bit scary in the jar. I have tried drinking it by mixing in water and I just can't do it. I don't understand why all the healthy things have to look and taste so horrible. Though, it feels better when sprinkled over food and mixed drinks like Mango Shake, smoothies as I can't feel its texture in mouth.
Results: I have been taking it once a day since 2weeks and I must say that I have noticed a visible difference in my skin texture. My skin looks healthier, smoother and beam with beautiful glow. I usually don't have many skin issues but it made my skin look even better. Nails also look better and don't chip as quickly as they used to. Though I didn't see much difference in my hair but with so many good ingredients going into the body I am sure it will do the magic soon!
Don't Miss to Checkout:
Why this Beauty Blend is the Best:
Raw Cacao: Antioxidant levels in foods are measured by their Oxygen Radical Absorbance Capacity, or ORAC score; the ability of antioxidants to absorb free radicals. The higher the ORAC score, the higher the level of antioxidants present in food. Raw Cacao Beans has the highest ORAC score
Blueberries: They are richest source of Vitamin C which assists collagen formation and also maintains healthy gums as well as a healthy immune system. Raw Cacao and Blueberries, have strong antioxidant effects that protect the skin from overexposure to the sun and pollution. Blueberries also contain the unique antioxidants which are a very good source of vitamin K, manganese fibre and copper.
Probiotics: They aid digestion, help the absorption of minerals and strengthen the immune system; all of which is needed for absorption of nutrients for healthy skin and formation and regeneration of collagen.
Manuka Honey: It not only adds a delicious flavor to our Beauty Blend, but Manuka Honey has tremendous nutritional and immune boosting abilities. It is rich in: amino acids, B vitamins, calcium, copper, iron, magnesium, manganese, phosphorus, potassium, sodium and zinc.
Chia seeds and flaxseeds: Both contain high levels of Omega – 3 fatty acids which support skin suppleness, through its ability to enhance moisture retention and promote skin hydration.  Omega – 3s are also anti-inflammatory, aiding to reduce skin irritations. Also, Chia seeds and flaxseeds are high in protein and Chia contains all nine essential amino acids, which our bodies cannot synthesize making it a 'complete' protein.
Pumpkin seeds: They are also high in protein, which is essential for skin, hair and nail growth. Protein is used by our bodies to build and repair tissues and is integral to the structure of all cells.
The beauty blend is expensive but its powerful ingredients do a fabulous job. In case, you are facing skin issues and nothing worked, than do give this natural blend a shot. It will provide all the necessary nourishment to the body and will make you look and feel beautiful inside out.
Recommendation: Vida Glow Beauty Blend can be termed as a beauty supplement. It is loaded with the goodness of natural ingredients which will provide necessary nutrients to the body to help you maintain a glowing skin and healthy hair & beautiful nails.

Other than the Beauty Blend, Vida Glow also offers wide of Marine Collagen supplements which will fight signs of ageing, reducing fine lines and wrinkles. The benefits of collagen will let you enjoy youthful looking skin. I know it is quite expensive but it does such a wonderful job at improving the skin hair and nails from within that it makes it worth the splurge. You might want to add it in your beauty routine before your wedding so you look your best inside out on your Big day. Recommended!
Have you tried and beauty supplement before? Would you like give this a try?
PS: Product sent by brand for consideration