Victoria's Secret Body Mist – Lost In Fantasy Review
Today I will be sharing my first Victoria's Secret product which is body mist in Lost In Fantasy fragrance. It was gifted to me by my sweet little sister at my wedding.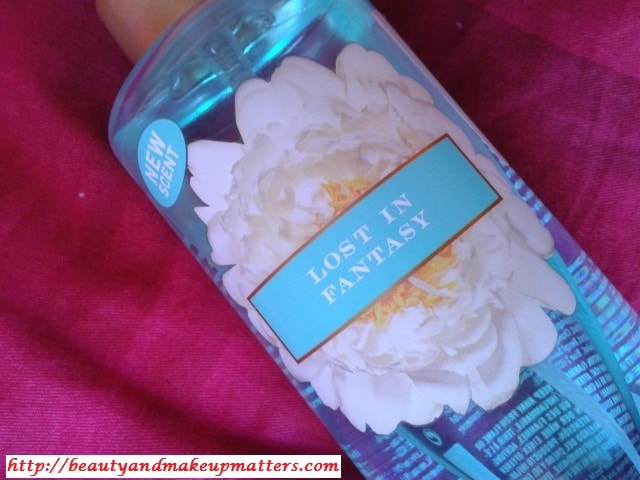 Product Claims: Lost in Fantasy from the Secret Garden collection is an irresistible blend of passionfruit, Brazilian orchid and warm musk.
Ingredients:-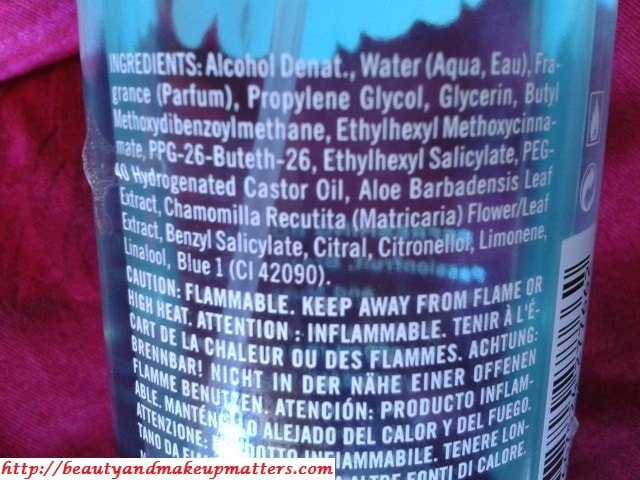 Price – Rs 900 for 250ml
Packaging:- The body mist is packaged in a see through plastic bottle. The long cylindrical bottle is bulky probably obese is the right word to describe it. It comes with a regular pump dispenser made up of sparkling golden plastic, covered with a transparent plastic cap. The liquid doesn't leak through the bottle during travel but it's a pain to carry such a heavy bottle along.
My experience with Victoria's Secret Body Mist – Lost In Fantasy: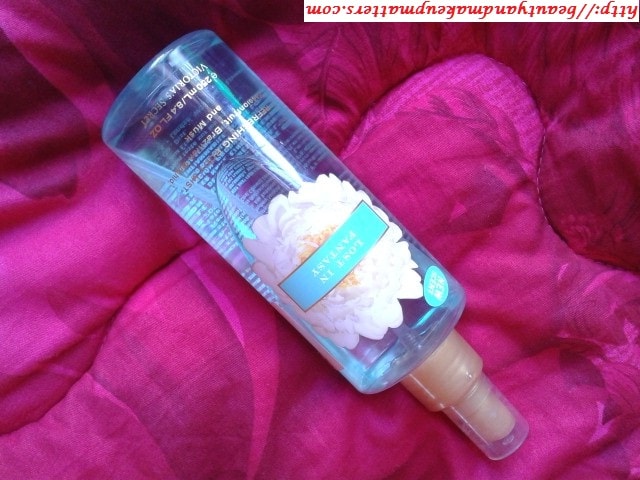 Lost in Fantasy has floral fruity smell, more sweet than floral. The fragrance is truly feminine but these sweet smells are just not my type. I like aqua, oriental and slightly woody smells over this sweetened aroma. At first, I just hated how sweet it smelled and trashed the bottle in a corner but soon came under Victoria's Secret influence after knowing about the large number of girls loving VS scents ( Something might be wrong with me … !!). So, decided to give it another shot and this time.
I didn't disliked it as much as I did earlier. The sweetness in the scent was bearable and I could detect some floral top notes too. It is floral at first sniff but soon it turns to just a sweet bubble gum kind of fragrance which lasts not more than 2-3 hours on me. The sweetness takes over the whole fragrance and you can barely notice any floral/fruity notes post-application.
It is a body mist so must be sprayed directly to the skin. I haven't noticed any sort of rashes, skin irritation, or burning sensation which is much common with regular deodorants but wouldn't recommend applying on underarms, as it contains alcohol which may lead to skin darkening. It is mild enough to be used over skin but still I prefer to use it over clothes only. Normally, I do not spray or apply anything on the skin directly unless it is Skin Care product (May be I am too protective about my skin.. but everybody is .. right!!)
In summers these sugary sweet smells are totally a passé for me. I would be using it in winters/Spring/Autumn but summers stand no chance as all the humidity/sweat/heat mixed with sweet scent just doesn't work for me.
Don't Miss to Checkout:
Pros Victoria's Secret Body Mist – Lost In Fantasy:-
Fruity sweet smell (for the sweet lovers)
The light blue liquid looks pretty in the bottle
See through packaging shows us the level of remaining liquid
Doesn't cause skin irritation
Makes a nice daily basis fragrance
Cruelty Free as VS doesn't test on animals 🙂
Available in number of scents/fragrances to choose from
Cons Victoria's Secret Body Mist – Lost In Fantasy:-
Huge size of bottle makes it travel-unfriendly
Nothing attractive about packaging
There are barely any hint of Floral or musky notes
Sweet Smells are just not my type
Lasting power is pretty average.
Victoria's Secret products are not easily available
Recommendation:- Victoria's Secret Body Mist – Lost In Fantasy is a sweet floral scent which fades quite quickly to only candy sweet smell which lingers on for few hours before dismissing completely. Definitely worth a try if you are into sweet fragrances but if you are like me and repulsive to such sweet scents than better stay away. Nothing bad with the fragrance but its something that I do not like .If you are teenager that I am sure you are gonna like it better than me.
Rating:- 2.5/5
Have you tried Victoria's Secret Body Mist – Lost In Fantasy? Do you like sweet Fragrances?