Vicco Turmeric Skin Cream In Oil Base
"Vicco Turmeric" .. does it ring a bell in your head and remind you of its advertisement that we all must have seen and sung. Well, for me it does. Vicco Turmeric connects me with my childhood memories of using this cream and its signature scent. The brand has added a new product to its skincare range, Vicco Turmeric Skin Cream In Oil Base which is a body moisturizer. So, let's read on see how I feel about this Body Lotion.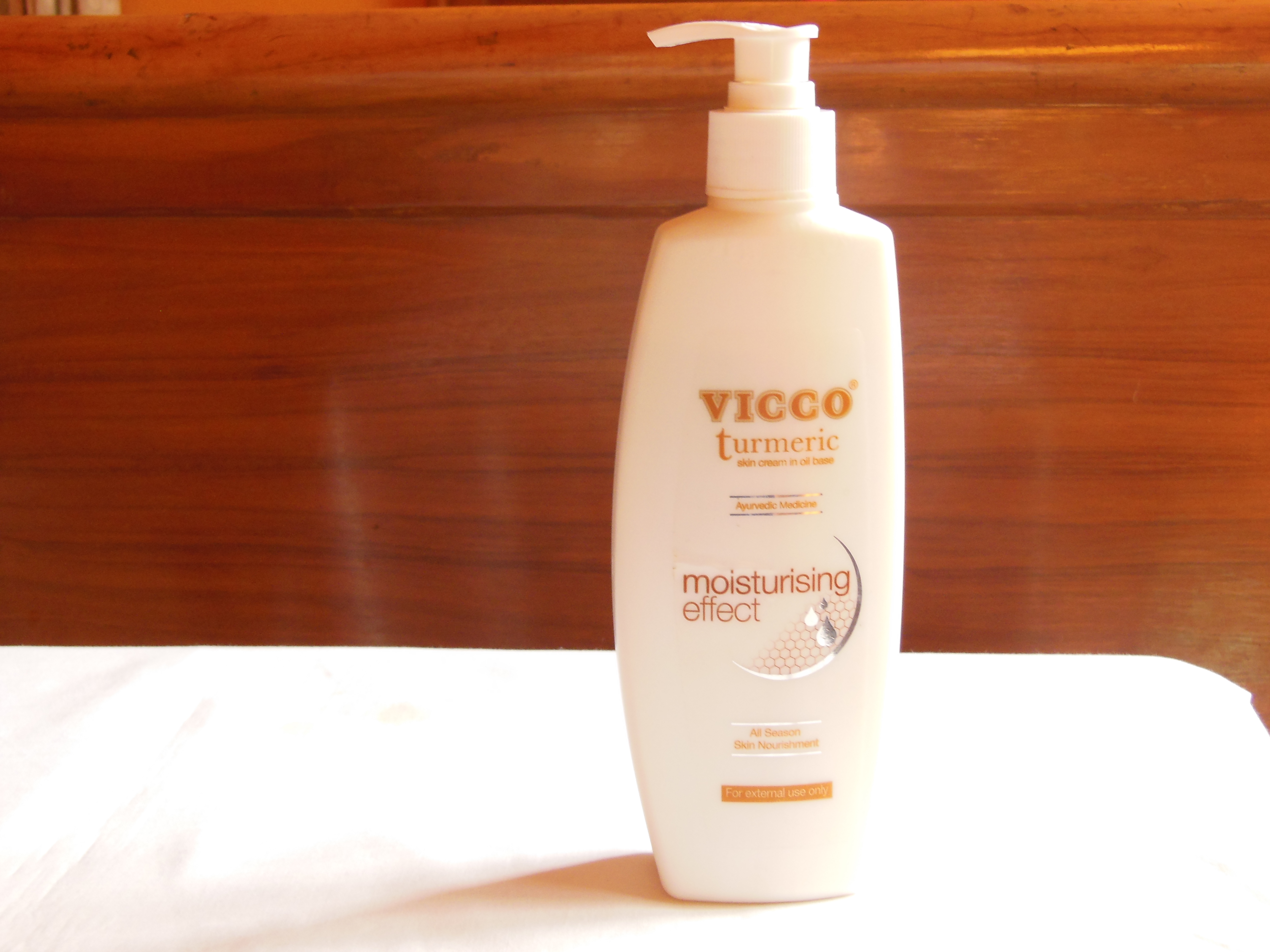 Product Description: Vicco Turmeric Cream in Oil Base moisturizes and nourishes your skin with intensive care. Turmeric works as the best Ayurvedic Medicine for dry skin, it can help restore your natural glow and treat uneven skin tone.It makes your skin nourished and the tonal value is improved which makes your skin beautiful. All Vicco products are Vegan and Halal certified as well.
Ingredients: Extracts of turmeric (Circuma Longa, Linn,-Rhizone-Powder) 12% w/w. Excipients q.s. (in an oil base)
Vicco Turmeric Skin Cream In Oil Base comes in three variants – 50gm for RS 40, 100 gm for RS 80 and 300 gm for Rs 215. (Buy online  here)
Packaging: The Vicco Turmeric Body Lotion comes in an opaque white colored bottle with a pump dispenser which is very convenient to use.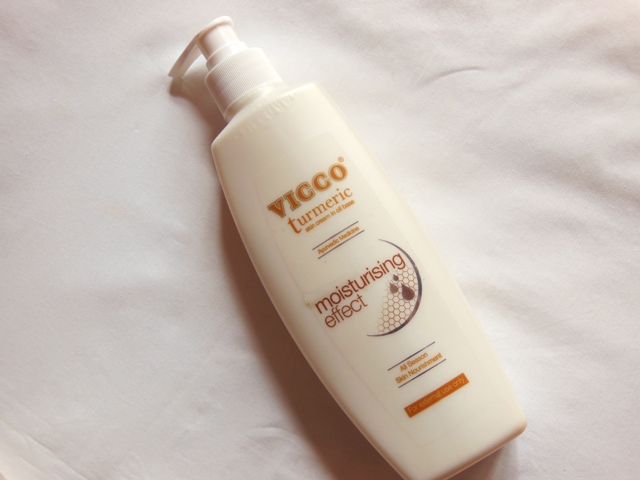 My Experience with Vicco Turmeric Skin Cream In Oil Base:
Vicco Turmeric Skin Cream In Oil Base is a body lotion with a medium thin texture which applied super smoothly. It is indeed a turmeric yellow colored lotion but the best part is it doesn't stain. No matter how much you apply it will not leave any stain onto your clothes which is good.
The formula of this Vicco Turmeric Moisturizer is quite light-weight and it gets absorbed quickly into the skin. And I loved that it doesn't leave any slippery or greasy residue but still moisturizes the skin well making it smooth and healthy.
Results: I am a Body Lotion hoarder and I love slathering them on my super duper dry which always craves for moisture. And there are only a few moisturizers aka body lotions that can actually keep my skin calm and nourished whole day. And I am happy to announce that this Vicco Body Lotion did that for me and quenched my skin's thirst for moisture all day. I didn't feel any dryness or itchiness even in such dry winter season
Also, this Vicco Skin cream is infused with turmeric extracts which has antiseptic properties which will help in soothing and treating any cuts or wounds we have on our body. And will help in preventing any skin infections.
The cream does have a noticeable fragrance of fresh flowers which I really like and enjoy.
As it is an Ayurvedic Cream, it is suitable for all skin types and can work in any season. Also, it is cruelty-free and vegan.
Overall, I am highly impressed with the quality and performance of this Vicco Turmeric Skin Cream In Oil Base and will recommend you guys to try it once! It is coming from the house of "Vicco" which is known for its quality products and has always be loved by us.
Rating: 4.5/5
Have you tried this New Vicco Turmeric Skin Cream In Oil Base? Which is your favorite Body Lotion?