Veet Sensitive Touch Electric Trimmer Review
I love my hair but only on the head.. errr!! Those monthly parlor trips are so time consuming especially if there are few more ladies in the queue! And given the amount of time I have in my hand I like to take things under my control. And if it is an instant plan to visit someone or have a function to attend, going to parlor is out of question. So, instead of struggling you to groom your facial hair and even those sneaky under arm hair, this Electric trimmer from Veet comes handy. So, let's see how Veet Sensitive Touch Electric Trimmer can help you in such emergencies.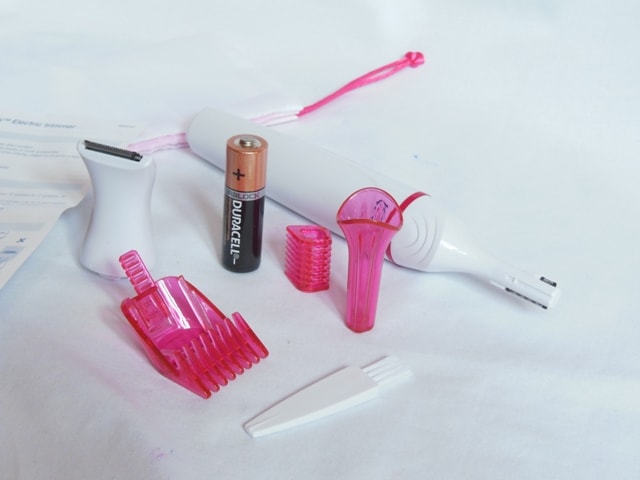 Price: Rs 2250 ( Available on Amazon and Flipkart)
Contents:
Veet Sensitive Touch Electric Trimmer package includes:
2 Sided Trimming head – 16mm and 6mm
Comb attachment (2mm & 4mm) to uniform hair length
Styler cap
1 Sided Trimming Head (20mm) for body
Comb attachment to uniform hair length (for body hair)
Cleaning brush
Beauty pouch to take it with you anywhere
AA Battery
My experience with Veet Sensitive Touch Electric Trimmer:
Veet Sensitive Touch Electric Trimmer comes with all the necessary attachments and even the battery to get started with the tool instantly. I have already shared in my unboxing post how easy was it to open the packaging without breaking my nails and the packaging which is great to store it for later use too.
The best part is the trimmer comes with an instruction manual and thankfully its handy just one page so one can quickly read it and get to know how to use the tool properly with all the attachments.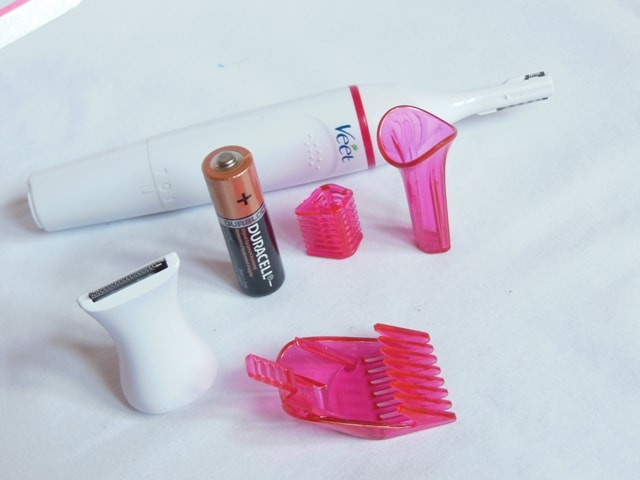 I started with the 1 Sided Trimming Head (20mm) for body and was actually amazed how smoothly it shaved my underarms. It just took me 5 minutes to get done with both of my arms. And though it is a delicate area I didn't feel that the razor blades on the skin. The whole hair removal process was a breeze. It is so convenient and quick that I might come back only to this as a monthly rescuer for getting rid of those unwanted hair.
I tried the same head on the bikni line and I can assure you that it is one of the safest and painless way to use in such sensitive area. As there is absolutely no chance of nicks and cuts or whatsoever with this trimmer.
I have used the 2 sided trimming head for upper lips, chin and brows. I worked with 16mm side for removing hair on larger areas of face and for precision removal around the brows I used the small 6 mm side. The trimmer did a fabulous job in removing the stray hair without messing the eye brow shape. And this can be really helpful when there is no time to get them groomed in the parlor but have an important event to attend.
I loved that it doesn't irritate the skin and there is absolutely no redness or cuts or uncomfortable feel while using it. And this multi-purpose too is priced at just Rs 2250 which makes it really affordable. Especially for women like me who are always on the go.
Also, this Veet Electric Trimmer is so sleek and slim that it can be easily carried along in a purse making it a perfect travel partner. So, you don't need to look for parlors in an unknown place to get rid of ever growing unwanted hair.
Overall, I absolutely love this Veet Sensitive Touch Electric Trimmer and will recommend you to try this if you are looking for a hassle-free and painless hair removal of face and body at home.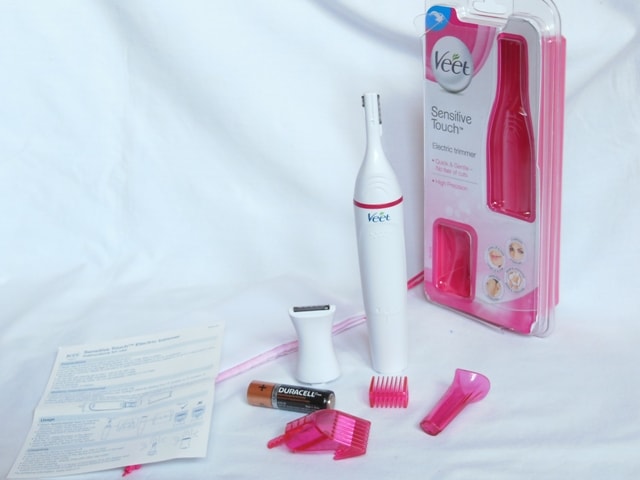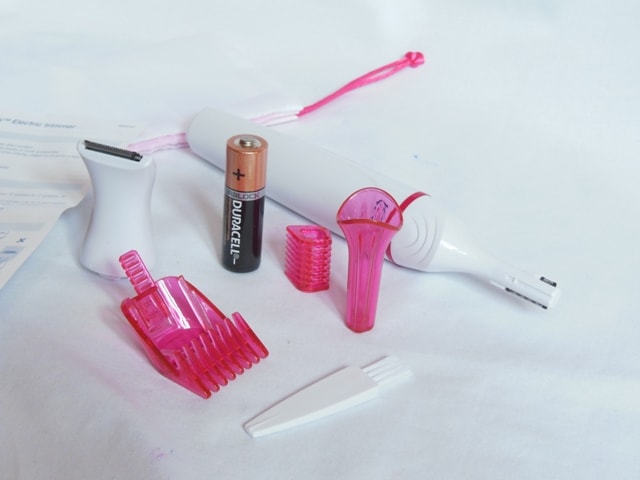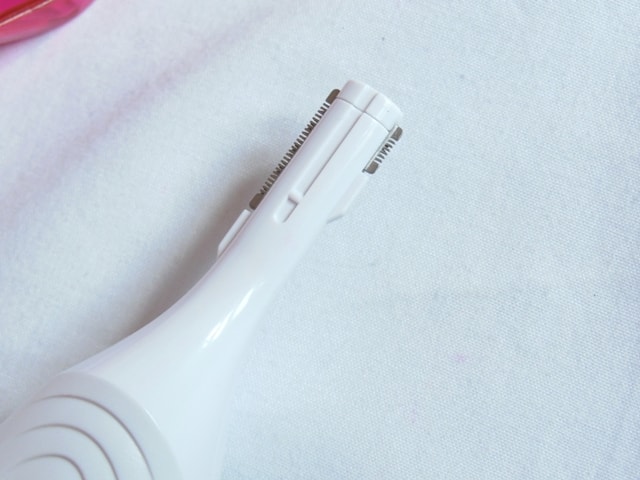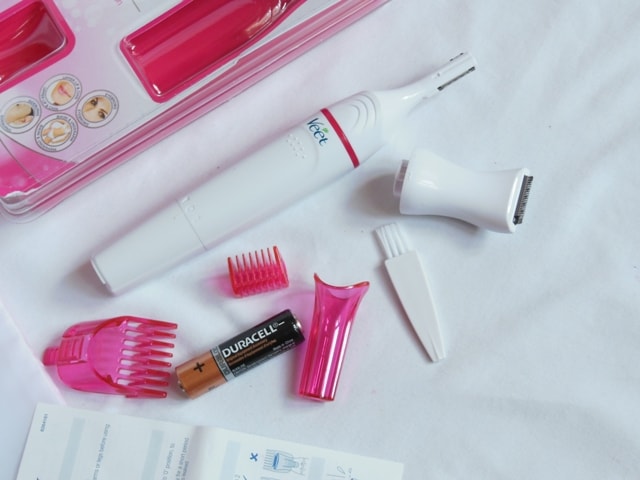 Have you tried Veet Sensitive Touch Electric Trimmer? Which is your favorite tool for hair removal?