Vaseline Total Moisture Cocoa Glow Body Lotion Review
Vaseline Total Moisture Cocoa Glow Body Lotion is the most awaited body lotion in my wish list. I have been waiting to try this lotion since its launch but the crowded shelf with a large number of body lotion held me back. Now after finishing up more than half of them I could no longer stay from this. So, here is my review on Vaseline Total Moisture Body Lotion "Cocoa Glow".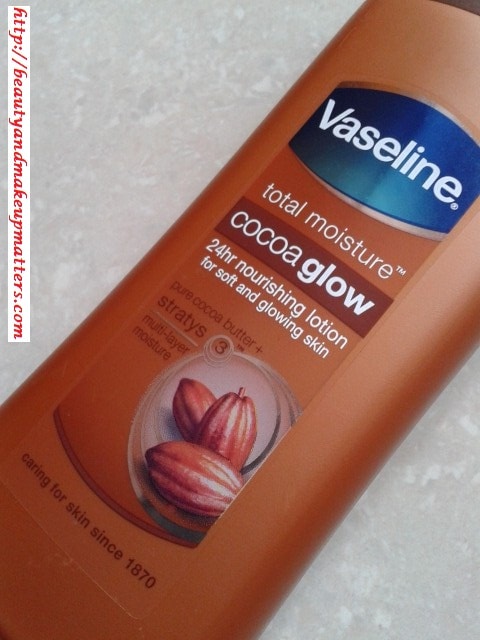 Product Claims: Total Moisture Cocoa Glow lotion leaves your skin feeling soft and glowing.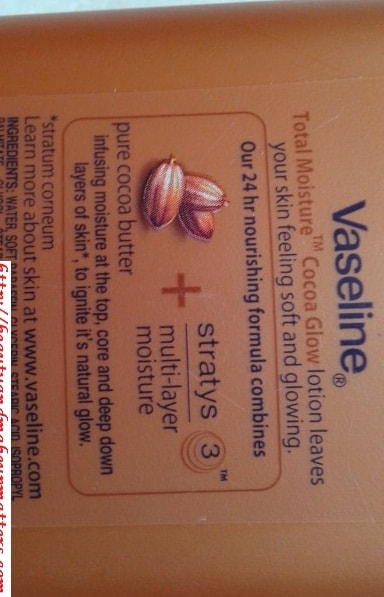 Ingredients:-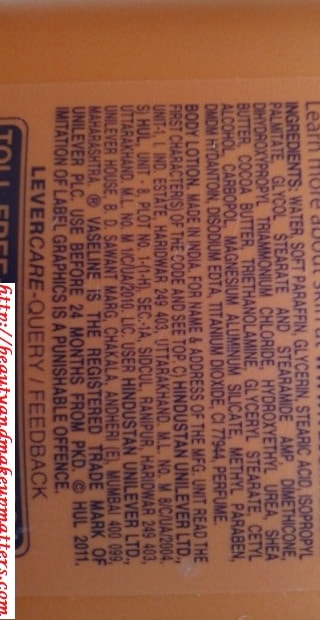 Price:- Rs.169 for 300ml
Shelf Life:-  24 months from the Mfg date.
Packaging:- The body lotion comes in standard Vaseline Body Lotion packaging in a long rectangular bottle and a flip-top opening. Cocoa Glow is a dusky beauty with copper colored bottle and dark brown cap.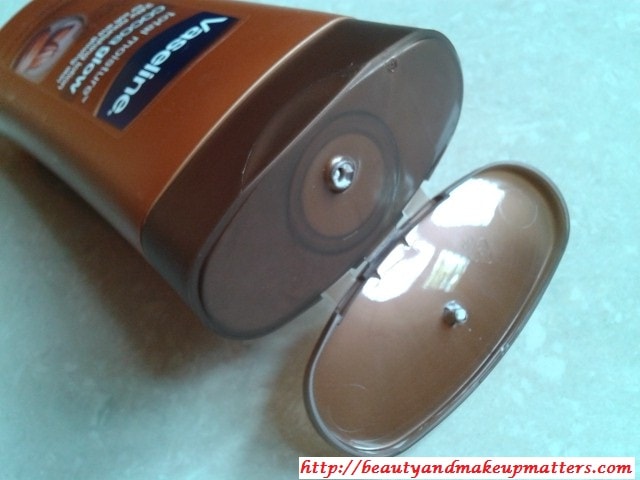 The brown color of the bottle makes me sing this song "Kudiye ni tere brown Rang te.. Munde marte ni saare mere town te.." 🙂
My experience with Vaseline Total Moisture Cocoa Glow Body Lotion:-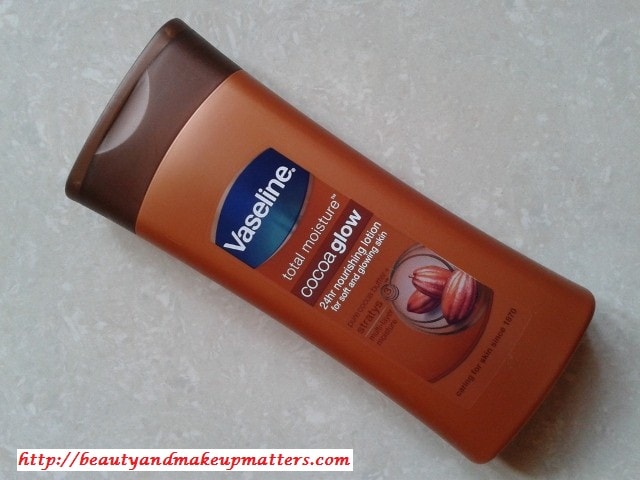 Vaseline is of the best and most affordable brands in body lotion. I have been using Vaseline Body Lotions since years and have tried almost its entire range. I have always adored their moisturizing properties but never had they smelled as heavenly as Cocoa Glow did. The smell isn't rich cocoa which can be a little overwhelming but a ideal mix of vanilla, cocoa and chocolate that smells absolutely delicious. It smells oh so sumptuous and I enjoy it post-application too as it lingers on for few minutes.
The texture of Vaseline Body Lotion is silky soft which spreads smoothly and soaks quickly into my dry skin. I love to immerse in its warm chocolaty-vanilla fragrance and its moisturizing formula enriched with Glycerin, Shea Butter and Cocoa Butter keeps my skin nourished in harsh winters without leaving it oily or greasy
Don't Miss to Checkout:
Swatch:-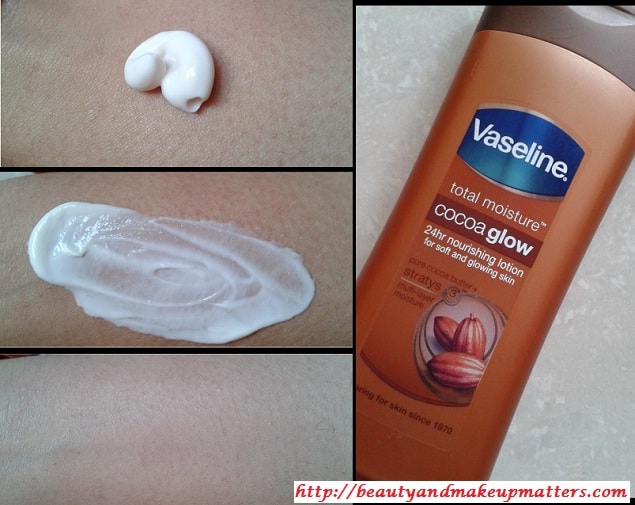 Pros of Vaseline Total Moisture Cocoa Glow Body Lotion:-
Divine Fragrance
Satin smooth texture
Blends like a dream
Absorbs quickly
Deeply moisturizes skin
Easily Available
Affordable
Available in travel sized
Fortified with goodness of cocoa and shea butter
Cons of Vaseline Total Moisture Cocoa Glow Body Lotion:-
Contains Parabens
Recommendation:- Vaseline Total Moisture Cocoa Glow Body Lotion is one of the best Winter body lotion that I have tried till date. I wasn't enjoying Biotique Winter Cherry Body Lotion because of its musky fragrance and Lotus herbals Cherry Bliss Body Lotion which smells overtly sweet and takes ages to get absorbed completely. Cocoa Glow left me amazed with its rich moisturization, awesome fragrance, and silky soft texture all at such a decent price. I couldn't ask for more from a body lotion, I am in love with this body lotion.
Rating:- 4.8/5
Have you tried Vaseline Total Moisture Cocoa Glow Body Lotion? Which is your favorite Vaseline Body Lotion?