V Wash Plus Expert Intimate Hygiene Review
Hello Everyone, Today I am going to review the V Wash plus an Intimate wash, that was sent to me for review purpose.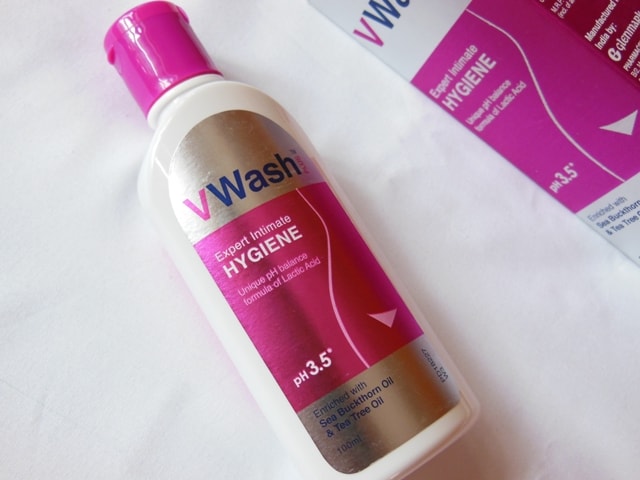 Product Claims: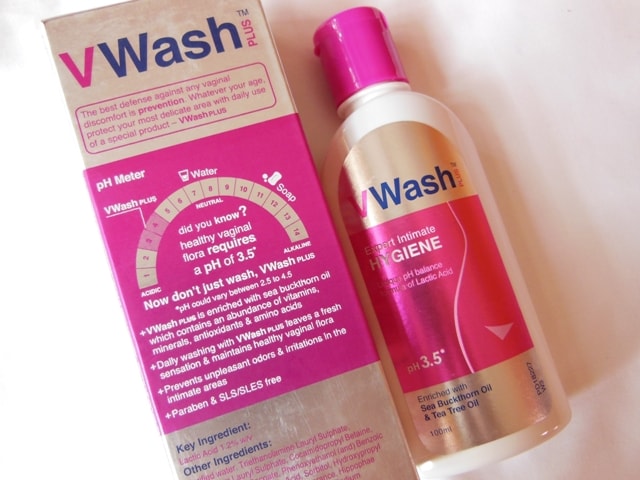 Ingredients:-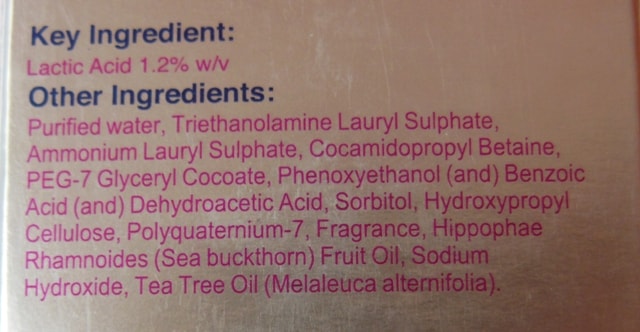 Price:- Rs.140  for 100ml
Shelf Life:-  2 years from the Mfg date.
Packaging:-  The V Wash comes in a simple white and fuchsia pink colored packaging with flip top cap. The Cap shuts really tight with the container which wouldn't let the liquid spill. It has a slight edge at the opening end that makes it easy to operate and use. The mouth of the bottle is slim which dispenses only small amount at one go but personally I prefer pump dispenser packaging's a bit more. The bottle is sturdy and hygienic to use. Also, it isn't bulky like the Oriflame which makes it travel friendly too.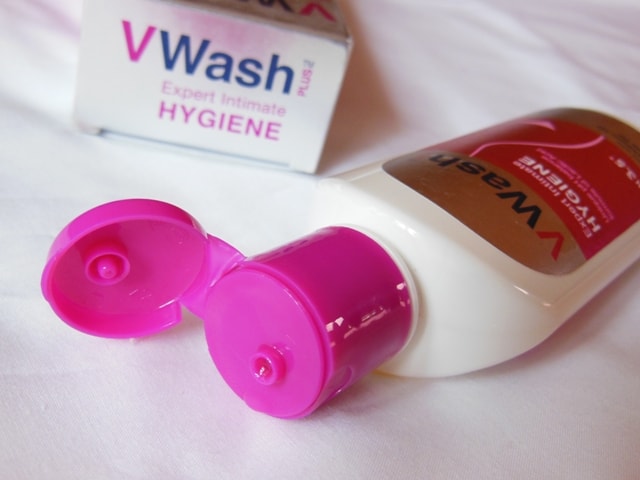 My experience with V Wash Plus Expert Intimate Hygiene Wash:-
V Wash is a clear liquid with gel like consistency but is extremely runny. I take out a coin sized amount which is enough for one-time usage. It lathers well and its mild formula gently cleanses away all the impurities and infection causing bacteria's leaving behind smooth and clean skin. It has a soothing effect post-wash and I haven't experienced any itching or burning sensation. The wash has a pleasant floral aroma which infuses a nice fresh feeling. The fragrance lingers on for sometime and counters the odor effectively.
The formula contains Sea buckthorn oil and Tea tree oil which is another USP showing how close it is to the nature and you are using nothing harmful for your private parts.
Swatch–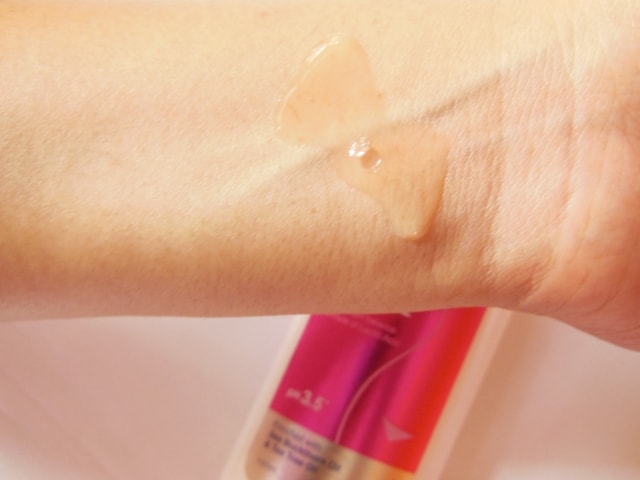 It comes with a pamphlet which contains loads of information on women's hygiene and the product usage directions and benefits which I think is very useful for the beginners and also helps in understanding the benefits of using vaginal washes.
Pros of V Wash Plus Expert Intimate Hygiene Wash:-
Mild formula
Coin sized amount is enough
Hygienic and travel-friendly packaging
Cleanses Well
No itching or sensation
Contains lactic Acid as key ingredient.
Fairly priced
Free from Parabens and Sulphates
Maintains vaginal pH
Soothes irritated/itchy skin.
Suitable for daily use
Cons of V Wash Plus Expert Intimate Hygiene  Wash:-
Available only on medicine shops.
Recommendation:- V Wash Plus Expert Intimate Hygiene Wash is especially formulated for delicate feminine area which keeps that area clean and helps in maintaining the pH. It feels gentle and has a nice fresh scent that lingers on for a while. In those days, it relieves me from the itching/discomfortable feel and offers a soothing comfortable feel. Regular body soaps/body washes are not made for such delicate area and may disturb the pH balance so I strictly advice to switching to specialists like V Wash for soothing comfortable feel.

Intimate wash is a must-have for me and is absolutely safe to use and provides with a clean feel that "just water" couldn't provide.

V Wash worked for me and would like to recommend this to other women/girls as well, it will definitely make a huge difference to your personal hygiene. Recommended!
PS- If you have sensitive skin or suffer from vaginal infections, I would recommend to consult your gynaec before using this or changing your cleansing routine.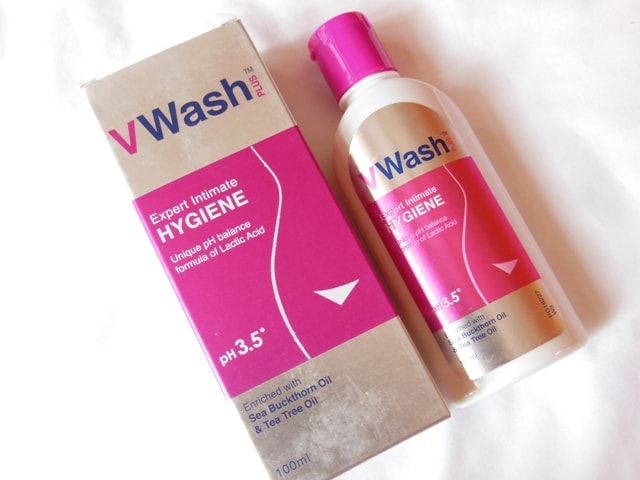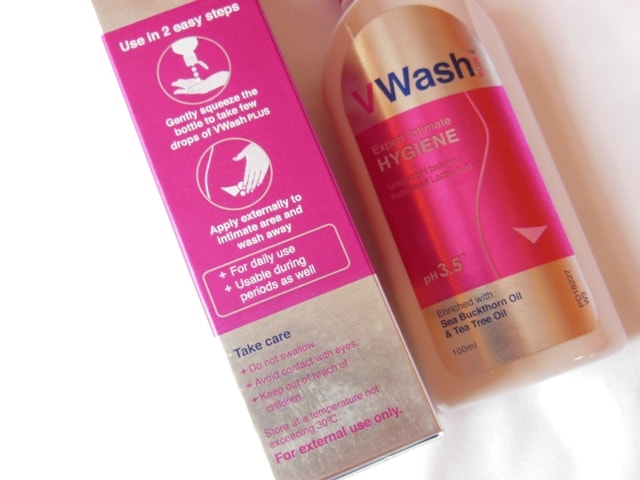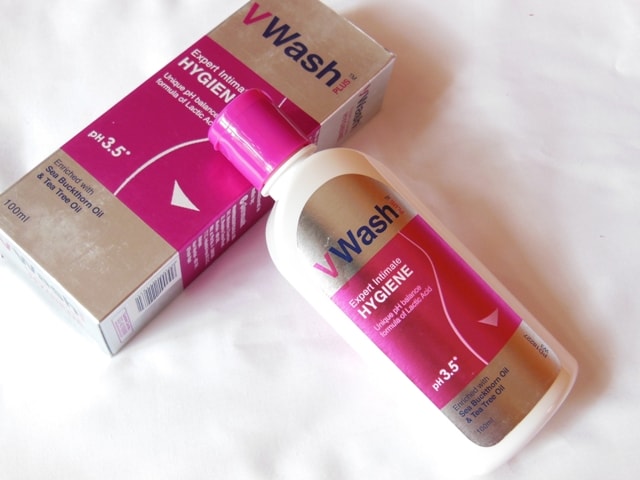 Rating:- 4.8/5
** Product has been sent to me for Review Purpose**
Have you tried V Wash Plus? Do you use any  Intimate Wash at all?  Is it a must-have for you?
As per my knowledge, not many of the women hygiene products are available in India . Also, I don't understand why the virtual media isn't being involved for any of these products. Are Indian women are so not interested in such kind of products? Please share your thoughts through comments.